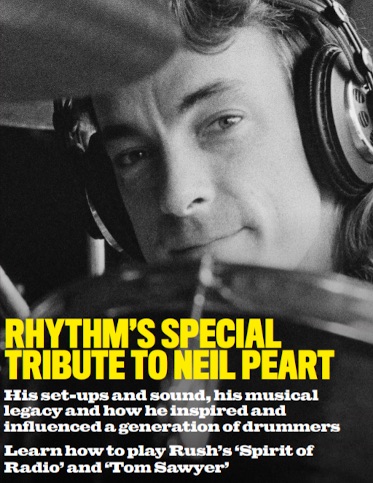 Rhythm magazine's first post-COVID issue (Issue #197) comes out in November and will include a special tribute to the late Neil Peart. The magazine's teaser for the issue reads:
His set-ups and sound, his musical legacy and how he inspired and influenced a generation of drummers

Learn how to play Rush's 'Spirit of Radio' and 'Tom Sawyer'
It will also include details from Neil's former drum tech Lorne Wheaton about Neil's kit setup, as well as interviews with some of Neil's cohorts and friends. For more details and subscription information, visit rhythmdrumnetwork.com.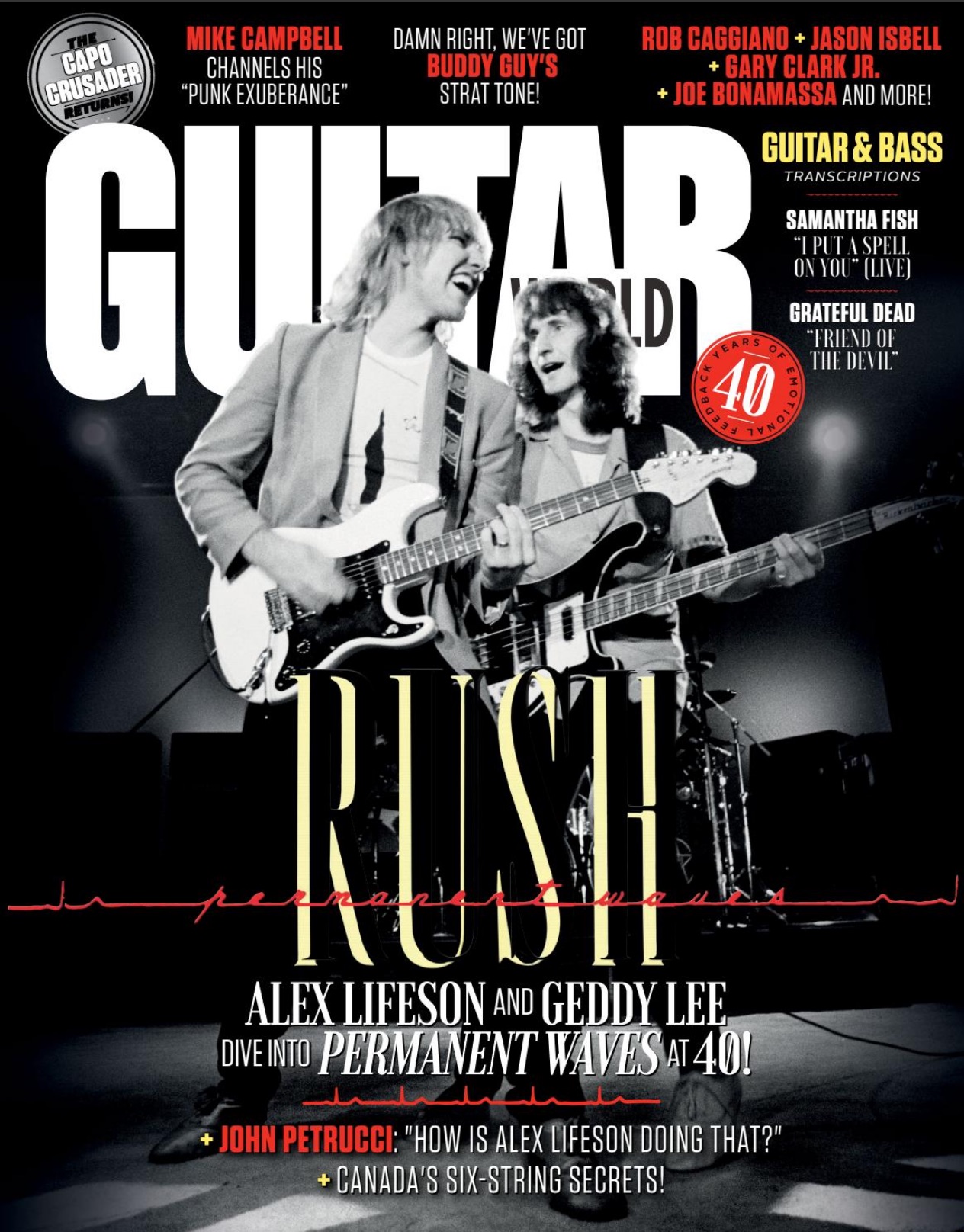 Speaking of Rush tribute issues, as reported back in August, the October, 2020 edition (issue #530) of Guitar World magazine includes a cover feature celebrating the 40th anniversary of Rush's Permanent Waves album written by Philip Wilding. Unfortunately the piece is just recycled material from the Permanent Waves Classic Rock magazine cover feature from earlier this year (both publications are owned by the same parent company - Future Plc). However, the issue does include a new interview with Dream Theater guitarist and mega Rush fan John Petrucci where he talks about Rush and the Permanent Waves album in particular. That article was posted online earlier this week at this location, and John at Cygnus-X1.net has transcribed the entire Rush feature and made it available online here.
1980s-era Canadian rockers and former Rush label mates Coney Hatch will be performing a live, streaming benefit show tomorrow evening at 8PM from the stage at the legendary El Mocambo club in downtown Toronto. The band's bassist/vocalist Andy Curran spent several years working at Rush's Anthem record label after Coney Hatch called it quits. In more recent years he moved on to Ole Music, a publishing house that took over the Anthem back catalog, including everything by Rush. He ended his tenure there last year and is now out on his own as a music industry gun-for-hire. Tickets for the webcast can be purchased at nugs.tv for $9.99 (HD) or $14.99 (4K), with all proceeds going to benefit the Unison Benevolent Fund - an organization that provides counseling and emergency relief services to the Canadian music community. Rush donated a portion of their ticket sales to the Fund during the Clockwork Angels Tour as described in this post. Curran was a recent guest on The Metal Voice and spoke with hosts Jimmy Kay and Alan Dixon about the benefit show, along with many other subjects, including working with Rush and the loss of Neil Peart:
"It was quite a riot being involved with the label and being the AR guy for one of the best bands (Rush). With Rush you don't AR them you just let them do what they do and I would never think I can come in and contribute anyway to make their records better. But what I pride myself in is introducing them to (producer) Nick Raskulinecz. They (Rush) came to me one day and said they have a list of producers and asked me who do you think should produce us? So I brought a couple of names forth and one of them was Nick Raskulinecz and he hit it off with them and they made two records with him arguable their best music on the last couple of records they made. I was fortunate to be with them at the Rock And Roll Hall of Fame when Rush were inducted. I was constantly pinching myself on a daily basis. How did I get here? How am I working with these guys? I used to idolize these guys. I grew up listening to Rush, i was at Massey Hall when All the World's A Stage show (where live album was recorded). I loved every minute of it. I'm still involved with Rush helping them out." ... "Neil [Peart] was a very private man, it took a while to break the ice with Neil but we became fast friends over Ice Hockey. With Neil we worked with the Hockey Hall of Fame, TSN we did that theme song for Hockey Night In Canada and I had a very special relationship with him he was a very quiet private guy but easily of the most kindest person I ever met in my life. Just the tragic loss for all of us, even though we were prepared in the Rush camp for it and we knew about it. That was a tough loss for sure."
Curran also appeared on Eddie Trunk's Sirius XM radio program yesterday afternoon to help promote the show, and second hand reports indicate that he spoke a bit about Rush. There's no recording available online, but apparently he mentioned that he's been playing golf with Alex and having dinner with Geddy, and both are looking to make new music at some point, but it's still too soon after Neil's passing.
Geddy Lee along with bandmate Alex Lifeson are helping out hospitality workers whose jobs have been affected by COVID-19 with both having donated signed guitars to the Save Hospitality online fine wine auction sponsored by Grapes for Humanity - an organization that helps to raise funds to benefit humanitarian causes around the world with the assistance of the international wine community (Geddy Lee is a member of the board of directors). The auction kicked off via Waddington's Auctioneers & Appraiser this past Monday and will run through this coming Wednesday October 7th. It features over 300 lots of exceptional wines and winery tours along with the signed guitars. The first guitar is a Geddy Lee Fender Signature Jazz Bass which can be seen in this listing:
A Fender Signature Jazz Bass Guitar, signed by both Alex Lifeson and Geddy Lee, along with a bottle of 2005 Lucien Le Moine Hospices de Beaune Mazis-Chambertin Cuvée Madeleine Collognon, 2005 Lucien Le Moine Hospices de Beaune Volnay Santenot Cuvée de Massol and 2005 Lucien Le Moine Hospices de Beaune Beaune Cuvée Clos Des Avaux.
The second guitar is an Alex Lifeson Gibson Les Paul Gold Top which can be seen in this listing:
A Gibson Les Paul Gold Top 1950's Re-issue, signed by Alex Lifeson and Geddy Lee, with a bottle of 2005 Lucien Le Moine Hospices de Beaune Mazis- Chambertin Cuvée Madeleine Collognon, 2005 Lucien Le Moine Hospices de Beaune Volnay Santenot Cuvée de Massol and 2005 Lucien Le Moine Hospices de Beaune Beaune Cuvée Clos Des Avaux.
Both items are estimated to bring in between $15,000 and $18,000 CAD. Proceeds from the auction will directly benefit Ontario Hospitality front-line workers through the Toronto Restaurant Workers Relief Fund; the Bartender's Benevolent Fund; and independent Ontario restaurants through savehospitality.ca.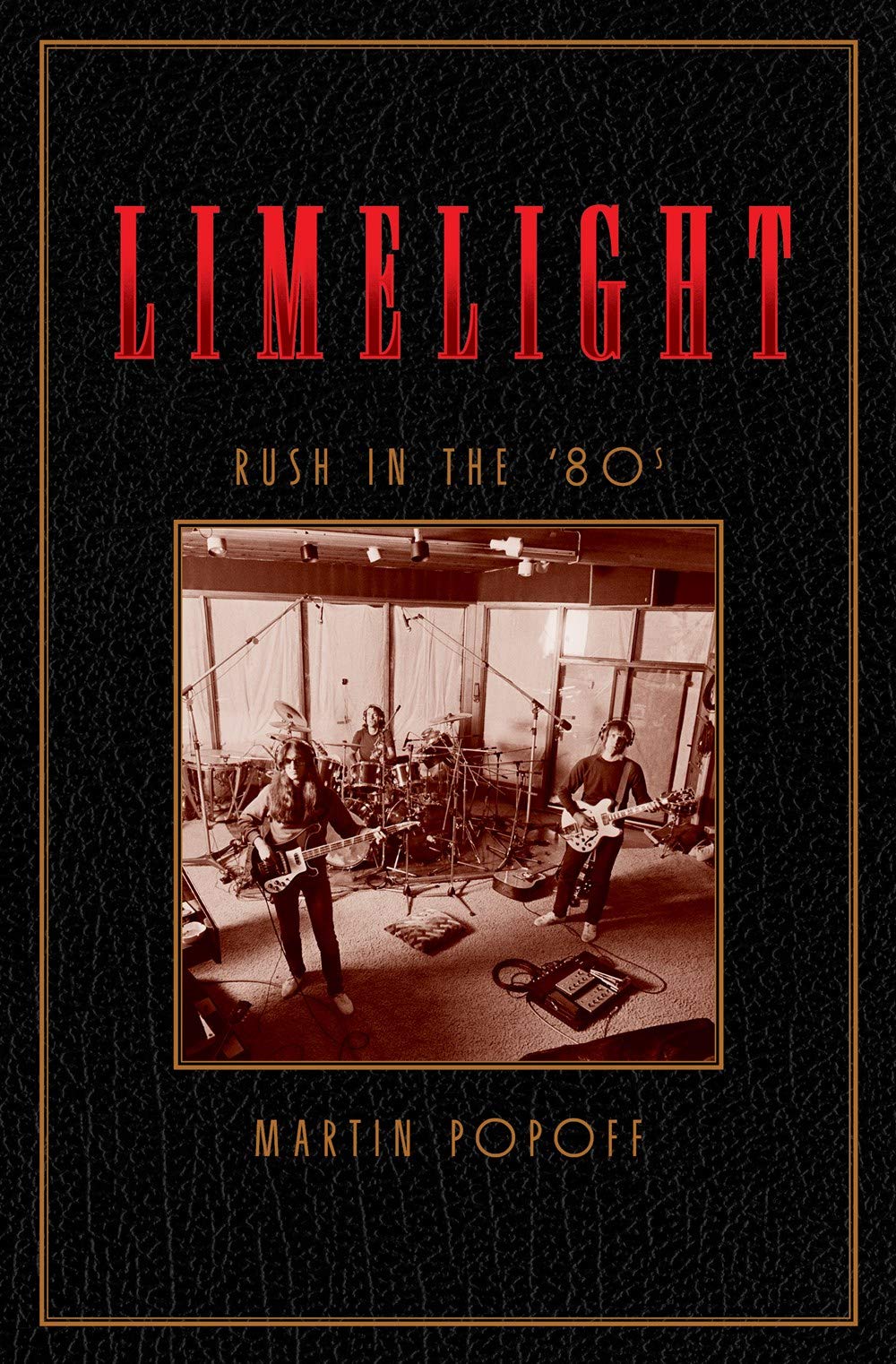 Music writer Martin Popoff released his new book Anthem: Rush in the '70s back in May, which is the first of a 3-part Rush Across the Decades series. The second book in the series - Limelight: Rush in the '80s - is slated to officially release on October 13th and can now be pre-ordered here. The author already has several copies of the book and is accepting orders for signed editions via this link. The imitation-leather bound book comes in at 375 pages and includes two full-color photo inserts, with 16 pages of the band on tour and in the studio. From the book's description:
In the follow-up to Anthem: Rush in the '70s, Martin Popoff brings together canon analysis, cultural context, and extensive firsthand interviews to celebrate Geddy Lee, Alex Lifeson, and Neil Peart at the peak of their persuasive power. Rush was one of the most celebrated hard rock acts of the '80s, and the second book of Popoff's staggeringly comprehensive three-part series takes readers from Permanent Waves to Presto, while bringing new insight to Moving Pictures, their crowning glory. Limelight: Rush in the '80s is a celebration of fame, of the pushback against that fame, of fortunes made ― and spent ...

In the latter half of the decade, as Rush adopts keyboard technology and gets pert and poppy, there's an uproar amongst diehards, but the band finds a whole new crop of listeners. Limelight charts a dizzying period in the band's career, built of explosive excitement but also exhaustion, a state that would lead, as the '90s dawned, to the band questioning everything they previously believed, and each member eying the oncoming decade with trepidation and suspicion.
Ultimate Classic Rock posted an excerpt from a new interview with longtime Rush art director Hugh Syme this past week, where he discusses the Caress of Steel album artwork and why he wasn't completely satisfied with it:
"I was a huge [M.C. Escher] fan. My original drawings were in pencil: clean, monochromatic, simple homages to Escher. But when the record label got ahold of these, they thought it wasn't rock and roll enough, so they added this chromium lettering and swung the tint of the whole image over to a brown sepia tone - none of which was requested or under my purview at the time. When the band said, 'What happened?,' I said, 'I don't know,'" he adds. "That began the premise that they would consider most A&R people attending their sessions - and, more so, their comments - as unwelcome. Because they weren't interested. And when they realized that other people were meddling in the process when it came to my art, they said, 'Don't listen to anyone. We're talking to you directly.' That set up a feature in my life. That album worked out well. I don't look back fondly on the outcome, but that's OK," he says. "It was more just me being indulgent - art directors are pretty selfish. We do what we want to do, and what a gift it was to work with a band like Rush. They - excuse the quote - allowed that deviation from any norms because that's what they aspired to do themselves as artists."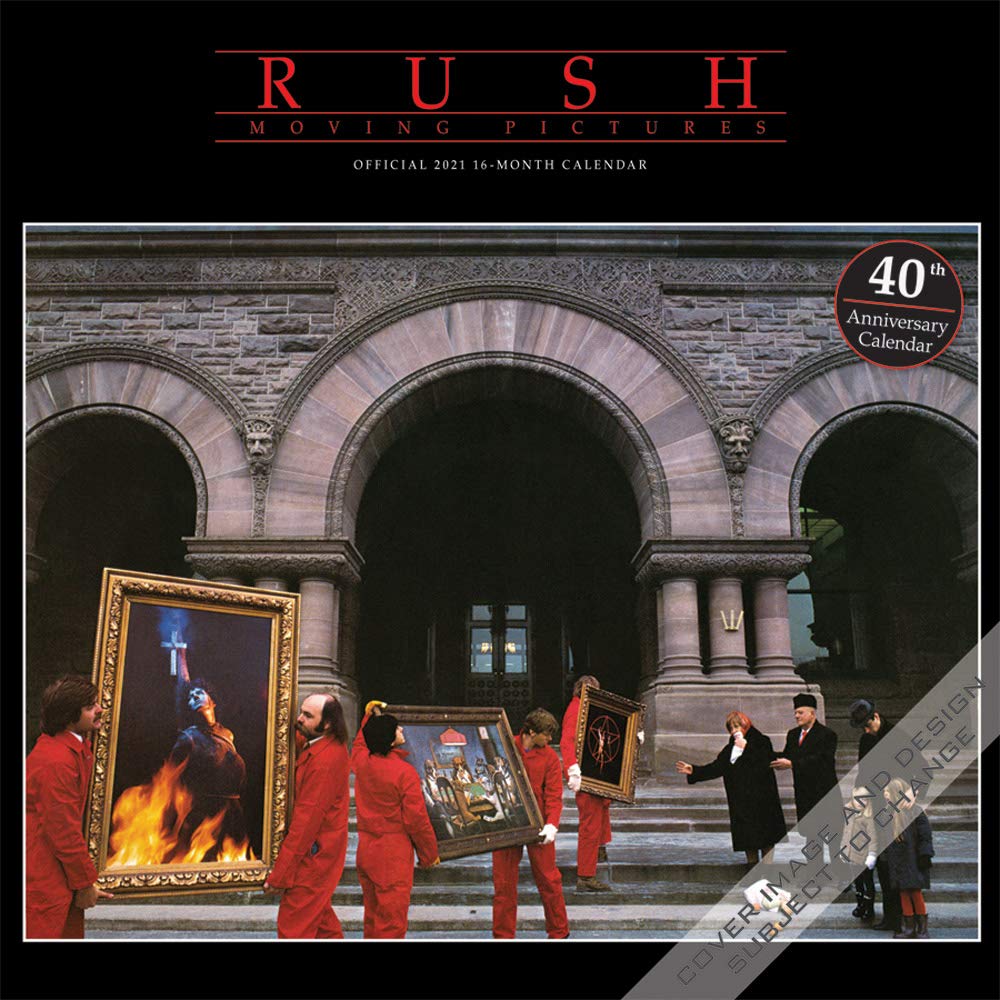 Back in early August BrownTrout Publishers released their official 2021 Rush wall calendar which celebrates the upcoming 40th anniversary of the February, 1981 release of Rush's Moving Pictures album. The 16-month calendar includes a four-month (September-December) 2020 planner page, and over a dozen images from the band's Moving Pictures era. John over at Cygnus-X1.net has scanned the all the images and made them available for viewing at this location. The calendar is currently available to purchase via Amazon and other online retailers.
Fox's long-running, animated comedy series Family Guy is known for its many pop culture references, including those related to rock bands, and have featured several major rock acts on the show over the years. This past week Ultimate Classic Rock posted their list of 36 Rock Star Moments from the show, including three big ones from Rush:
Canadian rockers Rush have earned several references on 'Family Guy' over the years. In a Season Five episode, Chester Cheetah snorted lines of Cheetos dust and proclaimed "There is no fucking drummer better than Neil Peart!" In a Season 15 episode, 'Family Guy visited the classic story of 'Huckleberry Finn.' Naturally, they ended up at a Rush concert enjoying the song "Tom Sawyer." In Season 17, Brian compares a disaster to "the time Peter was the only person not wearing black jeans to a Rush concert." A quick flashback then shows Peter standing in the audience wearing khakis. Geddy Lee (voiced by an actor) calls out the fashion faux pas and tells the crowd to attack Peter. "Beat him, beat him in 6/8 time," the Rush frontman commands. "And don't let him escape to the completely unoccupied ladies room."
Rush fan and novelist Patrick Hicks has a new book of historical fiction coming out later this month titled In The Shadow of Dora, which is about the intersections between the Holocaust and the Apollo program. More specifically, it's about what happened at Dora-Mittelbau - where the V-2 rocket was built - and the Kennedy Space Center. The author describes it as "the literary equivalent of Red Sector A and Countdown (think Apollo though)", and thanks Neil Peart in the acknowledgements as seen here. You can pre-order In The Shadow of Dora via Amazon at this location.
Former KISS guitarist Ace Frehley recently appeared on the Talkin' Rock With Meltdown podcast to promote his new album Origins Vol. 2. At one point he talks about Rush opening for KISS back in the '70s, and tells the infamous story of the bag:
... "You know, Rush opened for at least 75 shows with Kiss in the '70s, and after the show, we used to hang out in each other's rooms. Invariably, after a certain amount of beers were consumed, Alex would take a bag and draw up a crazy face on it and put it over his head - Alex Lifeson - and he smoked a joint through the eye [of the crazy face drawing] because he poked holes first so that he could see. And he just had us all rolling around on the floor, and I got a picture of it inside my book, 'No Regrets.'" ...
Speaking of bands who Rush toured with, Candlebox vocalist Kevin Martin was recently interviewed for AXS TV's At Home and Social and spoke about when his band opened for Rush back in the '90s. You can watch the interview on YouTube here with the Rush mention coming in at the 11:45 mark (thanks RushFanForever).
This coming Sunday, October 4th marks the 8th anniversary of Rush officially being nominated for the Rock and Roll Hall of Fame's 2013 class. They would ultimately be selected as one of the inductees a couple of months later, and were officially inducted on April 18, 2013 ... FINALLY.
That's all for this week. Have a great weekend!!