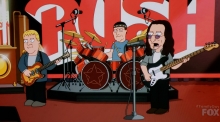 There was a cliché-ridden Rush reference on last night's episode of the FOX animated series Family Guy (Season 17, Episode 5 - Regarding Carter). At one point in the show Brian references the time that Peter was, "the only one not wearing black jeans at a Rush concert". The scene then cuts to a Rush concert where Peter is in attendance and has an exchange with the animated Geddy Lee:
Peter: Play "Tom Sawyer"!
Geddy: We already did. And what are you wearing?!
Peter: What? These are my concert khakis.
Geddy: (points at Peter and addresses the crowd): Beat him! Beat him in 6/8th time! And don't let him escape to the completely unoccupied ladie's room!
(crowd starts to beat up Peter)
Peter: (begging on the ground) Uh... No. Please! Uncles who voted for Gary Johnson! Leave me alone!
Geddy: And now a song about radio towers!
You can watch a clip of the scene below or at this location. Thanks to John at Cygnus-X1.net for the heads up and screenshots.
There have been several other significant Rush references on past Family Guy episodes too; there was this Chester Cheetah reference back in 2006, and 2 more recent references back in 2016 including this Huckleberry Finn one and this Christmas-themed reference.