UPDATE - 5/14@9:20AM: The entire piece is now available online (thanks RushFanForever).
UPDATE - 4/1@7:45PM: Classic Rock has posted a short excerpt from their Alex Lifeson interview that appears in the issue here .
UPDATE - 4/1@9:01AM: The issue is now officially on sale and Classic Rock posted all the details about its contents to their website earlier today:
... We're really proud of it. It was the first time the team had finished an issue from the new 'normal' of sofas, makeshift desks and precariously balanced laptops, aided and abetted by Team Classic Rock's various feline assistants. Google Hangouts became our new home, and we got it done.

The new issue is a Rush spectacular celebrating 40 years of Permanent Waves (we spoke with Geddy, Alex, producer Terry Brown and art director Hugh Syme about it) and it comes with a Rush album-by-album guide and an official Rush 'Starman' laptop sticker. ...
----- snip -----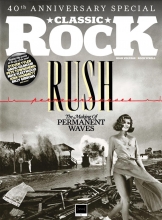 Rush will be releasing a new box set on May 29th which celebrates the 40th anniversary of the release of Permanent Waves, and Classic Rock magazine's latest edition marks the occasion with a cover feature on the making of the album written by Philip Wilding. Classic Rock has posted a 21-page sampler of the issue online here which includes the first few pages of the feature (thanks RushFanForever). Here's an excerpt:
... It was at one of those extended stays at Le Studio that Syme was invited to play piano on Different Strings, another new curve ball in Rush's canon. With lyrics by Lee, it was plaintive yet rich. and examined the way in which the listener, or critic, consumed art and music. So far, so very Rush. Its inclusion on the record hinted even more at the way the band were now willing to play with form and the sort of music people might yet expect from them. I tell Geddy that I had always assumed Different Strings was a simple love song coming from a very sincere place. "No it's not, actually," he says. "That song was really born out of the idea that: here we were, this band that had been together for quite a long time and we had this ability to polarise people, our music did that. And in writing that song I was addressing that, about what we do and about art. And it really is about that individual way one reacts to it. Whether it's music or visual or whatever, it's an emotional response. It's about our differences. It's like Entre Nous and Different Strings are sort of two parts of the same concept. They are sister and brother." Different Strings aside, Hugh Syme wasn't at Le Studio just to sample the charismatic sunsets and watch the light at play on the lake. ... "Neil and Hugh used to deal with the cover designs," says Lee. "I think Hugh used to take his cue from what he heard and read, and he would get bits of music and lyric sheets and he would take his image fix from that. And it was clear that we had turned a page. Remember, this was a period where everyone was talking about new wave; there was a new wave of pop and rock. In a way, the title of that album is a comment and a play on the words. There's all those different wave images on the cover, and it was about the permanence of music. "Not to sound pompous, but we really wanted to say that this new movement and new wave is exciting and everything, but rock'n'roll is here to stay, and there will be different waves and there will be different styles of it but it can never really be washed away." ... Much like Syme having some fun with the album's cover, Rush were determined to break out of some of their own, self-imposed, shackles. "That's exactly what we wanted to do," says Lee. "We wanted to do something different. Even the longer songs - and there are a couple of profoundly important longer songs in our history. But songs like Natural Science and Jacob's Ladder are on there too, right? So those two are both indicative of what I'm taking about. They're quite different, and again they're long concepts, but contained in a ten-minute time frame, as opposed to dragging this concept over a side-long thing. We didn't feel that Jacob's Ladder was profound enough to be a one-side thing, you know? And over the years our affection for that song has grown, largely because of how much affection our fans have shown it." ...
The Permanent Waves 40th anniversary box set releases on May 29th and you can pre-order yours via Amazon here: Super Deluxe Edition, 2CD and 3LP.