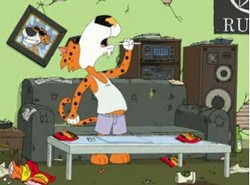 UPDATE - 11/27@10:15AM: Power Windows has posted an mp4 video clip of the scene up on his site. I also stuck it up on YouTube here for those who prefer that format. Thanks PW!
There was a funny Rush reference in last night's episode of the FOX animated comedy show The Family Guy (one of my personal favs). The episode (#87), the 7th in Season 5, was titled Chick Cancer and features a scene with Chester Cheetah (the Cheetohs mascot). After Stewie says "I'm cooler than that cheetah from the commercials" it flashes to a room where Chester Cheetah is sitting on a couch with a Rush poster in the background listening to Tom Sawyer. He pours out a bag of Cheetohs on a tray, chops them up and then snorts the orange powder as if it were cocaine. After taking a big sniff, he says
Uh God!! There is no f**king drummer better than Neil Peart! ... (breaks glass pipe)... It ain't easy bein' cheesy.
Thanks to reader Dan (and everybody else who emailed me) for spotting this.