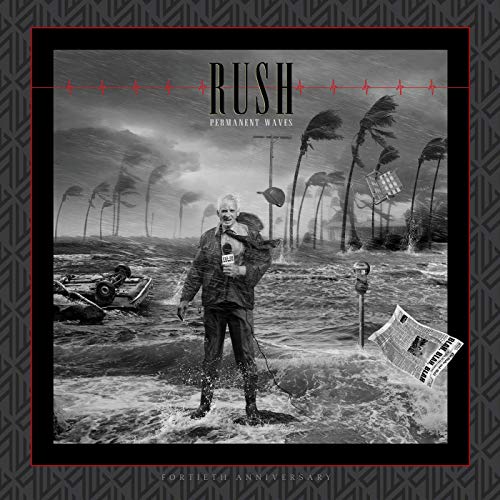 Rush will be releasing a new box set next Friday which celebrates the 40th anniversary of the release of Permanent Waves. Here are some of the details regarding the Super Deluxe version from Rush.com:
The Super Deluxe Edition includes two CDs and three high-quality 180-gram black vinyl LPs. The set encompasses the Abbey Road Mastering Studios 2015 remastered edition of the album for the first time on CD, along with previously unreleased and newly restored bonus content newly mixed from the original analog live multi-tracks by the band's original producer, Terry Brown. The unreleased bonus live tracks come from three stops on the Permanent Waves World Tour 1980: (1) Manchester Apollo in Manchester, England; (2) Hammersmith Odeon in London, England; and (3) Kiel Auditorium in St. Louis, Missouri. The Super Deluxe Edition of Permanent Waves-40th Anniversary will also include several exclusive items, including a 40-page hardcover book with unreleased photos, reimagined artwork by original album designer Hugh Syme, and an extensive & exclusive 12,000-word essay; a replica of the Permanent Waves 1980 official tour program; The Words & Pictures Volume II, a replica of the band's rare 1980 UK-only tour program; a 24×36-inch two-sided wall poster of the original album cover model photo shoot and photos of the band recording at Le Studio; three replica bandmember 1980 tour backstage laminates; three Neil Peart-handwritten lyric sheets for "The Spirit Of Radio," "Entre Nous," and "Natural Science"; and a 20-page 5×7-inch notepad emblazoned with Le Studio letterhead. ...
Back in February, Rush released a streaming version of their performance of The Spirit of Radio live in Manchester from the set, and earlier this week they also released streaming versions of Freewill: Live in London and Natural Science Live in Manchester. You can listen to both tracks below. Classic Rock magazine celebrated the upcoming release last month with a special cover feature on the making of the album written by Philip Wilding. Last week the feature was posted online and you can now read the whole thing via LouderSound.com. The Permanent Waves 40th anniversary box set releases this coming Friday, May 29th and you can pre-order yours via Amazon here: Super Deluxe Edition, 2CD and 3LP.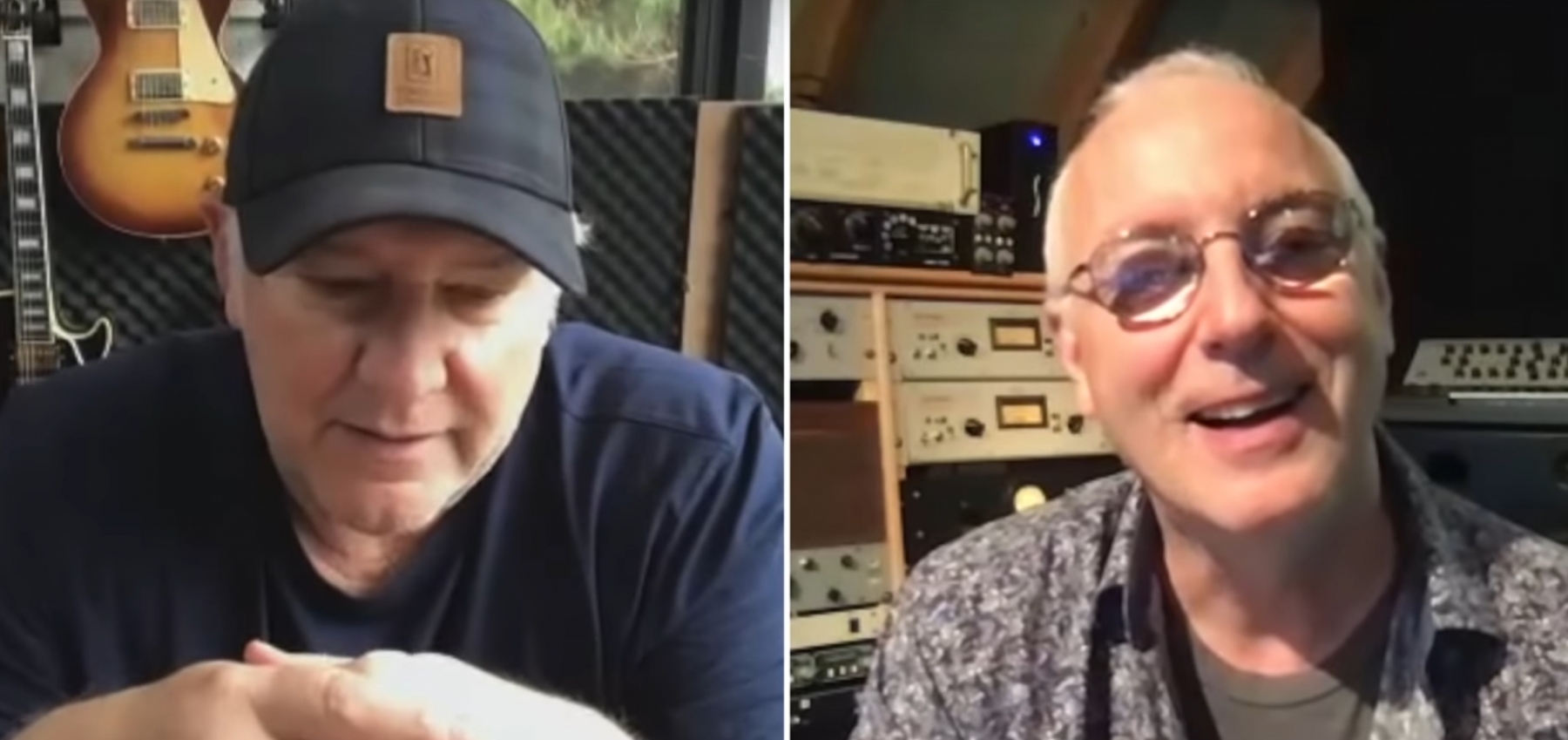 Thousands of PRS Guitars fans had planned to descend on the PRS factory headquarters in Annapolis earlier this month for their tenth annual Experience PRS event, but due to the COVID-19 pandemic, this year's event was forced into the virtual realm. Rush's Alex Lifeson was one of the several guitarists to participate. From an American Songwriter article covering the event:
... The virtual Experience premiered on the PRS YouTube channel on May 9th with how-to discussions on bettering your music skills and clinics on playing riffs, all delivered from top PRS artists Tim Pierce, David Grissom, Bryan Ewald and more. As a special surprise, founder Paul Reed Smith introduced a new video series "Long Distance: Paul Calls...?" where he chatted with Mark Tremonti, Steve Vai, Warren Haynes, Neal Schon, Al DiMeola, Orianthi and Alex Lifeson about the world of guitar. Paul asked PRS artists and friends questions that he had never asked them before, and each artist turned the tables back to Paul by asking the guitar maker a question or two of their own. The discussions that ensued from the fourteen artists that participated were both intimate, entertaining, and educational. ...
You can watch a portion of Paul's interview with Alex Lifeson in this video at around the 8-minute mark where he talks about Rush's first gig for about a minute and a half. The full discussion will be posted at a later date to the PRS Guitars YouTube channel.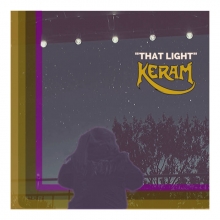 Speaking of Lerxst, Canadian-born actor and musician Keram Malicki-Sanchez released a new single earlier this week titled That Light which features Alex Lifeson on guitar. From Keram's website at keramsongs.com:
Keram's latest rock single "That Light" is the result of a two year IndieGoGo backed project to release new tracks recorded at a studio in Los Angeles, with some of his best musical friends, including Alex Lifeson (RUSH), Carmine Rojas (David Bowie), Ryan Brown (Zappa Plays Zappa), Marc Thomas (Madras), Pete Devlin (Blue Dog Pict) and singer Jessica Marshall-Gardiner and Angie Brown. Tracked by Jason Achilles Mezilis, mixed by Michael Costantini, and mastered by Andy Vandette (Porcupine Tree, Dream Theater), the song is about being strong in times of tribulation and finding strength in love, to defy lies. ...
The song is now available for streaming on all the usual channels, and you can listen to it on YouTube at this location. Malicki-Sanchez became friends with Lifeson about a decade ago while working on the film Irvine Welsh's Ecstasy, where Lifeson played the role of Dr. Figg. Lifeson appeared on and executive-produced Keram's crowdsourced album Come to Life, which was released back in 2011.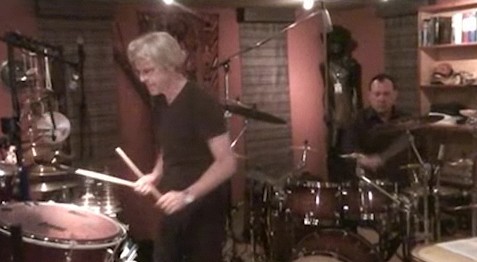 Drummer Stewart Copeland was recently interviewed by Rolling Stone magazine for a piece where the former Police drummer talks about life in quarantine, recently reuniting with his jam band Oysterhead, and sharing memories of his late friend Neil Peart:
... [his passing] took longer to hit me than his family and so on. He was a really good friend and a unique character. And a big part of my enjoyment of life was going down to the Bubba Cave and shooting the shit about cars, or him coming over here with Danny Carey and others to have it up at the Sacred Grove. I am very sad to miss those times. When he first passed, I was pleased for him, because [his illness] was a two-to-three-year process. At one point during it, he said, "Look, I'm a year past my sell-by date. I'm still here." And then another year went by. So when he passed, my first thought was, he had an incredible life. What a great way to go out. He saw his train coming and he got a first-class seat. That's him. Then comes me, thinking, "Wait a minute. He's not there anymore. I can't call him up anymore." I started to just miss him. I just wish he was back. Like, "That was really cool, Neil! Wow! You really aced it there, buddy! OK, you can come back now." And that's the part that sticks with me. I just wish he was here. ...
The interviewer remarks about the public perception of Peart as being a very quiet, serious guy when in reality, he was very funny and engaging. Copeland agrees and says the following:
... Yes. Very dry, very deadpan. He had some quirks. One of the stranger quirks, which any Rush fan probably knows, or anyone who has loved Neil, [is that] he cannot take compliments. He cannot take adulation. It just touches a button. I should be speaking in past tense. He had, I suppose, a dour exterior, but that craggy, dour exterior just made his wit more piercing. If you'll forgive the pun. ...
You can read the entire interview online at this location, and watch one of the above-mentioned Sacred Grove jam sessions involving Neil at this location.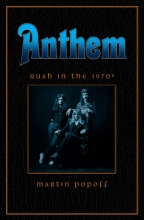 Music writer Martin Popoff has written a new Rush book titled Anthem: Rush in the '70s, which is the first of a 3-part Rush Across the Decades series. The book officially released a couple of weeks ago and you can order your copy here. Popoff is also selling signed copies via his website. The author was recently interviewed for the Rock Talk with Mitch Lafon podcast as well as City News 1130 to discuss the book (thanks RushFanForever). Anthem is the fourth Rush book from Popoff who also authored the 2004 Rush biography Contents Under Pressure, 2013's Rush: The Unauthorized Illustrated History (an updated edition was released back in 2016), and - most recently - Rush: Album by Album in 2017. The second book in the Rush Across the Decades series will be titled Limelight: Rush in the '80s and is slated for an October release; it can be pre-ordered at this location.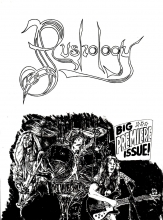 John at Cygnus-X1.net recently posted an archive of the short-lived, 80s-era Rush fanzine Rushology to his website at this location. Here's some history from John's introduction:
When most Rush fans talk about the old fan-made "fanzines" of the pre-internet age, the conversation typically centers around the two major players of that bygone era. First there was The Spirit of Rush, which had an incredible run of 64 issues from 1987 all the way through 2003. And then there was A Show of Fans whose high-quality run of 17 issues were published from 1991 through 1997. However before those two giants came to be, Rush fan Derek Barker, who now goes by the name of Derek Bacharach, published his own set of Rush fanzines appropriately titled Rushology. Derek's approach was to focus each issue on a specific Rush studio album, while inviting fans to comment and critique on the album. ... In March of 1986, more than a year before the premiere issue of The Spirit of Rush fanzine was released, Derek published his inaugural issue of Rushology which featured fantastic cover artwork by Jerry W. Brown. The fanzine would unfortunately have a short-lived run, spanning only four issues with the final offering coming out in December of the same year. ...
UltimateClassicRock.com recently celebrated their 9th anniversary, and posted an article this past week to commemorate the occasion where they list off the Ninth Albums From 50 of Rock's Biggest Artists including Rush's 9th album, Signals:
Most rock bands are struggling to remain relevant by their ninth album. But Rush were never like other rock bands. 'Signals' continued the prog-pop hot streak of 1980's 'Permanent Waves' and 1981's 'Moving Pictures,' pairing virtuosity with brighter production and more easily digestible choruses. That combination was never more potent than on the melancholy, synth-heavy "Subdivisions" or bruising "Digital Man," a twitchy bass showcase with a subtle reggae edge to the grooves. 'Signals' wasn't quite as popular as its "Tom Sawyer"-spawning predecessor, reaching only No. 10 on the Billboard 200. But it didn't matter: Rush's fiercely loyal fans ensured they'd continue to pack stadiums through the decade and beyond.
UCR also posted an article where they dive into the 25 songs that Rush played most in concert during their 40+ year touring career. Surprisingly, Tom Sawyer only came in at #5, while 2112's Temples of Syrinx and Overture took the top 2 spots respectively. Apparently they played Temples 17 times without also playing Overture - at least according to setlist.fm. Closer to the Heart was #3 and The Spirit of Radio came in at the four spot. You can check out the complete list at this location.
WhatCulture.com posted their list of 12 Hard Rock Bands Who Succeeded By Never Selling Out this past week, and Rush came in at #7:
Rush have been one of those bands who have covered just about everything that rock has to offer. Ever since their more humble blues rock beginnings, this power trio took their sound into places no other artist would have thought to go, which broke the mold for later acts down the road. From the word go, Neil Peart has said that there's no such thing as a genre of music that doesn't suit Rush, and that theory was put to the test on many occasions. One could argue that the band started to become more new wave in the 80's with various synthesizers, but even that sonic departure felt like a natural progression given the band's prog rock epics. Whenever the musical landscape was shifting beneath their feet, the band always marched to the beat of their own drum and chose to make the music they wanted to make regardless of whether it was popular. This led to the band creating their own rabid fanbase which has remained some of the most faithful in the history of rock and roll. Throughout their career, it seems that Rush have rode the crest of the mainstream without ever having to dive headfirst into the changing tide.
The latest issue of Prog magazine (Prog 109) includes an interview with drummer Mick Pointer (Marillion, Arena) where they ask him who his prog hero is, and also what he thinks is the most important piece of prog music:
... Neil Peart [is my prog hero]. I was a bit late to the Rush party, but hearing him play on the 2112 album was a game changer for me. I was lucky enough to shake his hand after a Rush show in Brighton in 1980. ... The entirety of 2112 [is the most important piece of prog music]. When I heard it I thought, 'Now that's what prog music should be.'...
BestClassicBands.com took a look back at the top selling albums of May, 1981 this past week and mention Rush's Moving Pictures, which was the #4 album at that time
At #4, Moving Pictures from Rush continued the band's strong momentum following 1980's Permanent Waves. Never a Top 40 favorite, the group did score success at rock radio with the album's "Limelight" and "Tom Sawyer."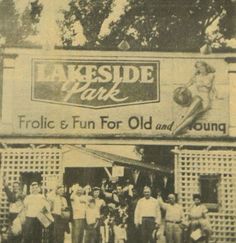 This coming Sunday, May 24th is Victoria Day in Canada! ... sort of at least. The holiday was originally celebrated on May 24th but an amendment to the Statutes of Canada in 1952 moved the holiday to the last Monday before May 25th. So this year it was celebrated this past Monday, May 18th. The date holds special significance for Rush fans due to its mention in the final verse of Rush's Lakeside Park
... Everyone would gather
On the twenty fourth of May
Sitting in the sand
To watch the fireworks display
Dancing fires on the beach
Singing songs together
Though it's just a memory
Some memories last forever
Rush has played at least a dozen live shows (that we know of) on the 24th of May over the years, but actually never played Lakeside Park at any of those shows (we think) up until the R40 Live tour. They played the song as part of their encore but left out the last verse. Many Rush fans had hoped that on that special day 5 years ago in Tampa they would humor their fanbase and throw in that last verse, but no such luck. Here's Rush playing the tune live back in 1976. Another reason that May 24th is significant to Rush fans is that it was on this day back in 1974 that a certain program director at WMMS in Cleveland received an album by some unknown Canadian band named Rush from her friend Bob Roper (then a record promoter at A&M of Canada) and decided to play Working Man on the air. That program director was none other than Donna Halper, who wrote about the experience in her blog a few years back.
That's all for this week. Happy belated Victoria Day to all my Canadian readers, and here's hoping that all my fellow US readers have a safe and happy Memorial Day weekend!