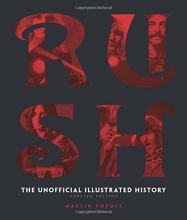 Back in 2013 author and music journalist Martin Popoff released Rush: The Unauthorized Illustrated History. It was his second book on Rush with the first being the 2004 Rush biography Contents Under Pressure. A new, fully revised and updated hardback edition of Rush: The Unauthorized Illustrated History was just made available and can now be ordered online here. From the Amazon description:
... Rush: The Illustrated History is a fully updated, richly illustrated history from prolific rock journalist and noted Rush authority Martin Popoff. The book follows the world-conquering exploits of Rush band members Geddy Lee, Neil Peart, and Alex Lifeson from the band's formation in Toronto to their fortieth anniversary celebration and tour. Popoff's stellar history is complemented by LP reviews from a slate of highly regarded music writers, a thorough discography compiled by the author himself, and more than 400 photographs and articles of memorabilia, from candid backstage images and live performance photography to picture sleeves, gig posters, period print ads, ticket stubs, backstage passes, and more. The result is a visually stunning and authoritative review befitting the rock band with one of the most devoted fan bases ever.
The book is now available and can be ordered online here (thanks John at Cygnus-X1.net).