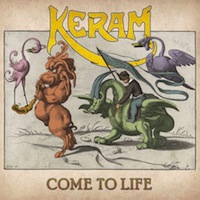 We learned earlier this year that Canadian-born actor and musician Keram Malicki-Sanchez had collaborated with Alex Lifeson and 20 other renowned artists for his upcoming Come to Life album. The album was funded through an IndieGogo campaign and will be released this coming May 28th in Canada on Constant Change Music. In addition to playing guitar on the album, Lifeson is also executive producer as described on the IndieGogo page:
RUSH Fans will want to hear these never before heard tracks featuring guitar work by Alex Lifeson! Alex did more than just play on the record, he became a mentor and executive producer, and in turn brought mixer Rich Chycki (RUSH, Aerosmith, Jonny Lang, Pink) on to mix "Mary Magdalene" which set a new standard for the rest of our mixes and mastering engineer Andy Vandette (Metric, David Bowie, Porcupine Tree) to master the the songs, thus some of the most important people responsible for making Rush records sound like they do.
The album's cover art and tracklisting were revealed earlier today via this Exclaim.ca article along with a preview of the 11-minute track The Devil Knows Me Well - which features Alex Lifeson on guitar. You can listen to the preview online at this location. The album will be launched with a Toronto listening party for Indiegogo contributors on May 28th. It will then be made available on Bandcamp, through digital retailers, and on CD through CD Baby. You can find out all the details including how to secure your own copy of Come to Life on the IndieGogo page here. There's also this YouTube video where Malicki-Sanchez discusses the project (at about the 2:35 mark).