UPDATE - 2/21@12:14PM: It looks like the release date has been pushed to May 29th (thanks Nick C).
UPDATE - 2/13@9:52AM: There's now a listing on the US Amazon site for the Super Deluxe Edition (listed at $179.98) which will include the bonus content listed below.
UPDATE - 2/12@9:15PM: The product listings for the 2CD (listed at $19.98) and 3LP (listed at $69.98) sets are starting to pop up on Amazon, but still seem to be incomplete - and there's no deluxe edition listed yet. The UK listing for the 3LP set has the following bonus content listed, but it's not clear whether these will come with the standalone 3LP set or the expected deluxe edition (thanks John at Cygnus-X1.net):
* Official Permanent Waves World Tour 1980 Program
* The Words & Pictures Volume II - U.K. Tour Program
* 3 Neil Peart Handwritten Lyric Sheet Lithos
* 3 Band Member Backstage Laminates
* Le Studio 20-page Notepad
* Double-sided 24"x36" Poster
There's nothing posted on any of the official Rush channels, or on the Rush Backstage Club site yet either.
----- snip -----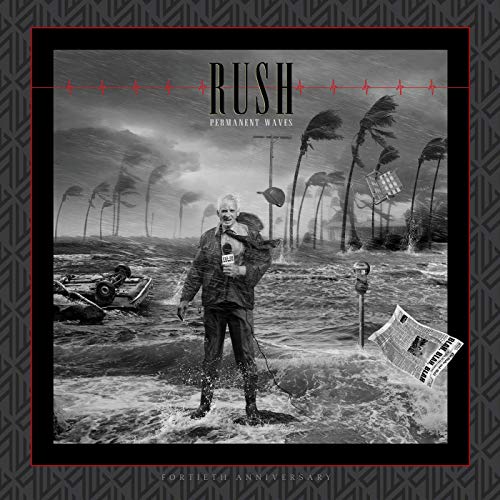 Rush has just released The Spirit of Radio live in Manchester from their upcoming Permanent Waves 40th anniversary box set on multiple streaming channels, including Spotify, Amazon Music and YouTube (thanks Matt P). The Amazon Music listing also includes some new artwork, and confirms the March 27th release date along with the bonus content tracklisting that we first reported on Monday. It looks like the release will be similar to 2018's Hemispheres 40th anniversary box set, and be available as a 2-CD set, 3-LP set, or a Deluxe edition that includes a 40-page, hardcover booklet. The first disc will include the 2015 Permanent Waves Abbey Road Studios album remaster on CD for the first time (previously released on vinyl) along with previously unreleased and newly restored bonus content on the bonus disc (2 bonus LP discs). However, unlike the Hemispheres box set, it doesn't look like the Permanent Waves Deluxe edition will include a 5.1 surround sound Blu-ray Audio mix. As we'd pointed out in last week's post, this could be due to the fact that the multi-track master tapes aren't available as Alex Lifeson explained in this 2012 interview. The unreleased, bonus live material will include various tracks from Rush's 1980 Permanent Waves tour, mostly from stops in London and Manchester. Here's the bonus content tracklisting information that is now confirmed via the Amazon Music listing:
1. Beneath, Between & Behind (Live in Manchester)
2. By-Tor & The Snow Dog (Live in London)
3. Xanadu (Live in London)
4. The Spirit Of Radio (Live in Manchester)
5. Natural Science (Live in Manchester)
6. A Passage to Bangkok (Live in Manchester)
7. The Trees (Live in Manchester)
8. Cygnus X-1 (Live in London)
9. Cygnus X-1 Book II (Live in London)
10. Closer To The Heart (Live in Manchester)
11. Jacob's Ladder (Live in Missouri)
12. Freewill (Live in London)
Rush played 2 shows at the Apollo in Manchester from June 17-18, 1980, and 5 shows at the Hammersmith Odeon in London from June 4-8 - so it's assumed that the above tracks are from those shows. Jacob's Ladder is likely from one of the band's 3 shows in St. Louis during February of 1980. Ole's Andy Curran first mentioned the planned 2020 release of a Permanent Waves 40th anniversary box set in an interview from late 2018. The release was confirmed during a pre-show advertisement at last year's Rush: Cinema Strangiato event.
Related Posts:
[Rush Permanent Waves 40th anniversary box set details and bonus content tracklist]
[Rush Permanent Waves 40th anniversary box set coming in March?]
[Rush's Cinema Strangiato hits theaters worldwide TONIGHT]
[Ole's Andy Curran talks upcoming Hemispheres and future Permanent Waves 40th anniversary box sets in new interview]