UPDATE - 5/19@10:05AM: Rush has also released Natural Science Live in Manchester 1980 for streaming, which you can listen to below or on YouTube here:
----- snip -----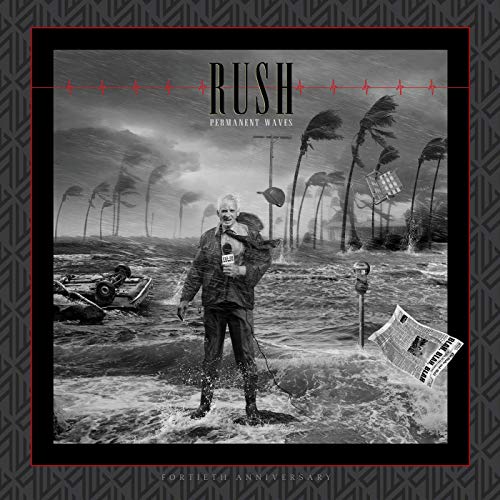 Rush will be releasing a new box set at the end of this month which celebrates the 40th anniversary of the release of Permanent Waves. Here are all the details from Rush.com:
The Super Deluxe Edition includes two CDs and three high-quality 180-gram black vinyl LPs. The set encompasses the Abbey Road Mastering Studios 2015 remastered edition of the album for the first time on CD, along with previously unreleased and newly restored bonus content newly mixed from the original analog live multi-tracks by the band's original producer, Terry Brown. The unreleased bonus live tracks come from three stops on the Permanent Waves World Tour 1980: (1) Manchester Apollo in Manchester, England; (2) Hammersmith Odeon in London, England; and (3) Kiel Auditorium in St. Louis, Missouri.

The Super Deluxe Edition of Permanent Waves-40th Anniversary will also include several exclusive items, including a 40-page hardcover book with unreleased photos, reimagined artwork by original album designer Hugh Syme, and an extensive & exclusive 12,000-word essay; a replica of the Permanent Waves 1980 official tour program; The Words & Pictures Volume II, a replica of the band's rare 1980 UK-only tour program; a 24×36-inch two-sided wall poster of the original album cover model photo shoot and photos of the band recording at Le Studio; three replica bandmember 1980 tour backstage laminates; three Neil Peart-handwritten lyric sheets for "The Spirit Of Radio," "Entre Nous," and "Natural Science"; and a 20-page 5×7-inch notepad emblazoned with Le Studio letterhead.

The second configuration of Permanent Waves-40th Anniversary will be released in a two-CD Deluxe Edition digipak that includes the remastered original album and the live bonus tracks, plus a 20-page booklet with unreleased photos and reimagined artwork by Syme.

The third Permanent Waves configuration will be offered as an audiophile black vinyl 180-gram three-LP Deluxe Edition featuring the original album on LP1 and all 12 bonus live tracks on LPs 2 & 3, all housed in a slipcase, along with a 20-page booklet with unreleased photos and Syme's new artwork. Jacket 1 features Syme's original 1980 album artwork in a single-pocket jacket, while Jacket 2 contains the Permanent Waves 1980 Tour bonus content in gatefold form.

The fourth configuration, the Deluxe Digital Edition featuring the original album and all 12 bonus live performances.

CD2 in the Super Deluxe Edition and the Deluxe Edition will feature 11 of the 12 live bonus tracks due to CD run time constraints. "A Passage To Bangkok (Live in Manchester)" was previously available on the 2112 - Deluxe Edition in 2012 so will not be featured on CD2 for both of these configurations. ...
Back in February, Rush released a streaming version of their performance of The Spirit of Radio live in Manchester from the set, and earlier this week they also released Freewill: Live in London for streaming. You can listen to both tracks below. Classic Rock magazine celebrated the release last month with a special cover feature on the making of the album written by Philip Wilding. Last week the feature was posted online and you can now read the whole thing via LouderSound.com. The Permanent Waves 40th anniversary box set releases on May 29th and you can pre-order yours via Amazon here: Super Deluxe Edition, 2CD and 3LP.
Related Posts:
[Permanent Waves 40th anniversary cover feature in latest edition of Classic Rock magazine]
[The Spirit of Radio live in Manchester from Rush's upcoming Permanent Waves 40th anniversary box set now available for streaming]
[Rush Permanent Waves 40th anniversary box set details and bonus content tracklist]
[Rush Permanent Waves 40th anniversary box set coming in March?]
[Rush's Cinema Strangiato hits theaters worldwide TONIGHT]
[Ole's Andy Curran talks upcoming Hemispheres and future Permanent Waves 40th anniversary box sets in new interview]