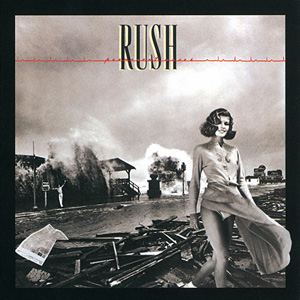 Last week we learned that Rush's upcoming Permanent Waves 40th anniversary box set would be released next month on March 27th, much sooner than originally expected. More details regarding the release have started to leak out over the past few days, including the available formats and bonus content tracklisting. Although nothing is official or confirmed as of yet, it looks like the release will be similar to 2018's Hemispheres 40th anniversary box set, and be available as a 2-CD set, 3-LP set, or a Deluxe edition that includes a 40-page, hardcover booklet. The first disc will include the 2015 Permanent Waves Abbey Road Studios album remaster on CD for the first time (previously released on vinyl) along with previously unreleased and newly restored bonus content on the bonus disc (2 bonus LP discs). However, unlike the Hemispheres box set, it doesn't look like the Permanent Waves Deluxe edition will include a 5.1 surround sound Blu-ray Audio mix. As we'd pointed out in last week's post, this could be due to the fact that the multi-track master tapes aren't available as Alex Lifeson explained in this 2012 interview. The unreleased, bonus live material will include various tracks from Rush's 1980 Permanent Waves tour, mostly from stops in London and Manchester. Here's the bonus content tracklisting information that we currently have:
1. Beneath, Between & Behind (Live in Manchester)
2. By-Tor & The Snow Dog (Live in London)
3. Xanadu (Live in London)
4. The Spirit Of Radio (Live in Manchester)
5. Natural Science (Live in Manchester)
6. A Passage to Bangkok (Live in Manchester)
7. The Trees (Live in Manchester)
8. Cygnus X-1 (Live in London)
9. Cygnus X-1 Book II (Live in London)
10. Closer To The Heart (Live in Manchester)
11. Jacob's Ladder (Live in Missouri)
12. Freewill (Live in London)
Rush played 2 shows at the Apollo in Manchester from June 17-18, 1980, and 5 shows at the Hammersmith Odeon in London from June 4-8 - so it's assumed that the above tracks are from those shows. Jacob's Ladder is likely from one of the band's 3 shows in St. Louis during February of 1980. Ole's Andy Curran first mentioned the planned 2020 release of a Permanent Waves 40th anniversary box set in an interview from late 2018. The release was confirmed during a pre-show advertisement at last year's Rush: Cinema Strangiato event. More information as we learn it.