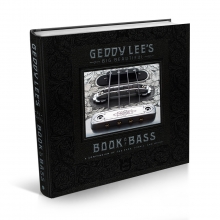 Geddy Lee has been hitting the interview circuit to promote his upcoming Big Beautiful Book of Bass, which releases this coming Tuesday, December 18th. This past week he sat down for extensive interviews with both MusicRadar.com and Rolling Stone. In the MusicRadar.com interview, Geddy talks about how the book has been a labor of love for him, and has occupied most of his time since Rush last toured 3 years ago:
... I haven't done anything musical that I would care to share yet because I've mainly been focusing on this - which was and is a labour of love for me. To be honest, right now I have no plans to do anything, but I probably will do something eventually. I have no idea what it will be, now that the book is done, I need some time to get to know myself again as a player and see what I feel like creating. ...
Geddy then goes on to list off the 10 bassists that have blown his mind over the years, and talk a bit about each one. Geddy's list includes Jack Casady, Jack Bruce, John Entwistle, John Paul Jones, Jaco Pastorius, Chris Squire, Jeff Berlin, Les Claypool, Flea and James Jamerson. In the Rolling Stone article Ged talks extensively about how the book came about, the many legendary bass players he interviewed, and his writing process. From the article:
... While Lee is thrilled to gush about this "labor of love," he's also itching to get back in his studio and make music. "This book took me so much time, and now I'm feeling really guilty that I've been away from playing - actual playing - as opposed to playing [basses] for the purpose of describing them in my book," he says. He's unsure what form that next creative step will take. As he told Rolling Stone in a previous interview, he's still open to the idea of recording a follow-up to his lone solo LP, 2000's My Favourite Headache. But when he finally does dive back into music-making, it's safe to say he'll have some new sounds to experiment with. "The basses are in storage somewhere in a high-security vault surrounded by a moat surrounded by alligators surrounded by dogs," he jokes. "I keep some in the studio so I have some around to play, and I try to move them in and out and enjoy them as much as I can." ...
Geddy will be conducting a couple of book signing events next week, one at IndigoSpirit in Toronto on December 17, and another at Bookend Books in New Jersey on December 18. Unfortunately both events are SOLD OUT although you can sign up to be put on a waiting list for the Toronto signing here. Geddy has promised that more signing events will be coming in the New Year. Geddy Lee's Big Beautiful Book of Bass is slated for release this coming Tuesday and you can pre-order it at this location.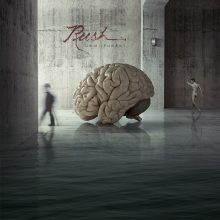 Rush's Hemispheres 40th anniversary box set released a last month and is available as a 2 CD or 3 LP set along with a Super Deluxe edition that includes both the 2 CDs and 3 LPs along with a bonus Blu-ray disc. The set uses the Abbey Road Studios 2015 remastered edition of the album, along with a newly restored bonus recording of the band's June 1979 Pinkpop Festival performance in the Netherlands (with the 2112 performance replaced with one from a Tucson show in November 1978). The Super Deluxe edition also includes a 5.1 Blu-ray mix of the album (from Rush engineer Rich Chycki), 4 bonus videos, a 40-page hardcover book with unreleased photos, new artwork by original album designer Hugh Syme, and several other exclusive items. John at Cygnus-X1.net has transcribed the liner notes and made them available online here, along with scans of all the contents here. MusicTap posted a review of the set this past week:
... on heavyweight vinyl adorned with new art by longtime graphics associate Hugh Syme, it looks and sounds fantastic. The concert is a bonus, but the real selling point of Hemispheres 40th is the hat tip to Rush's second phase and the turn toward their third. Fans will certainly want to check this one out. ...
MusicVaultz.com also created this neat, interactive Hemispheres crossword puzzle (thanks RushFanForever) where you can test how much you know about the album and share the results on social media. You can order the box set now via Amazon (2 CD, 3 LP, Super Deluxe edition), and also check out this unboxing video.


Classic Rock magazine's end-of-year, special 20th birthday edition hit newsstands this past week, and features the best albums and gigs of 2018, plus a CD of the year's best releases and a 2019 wall calendar (thanks RushFanForever). One sidebar article on page 35 featues the top album from each of the last 20 years as chosen by readers on social media. Rush's Clockwork Angels is the featured album for 2012 as seen here. The issue also includes an 8/10 review of the Hemispheres 40th anniversary edition, which you can check out here.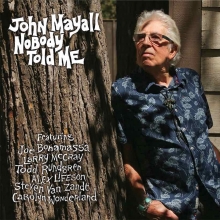 Legendary blues guitarist John Mayall's new album Nobody Told Me will release on February 22nd via Forty Below Records, and will feature guest musicians Todd Rundgren, Joe Bonamassa, Larry McCray, Carolyn Wonderland, Steven Van Zandt and Rush's Alex Lifeson. The complete tracklisting is available in this MusicTap.com article and Lifeson is featured on a recording of Evil And Here To Stay (a 1992 Jeff Healey song). Mayall recently spoke to Billboard about the album, and to preview one of the album's tracks - a song featuring Joe Bonamassa called What Have I Done Wrong - which you can listen to here. The album is now available for pre-order at this location
Speaking of Alex, Prog magazine has been celebrating the Holiday season with a Prog Advent Calendar, where each day of the month they feature a different festive song by a prog-rock artist. Yesterday's offering was Alex Lifeson's rendition of The Little Drummer Boy for the 1997 album Merry Axemas (thanks RushFanForever).

The 2017 independent film DriverX recently went into wide release, and reader Phil Simon noticed that the lead character (played by Patrick Fabian) wears a Rush t-shirt in one scene as seen in this screenshot.
LouderSound.com posted their list of the 50 best albums of the 80s and four Rush albums made the cut; Presto was #49, Signals came in at #29, Permanent Waves was #17, and Moving Pictures cracked the top 10 at #5 (thanks RushFanForever):
The killer-diller of Rush albums. No question. It sounds as fresh today as when, after five months of often fraught work, the band sat in a playback at Quebec's Le Studios and declared it was finished. A number-three album on both sides of the Atlantic, Moving Pictures bristles with hyper-commercial and left-field songwriting expertise, characterised by opening track Tom Sawyer. Side one of the original vinyl - also featuring Red Barchetta, the instrumental YYZ and Limelight - was faultless. Flipping it over, we heard a newly matured Rush - each aged 27 or 28 at the time - rein in the epic The Camera Eye (inspired by John Dos Passos) to 11 exhilarating minutes, terrify us with Witch Hunt, then set our techno pulses racing with Vital Signs. Some fans bemoaned Rush's over-reliance on keyboards for the record, but the band were on irresistible form - and anyway, the 80s was a time when the boundaries between music and technology were blurring. Rush embraced both aspects in impeccable style. A band at the top of their game.
Canada's 2018 Walk of Fame Awards Show Event took place at the Sony Centre for the Performing Arts in Toronto back on December 1st, and the ceremony was aired on CTV this past Sunday night. The event celebrated the 20th anniversary of the Awards and honored the 2018 inductees who included Colonel Chris Hadfield, Andrea Martin, Seth Rogen and Evan Goldberg, Tessa Virtue and Scott Moir, Jimmy Pattison, Andy Kim, Lorca Cohen for Leonard Cohen, and Allan Slaight Honour Recipient Jessie Reyez. Geddy Lee and Alex Lifeson attended the event and can be seen posing on the red carpet with other attendees in this Getty Images gallery. Rush was inducted into Canada's Walk of Fame back in 1999, and eTalk posted a red carpet video from the ceremony where they asked former and current inductees about how one should take care of their Walk of Fame stars. Geddy and Alex appear at the 0:52 and 1:05 marks to give their advice. Alex says that "his Mom is always available" to clean stars. :)

Christmas and New Year's Day are just around the corner, and I'd like to take a moment to thank everyone who has donated to the site, purchased items through my Amazon links and my Amazon Rush store, or clicked on any of my sponsor ads in the past year. Every bit helps and I really appreciate it. If you'd like to make a donation yourself, you can do so at this link. Any donation of 3 bucks or more will get you a free RUSH IS A BAND bumper sticker. Also don't forget to follow RIAB on Facebook and Twitter, and keep sending in any Rush news tidbits you might come across. That's all for this week. Have a great weekend and a Happy Holiday season everyone!!!