UPDATE - 11/25@10:14AM: John at Cygnus-X1.net has transcribed the liner notes and made them available online here, along with scans of everything here.
UPDATE - 11/18@10:05AM: Here's a review from uDiscoverMusic.com.
UPDATE - 11/17@4:57PM: Here's a review from the Spirit of Cecilia blog.
UPDATE - 11/17@10:58AM: Here's a review from Consequence of Sound.
UPDATE - 11/16@1:10PM: Here's a 4.5-star review of the Hemispheres reissue from Rolling Stone.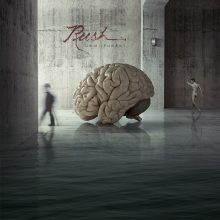 Rush's new Hemispheres 40th anniversary box set officially releases tomorrow and pre-orders have been shipping out, with many fans having already received their copies. The box set is available as a 2 CD or 3 LP set along with a Super Deluxe edition that includes both the 2 CDs and 3 LPs along with a bonus Blu-ray disc. The set uses the Abbey Road Studios 2015 remastered edition of the album, along with a newly restored bonus recording of the band's June 1979 Pinkpop Festival performance in the Netherlands (with the 2112 performance replaced with one from a Tucson show in November 1978). The Super Deluxe edition also includes a 5.1 Blu-ray mix of the album (from Rush engineer Rich Chycki) and 4 bonus videos. The Super Deluxe edition also includes several exclusive items, including a 40-page hardcover book with unreleased photos and new artwork by original album designer Hugh Syme. The Rush Backstage Club is offering various merchandise bundles which you can check out here. The record company is hosting a private launch/listening party and Q&A session in Toronto this evening. The event will feature an advanced listening session and Q&A panel hosted by Jeff Woods with Rob Bowman, Richard Chycki, Ray Wawrzyniak, Tom Berry, and Ivar Hamilton. The panel will be sharing insights and behind the scenes stories of the making of this legendary album, and will be playing the 5.1 mix from the upcoming box set. Unfortunately the band will not be attending, in case you were wondering. Although the event is not open to the public, they do plan on filming it and making it available online at some point. You can order the box set now via Amazon (2 CD, 3 LP, Super Deluxe edition), and also check out this unboxing video.
Related Posts:
[Win tickets to the official Hemispheres 40th anniversary box set launch event!]
[Ole's Andy Curran talks upcoming Hemispheres and future Permanent Waves 40th anniversary box sets in new interview]
[Geddy Lee talks Hemispheres 40th anniversary in new Rolling Stone interview]
[Rush Hemispheres 40th anniversary box set coming November 16th]