UPDATE - 10/19@12:00PM: Oops. One late addition that I'd overlooked before - blogger Wesley Stuer posted part 2 of his of his 2-part article Rush: A rock band for introverts this past week. Part one focused on Limelight and can be found here. The subject of part 2 is Subdivisions and you can check it out online at this location.
Geddy Lee and Alex Lifeson hosted 150 guests for their 4th not-so-annual Excellent Harvest Adventure outing to the Niagara Wine Region this past weekend to benefit their Grapes Under Pressure charity. The group took the train from Toronto to Peller Estate Vineyards in Niagara-on-the-Lake on Saturday morning for a day of good food, good wine and good company, culminating with a gourmet lunch and silent auction. Over the past week fans have been posting photos and video from the event to various social media platforms such as the Cygnus-X1.net Facebook group. Rush fan Lyle Dennis wrote up a report for his Medium.com site, including some great photos and a few interesting tidbits he gleaned from chatting with Geddy and Alex:
... In the moment I had truly been waiting for I was able to walk up and tell Geddy firsthand how much he and his music meant to me and my life and how my dream of decades was taking place at that moment. He was genuine and gracious and said it meant a lot to him. I gave him a small gift of a miniature Rickenbacker black and white bass pendant which he thought was nice. We took a selfie together and my life was complete. My number one bucket list item had been checked off.

Afterwards I also had the chance to chat with Alex Lifeson who was equally gracious and forthcoming.

I asked Alex if he still stayed in touch with Neil. He absolutely confirmed that.

Next I inquired if there was any chance Rush may once again make new music. "No," he replied. Zero percent I asked? "Zero" he answered.

Alex did admit he continued to be creative. He said he was playing guitar every day and was working on collaborations with other musicians.

As for Geddy he has been wrapping up the writing of his Big Beautiful Book of Bass. We shook hands one last time as I boarded the train back to Toronto. He confirmed when I asked him that he would be doing a book signing tour. I told him I would see him again at that time. ...
The obvious big takeaway from the report is Alex's confirmation that Rush is done as a group and that there is a "zero percent" chance for any new Rush music. The good news is that Alex continues to play and create music on his own, and that Geddy does plan on doing some kind of book signing tour for his upcoming Big Beautiful Book of Bass.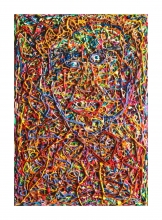 The Kidney Foundation of Canada's annual A Brush of Hope charity auction fundraiser kicked off earlier this week and Alex Lifeson is once again one of the many Canadian celebrities participating by donating their original paintings. Alex's painting for this year is a 10x14x1.5 birch plywood panel, acrylic collage titled Self Portrait #2, and is now listed on the auction's ebay.ca site here with a current bid of $5700 CAD. Alex has participated in the auction nearly every year since 2006, including last year with his painting 20,000 Feet Over The Sea which ended up selling for nearly $9600 CAD! The Brush of Hope online charity auction will run through October 24th at Noon. You can check out and place your bid on Alex's painting along with all the others at this location. For all the latest news and information be sure to follow A Brush of Hope on Facebook.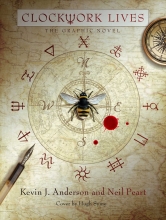 Kevin J. Anderson announced last Friday that the television and film rights for Clockwork Lives have been optioned to writer/producers Benjamin Raab & Deric A. Hughes (Arrow, The Flash, Warehouse 13). Kevin J. Anderson and Neil Peart's Clockwork Lives was released back in 2015 and is the follow-up to their 2012 Clockwork Angels novel. The graphic novel version of Clockwork Lives was just released this past summer.
The Slaight Family Polaris Heritage Prize honors Canadian albums of the past from four distinct time periods: 1960-75, 1976-85, 1986-95 and 1996-2005, and Rush's 2112 is one of the 10 albums released between 1976 and 1985 to be nominated. Two winners from each category will be chosen - one by a public fan vote, and the other selected by a jury of music critics, journalists, broadcasters and programmers. The online public voting closed yesterday and they'll be revealing the winning albums this coming Tuesday, October 23rd. Rush's Moving Pictures won the fan vote prize for the same time period back in 2016. Speaking of 2112, Lemonwire.com posted their list of the Top Ten Songs Over 10 Minutes Long this past week and 2112 made the cut at #7:
We couldn't very well forget one of the greatest bands in prog rock, and Rush's epic "2112" definitely deserves a spot on this list. Get ready for countless transitions, jams, solos, and technical flair.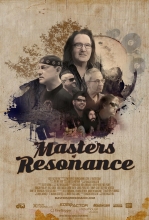 Neil Peart and the R40 drum kit are prominently featured in the Edge Factor documentary Masters of Resonance, which had its first pre-release theater screening as part of the Rush Family Reunion event at the Fox Theatre in Toronto back in June. The documentary's official world premiere took place in August at the GRAMMY Museum at LA Live, and included a post-screening conversation with storyteller and founder of Edge Factor, Jeremy Bout, DW's John Good, and drummer Paul Wertico. The film is now available for purchase on iTunes and will release on other platforms in December. For more information about the film and to keep up on the latest news, visit the website at mastersofresonance.com, and follow them on Facebook and Twitter. You can watch the trailer on YouTube at this location.
LouderSound.com posted their list of The 100 Best Debut Albums Ever as chosen by their readers, and Rush's eponymous 1974 album made the cut at #18 (thanks RushFanForever):
This album broke the Canadian band in the US when the song Working Man resonated with the blue-collar workers of Cleveland - and jocks at local station WMMS realised the song was long enough for them to take a toilet break. The album inspired Gene Simmons to dub the band 'Led Zeppelin Jr'. And, listening to the bluesy grooves of Finding My Way and In The Mood, it's not difficult to see why.

"This was us trying to find a sound," says Geddy Lee. "Thinking we wanted to be a hard rock band and emulating those bands we thought were cool. I can hear Led Zeppelin in there, and a bit of Humble Pie. I wish I could hear more than just those influences, but I can't. John Rutsey was very much a Simon Kirke kind of drummer - just hold down the backbeat and let's rock out. So that's how the songs came out.

"We recorded the album with a producer named David Stock, but it sounded so shitty we had to redo it with Terry Brown, who became our regular producer. With the second version we added a few more songs, and one of those was Finding My Way, which ended up being one of the most important tracks on the album - a real rocker.

"And the song that really got us noticed was Working Man. There was still radio in America at that time that wasn't overly programmed, and DJs had the licence to play longer tracks. Working Man was seven minutes long, and the airplay it got led to us signing with Mercury Records. That one song had an incredible impact."
A couple of weeks ago Eddie Trunk revealed his top 20 Rush songs on his Sirius XM Volume show. As part of the show, he also asked Donna Halper to compile a list of her own top 20 Rush songs and call in to read and discuss it, which she did as described in this blog post:
... I was surprised when Eddie's producer contacted me, asking if I would submit my top-20 favorite Rush songs for a show about Rush that Eddie was going to do; and he asked if I'd be part of the show, calling in to read my list. As I've done with other interviewers, I explained that I don't think in terms of "favorite" Rush songs-- these are my friends, and I love them dearly. Asking me to pick favorites is like asking a mom "who's your favorite kid?" Obviously, there are days when one kid or other can be annoying, but over all, most moms love all their kids-- although, perhaps, in different ways. I'm like that about Rush songs. Yes, there are some that resonate with me more than others. But "favorites"? Not really. I love all their songs, although in different ways; and I'm so proud of what Rush accomplished during their long career.

With that said, I agreed to compile a list of twenty songs that have special meaning for me, and I did call in to read the list. (I also was glad I could give a shout-out to female Rush fans, of which there are many.) Eddie was courteous and it was fun to be on his show. After it was over, several fans who had heard it (or heard part of it) contacted me to ask if I'd publish my list. So, for anyone who is a Rush fan, I'm happy to share what I read to Eddie. ...
You can check out Donna's list at on her blog here.

Reader Ray J pointed out a Rush reference in the recently-released horror/mystery film Summer of 84. At one point in the film a Rush 2112 poster can be seen on a bedroom wall as shown in this screenshot.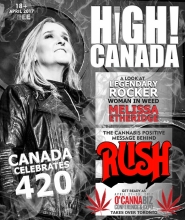 Earlier this week Canada became the first major world economy to legalize recreational marijuana. Coincidentally, John over at Cygnus-X1.net recently posted an article from the April, 2017 issue of Canada's High! Canada magazine titled Riding the Thailand Express with Rush. The article talks about the band's attitudes and history regarding marijuana centering around their 1976 song A Passage to Bangkok.
... In an interview in High Times magazine, which published its first issue in 1974, Alex Lifeson remembers getting handed a copy of their first issue, and how it opened his mind to all the different varieties and experiences possible with marijuana. It piqued his curiosity and began a lifelong love of cannabis. He even suggests that the magazine was influential on the writing of A Passage to Bangkok, as the magazine reported on the prices and quality of cannabis from different parts of the world, including the places specifically mentioned in the song. ... Any time Alex has been asked about marijuana, he normalizes it, taking the sting of stigma away. In conversation, he treats marijuana no different than having a glass of wine, and refers to smoking pot as part of a regular routine, where one might have dinner, and then have an after-dinner smoke and a glass of wine while watching some Trailer Park Boys (a show that he is not only a fan of, but has been a guest on). He recognizes marijuana as a huge creative influence on his songwriting, though he does admit that he'd rather go on stage clear-headed these days, as it can hamper the attention required to perform with such precision, especially as the band's song wring became more intricate and complex over the course of their long, productive career. Not only does he enjoy writing while smoking pot, he loves getting high and just playing his guitar, just for himself, stretching himself outside the boundaries of RUSH, playing whatever springs to mind, which he calls a pure exercise of joy. This kind of experience, he says, has also been helpful during relationship difficulties, as a way to get to a calmer place together and being able to open up and talk about deeply personal things. ...

On a related note, Rush-themed t-shirt designers Danforth & Pape have developed a very unique Thailand Express shirt design in celebration of the occasion. To find out how you can get one, visit their Facebook page here.
Today is the 25th anniversary of the release of Rush's 15th studio album, Counterparts. Counterparts along with 2012's Clockwork Angels are Rush's 2 best charting albums in the US, both reaching as high as #2 on the Billboard album charts. The album was recorded between April and June of 1993 at Le Studio in Morin Heights, Quebec and McClear Place in Toronto. It was produced by Peter Collins and was certified Gold on December 7, 1993; it has yet to reach Platinum status. The album's first single Stick It Out reached as high as #1 on the mainstream rock charts, with Nobody's Hero and Cold Fire both reaching #3. Happy anniversary!! Here's Beavis & Butthead mocking the music video for Stick it Out.
That's all for this week. Have a great weekend!!