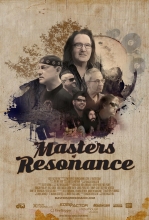 Neil Peart and the R40 drum kit are featured in the Edge Factor documentary Masters of Resonance. The film had its first pre-release theater screening as part of the Rush Family Reunion event at the Fox Theatre in Toronto back in June, and the documentary's official world premiere will take place at the GRAMMY Museum at LA Live tonight at 7:30PM (PST), with tickets available at this location. The premiere will include a post-screening conversation with storyteller and founder of Edge Factor, Jeremy Bout, DW's John Good, and drummer Paul Wertico, moderated by GRAMMY Museum Artistic Director Scott Goldman. The film will then hit the festival circuit this fall and be released to video-on-demand streaming channels, beginning with iTunes, later this year. Here's a synopsis of the film as provided by the filmmakers:
When was the last time an object spoke to you, and you listened?

Storyteller and Founder of Edge Factor, Jeremy Bout once believed that a drum was a glorified pail with a lid on it. All drum kits sound the same if you hit them with a keen sense of rhythm, right? Then he met John Good, Co-Founder of DW Drums and realized, "Boy, was I wrong." The innovation, craftsmanship, and sheer brilliance behind the science of drum making inspired Jeremy and the filmmakers at Edge Factor to share the legacy of John and the DW team, in the music documentary film Masters of Resonance.

This film takes you on a journey from the forest to the stage and pulls back the curtain on drum making. It begins with sustainably harvesting the wood in the forests of Michigan, then shows the design, manufacturing, and painting operations in the DW Drums factory. The finished product is revealed, as completed drum kits are played by many of the biggest names in the music industry. These processes are perfectly demonstrated as the DW Drums team creates the iconic Rush R40 tour drum kit, using 1500 year old Romanian bog oak. Along the way, you will witness the unique relationship that these drum makers share with musicians, as Jeremy interviews world class drummers from the DW Drums roster.

Rush drummer Neil Peart, beautifully captures the message of the film when he asks, "What could be more transcendent than a musical instrument?" It's the team's unending pursuit of excellence, willingness to embrace failure to find solutions, and the dedication of each team member that empowers DW Drums to create objects that live forever in the music they create.
For more information about the film and to keep up on the latest news, visit the website at mastersofresonance.com, and follow them on Facebook and Twitter. You can watch the trailer on YouTube at this location.