UPDATE - 1/23@2:06PM: Drummer and Rush uberfan Mike Portnoy had the following to say regarding Alex's comments and Rush's apparent demise in an interview with The Chainsaw Symphony radio show earlier this week:
... I grew up with [RUSH] and I went through a huge RUSH phase in the mid-'80s, early '80s when I was a teenager ... Neil was always my hero back then, and since then I'm honored that we've become good friends and I cherish that relationship. And I've stayed a RUSH fan through all these years. ... It's sad to see it end, but you've gotta respect that, because if they can't deliver, and if they are in physical pain and they can't deliver what fans wanna see, I respect that they would go out on top ... I don't like when I see bands that are just a memory of what they used to be, and there's a few out there that I've seen recently that are still touring ... I'm not gonna name them, but some of the members can barely play their parts, and then they have a lot of other members that weren't even originally in the band. So I don't know. I would rather see a band like RUSH go out on top and have all the good memories of what they're capable of. ...
----- snip -----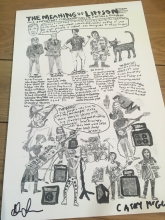 Rush's Alex Lifeson was recently interviewed for the Globe and Mail's Between the Acts feature, and spoke about how he's been keeping himself busy since Rush stopped touring and recording. He confirms that Rush has no plans at all for the future, and is "basically done":
It's been a little over two years since Rush last toured. We have no plans to tour or record any more. We're basically done. After 41 years, we felt it was enough. ...
He then goes on to talk about his many side projects, with particular focus on his regular Meaning of Lifeson column/comic in Dave Bidini's new community newspaper The West End Phoenix, along with revealing his involvement with the CBC's new show Crawford, which premieres next month:
But I've actually been busier lately than I have been in a while. I'm writing a lot. I'm writing on four or five different little projects. I get these requests to do guitar work with other people. It's really a lot of fun for me. It's low pressure: I get to be as creative as I want to be and I can work a little outside of the box, which is really attractive to me.

I'm also writing for the West End Phoenix, a new monthly newspaper in Toronto. [Editor-in-chief and author and a founding member of the Rheostatics] Dave Bidini came to me and asked me if I'd wanted to have fun with a little column, and have artist Casey McGlynn do illustrations for it. It's been great. Casey's illustrations work really well together with what I'm writing.

For my first column, though, I was panicking. I thought, "What am I going to do? What can I do that's going to be funny or different or special in some way?" So, initially I wasn't sure about it. This is not my field. But Dave's a persuasive guy. He told me to write 150 words, that Casey would do his illustrations and that it would be great. I think I submitted 1,200 words. Apparently, I don't have a problem with content.

It's fun to put yourself in an uncomfortable situation. If you have a little bit of confidence and you just get out of your own way, these things can happen. The same thing happened when I got asked to do a small role in a TV show, Crawford, a new comedy on CBC from Mike Clattenburg, who created Trailer Park Boys.

I thought I couldn't do it - that it was something for real actors. But I ended up doing a few episodes. It definitely was not in my comfort zone. But if you throw a challenge at yourself and dive into it, it can be really gratifying.