UPDATE - 11/12@10:21AM: The winning bid on Alex's painting was $9600 CAD!
UPDATE - 11/9@9:46AM: It looks like the bidding on Alex's painting has been extended to Saturday at 7AM.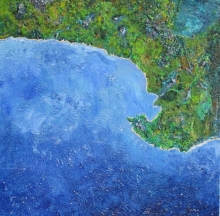 The Kidney Foundation of Canada's annual A Brush of Hope charity auction fundraiser kicked off last week and Alex Lifeson is once again one of the many Canadian celebrities participating by donating their original paintings. Alex's painting for this year is titled 20,000 Feet Over The Sea, and is now listed on the auction's ebay.ca site here with a current bid of $5100 CAD (thanks Gerry). Alex has participated in the auction nearly every year since 2006, including last year with his painting Aquarium which ended up selling for nearly $8700 CAD ($6500 USD)! The Brush of Hope online charity will run through November 8th at Noon. You can check out and place your bid on Alex's painting along with all the others at this location. For all the latest news and information be sure to follow A Brush of Hope on Facebook.