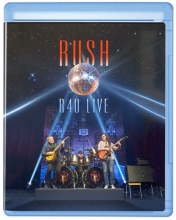 Rush's R40 Live concert film officially released back on November 20th in North America, debuting at #24 on the Billboard 200 album chart in its first week of release. Some new interviews promoting the release emerged this past week including a Music Radar interview with Geddy Lee where he says the following regarding any future touring plans:
"I really don't know at this point," admits Lee. "We're not sure how many tours, if any, are left in us. Our touring life might be over; it just depends on being able to get a consensus to do more. Right now, we don't have a consensus to go out on tour. And unless somebody changes their mind, it's not looking good for that! But I remain optimistic that, maybe after some time, we can twist everyone's arms and get back to work!"
There's also this Canadian Musician Radio interview with Geddy and Alex that extends their recent cover feature interview in the November-December issue of Canadian Musician. In separate interview segments, Geddy and Alex break down the R40 Live setlist and stage show, describing how and why certain songs were selected, how the videos came about, and their favorite parts of the show. You can listen to the interview at this location beginning at about the 34-minute mark. They chat with Geddy for about 13 minutes, then switch over to Alex at about the 47:30 mark for another 7 minutes or so. Rounder Records kicked off a special Rush R40 Live fan sweepstakes earlier this week where they are asking fans to tell them what special characteristics Rush fans have that make them so special and unique. The top 10 submissions will receive an R40 Live prize pack from the Rush Backstage Club that includes the R40 Live DVD, an R40 Tour t-shirt, and an R40 Live poster. The contest runs through midnight EST tomorrow, December 19th. For all the details and to submit your entry just go to this location. R40 Live is available as 2 DVDs, 1 Blu-ray disc or 3 Audio CDs along with various combo packages. Previews of several tracks from the video are available on the Rush YouTube channel, along with a 2-minute trailer for the film here. R40 Live's tracklisting mirrors the Friday, June 19th Toronto show setlist, with One Little Victory, Distant Early Warning and Red Barchetta from the June 17th Toronto show as bonus material on the DVD/Blu-ray. The CD also includes audio for Clockwork Angels, The Wreckers, The Camera Eye and Losing It with Jonathan Dinklage as bonus material. Eric at Power Windows has the liner notes here, and John at Cygnus-X1.net has posted artwork here. You can order the various R40 Live packages at the following locations:
[3-disc CD/Blu-ray Combo]
[3-disc CD/DVD Combo]
[3 Audio CDs]
[Blu-ray only]
[DVD only]
Speaking of the R40 Live tour, the nominees for the 2016 Tour Link Top Dog Awards were announced earlier this week and several members of the Rush road crew family have been nominated including Lorne Wheaton (Backline: Drum Tech), Brad Madix (Front of House Engineer), Jerry Ritter (Rigger), Liam Burt (Tour Accountant) and Mac McLear of Egotrips (Truck Driver). Congrats guys!! The Awards will be presented at the Tour Link Conference next month.
The Rock and Roll Hall of Fame announced their 2016 class of Rock and Roll Hall of Fame inductees yesterday and making the cut this time around were Cheap Trick, Chicago, Steve Miller, Deep Purple and N.W.A. As 2013 inductees into the Rock and Roll Hall of Fame, the members of Rush were permitted to cast their vote for this year's class of inductees. Last month St. Louis radio station KSHE 95 spoke with Geddy Lee and Alex Lifeson and asked them about who would be getting their vote:
... [Geddy and Alex] were both surprised to learn that one of this year's nominees, Chicago, aren't already in. Geddy says, "Great band. We all listened to those early CTA [Chicago Transit Authority] records." And Alex adds that they were very "influential." Asked who he'll vote for, Geddy said, "Yes and Deep Purple 100 percent." ...
So it looks like at least 2 of the 3 artists that they voted for are in. Here's what Geddy had to say regarding the announcement via the Rush Twitter feed yesterday.
"Some justice at last! Deep Purple in the Rock Hall!! But no Yes??? Are you kidding me??" - Geddy Lee
In addition to his Twitter comments, Geddy has been active on his geddyimages Instagram account this past week. He posted a couple of photos (here and here) of himself fiddling around on some basses while on a recent trip to Tokyo.

Rush's Power Windows celebrated its 30th anniversary back on October 29th and is the subject of an In The Studio with Redbeard rockumentary radio show that first aired this past week and is now available for streaming online at this location. The program consists of old interview segments with Geddy Lee and Alex Lifeson from past In the Studio interviews and runs about 36 minutes. The Power Windows vinyl reissue had been slated to release today, but has now been delayed until January 8th along with the Grace Under Pressure and Hold Your Fire vinyl reissues. Speaking of Power Windows, Bay Area artist Zak Wilson let me know about a new documentary he produced about the Tower Records Berkeley art department titled Art Gods. Their crew was responsible for the in-store merchandising look for Tower Records going back to the early 80's and hand made all the large format displays to promote new music releases that adorned the walls at Tower. One of the albums they promoted was Rush's Power Windows as seen in this photo.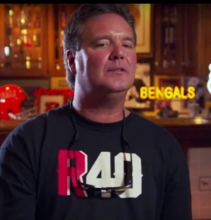 ESPN ran a segment on the pre-game show before this past weekend's match-up between the Cincinnati Bengals and the Pittsburgh Steelers (the Bengals ultimately lost 33-20). They feature Bengals fan Jeff Wagner, who is known for his elaborate banners that he has been bringing to every Bengals home game going back to 1998. Wagner is wearing a Rush R40 t-shirt in the video, and when describing his weekend banner-creation ritual, he mentions how he always plays Rush, saying the following:
I'll go in [to my garage] and turn on Rush - the greatest Rock and Roll band in the history of the world. ...
All this while they play Rush's Limelight and show footage of Wagner creating a banner. You can watch the segment on YouTube at this location.
In celebration of the new Star Wars film that officially opens today, I bring you this FANTOONS animated short film featuring Jedi Lee:
Only 1 more week until Christmas! If you are looking for some last minute gift ideas, check out my Rush fan holiday gift guide. And don't forget about International Rush Day this coming Monday, December 21st! Have a great weekend!