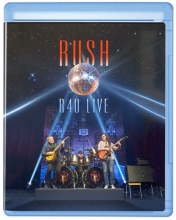 Geddy Lee recently sat down with Amit Sharma of Music Radar for a new interview where he chats about the band's recently-released R40 Live concert video. He was also asked about any future touring plans and said the following:
"I really don't know at this point," admits Lee. "We're not sure how many tours, if any, are left in us. Our touring life might be over; it just depends on being able to get a consensus to do more.

"Right now, we don't have a consensus to go out on tour. And unless somebody changes their mind, it's not looking good for that! But I remain optimistic that, maybe after some time, we can twist everyone's arms and get back to work!"
You can read the entire interview online at this location.