UPDATE - 2/28@8:48AM: Rolling Stone is asking what's the best Rush song? for their Weekend Rock Question.
Rush fans got their fill of Geddy Lee on TV this past Saturday night. Geddy was the special guest on the season 14 debut episode of VH1 Classic's That Metal Show and was also featured on the series premiere of VH1 Classic's Rock Icons immediately following That Metal Show. The full episodes of both shows are available for viewing online at the VH1 Classic website, along with several bonus videos. In his That Metal Show interview (watch it here) Geddy spoke about the upcoming R40 tour and how difficult it is to whittle down the setlist which he jokingly stated is currently 5 hours long. He mentioned that the band is currently rehearsing separately and they'll begin band rehearsals in April. Host Eddie Trunk asked Geddy whether the R40 Tour would be a farewell tour and Geddy had the following to say:
... it's clear that we are at a point in our career that we have to slow down - and slow down dramatically. So, I'm not a guy who's in love with the farewell tour idea, but it's clear that this is going to be the last big tour that we're going to do for a while, anyway ... In terms of 'are we still a band?,' yeah, of course we're still a band. Do we talk about writing? Yes, we talk about writing. Will we do gigs in the future? I don't see why not. But, when you are talking about a tour that's 35 shows, 40 shows, 50 shows at our age at this point in our lives, I don't know how many of those are still left in us. ...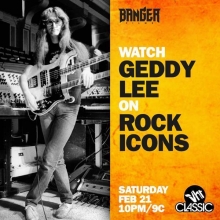 He also did not want to reveal any details about the tour or setlist and spoil the surprise, but he did say that it will be "a celebration of our entire history". You can watch the entire episode at this location. VH1 Classic also posted a number of bonus videos from the show's taping including an 8-minute That After Show clip with Geddy Lee and John Petrucci. You can check out that video along with all the other bonus videos here. Geddy's Rock Icons episode was basically a 20-minute, mini-documentary on Geddy Lee from Banger Films, so it had the same kind of feel as Beyond the Lighted Stage. It featured interview segments with Geddy's bandmates, his mother, his friend Dave Bidini and Paul Northfield. You can watch the entire episode at this location, along with a couple of bonus videos here.
Throughout 2015 Rush will be releasing all of the Mercury-era Rush albums on vinyl along with a few select titles on Blu-ray audio. They are calling it the 12 Months of Rush, as they will be releasing one or two titles a month each month. They started with Fly By Night last month (Vinyl, Blu-ray Audio), and this past Tuesday they released their vinyl reissue of Caress of Steel which you can order at this location. Next up after that are 2112 and All the World's a Stage on March 17th. The 2112 vinyl reissue will be a special Hologram Edition as described in this Rush.com press release:
... Pressed on high fidelity 200gram vinyl, this unique Hologram Edition showcases a custom, hand- of the "Red Star of the Federation" in the album's dead wax runout of side two. To reveal the spinning hologram, fans can use any focused source of light, such as the LED flashlight on a smartphone, directly above the turntable while playing. ...
They also posted a 1-minute demo video of the Hologram Edition to their YouTube channel which you can check out here. All titles will be reissued on high-quality vinyl with a 320kbps MP4 Digital Audio download code, with Fly By Night, A Farewell to Kings and Signals also having a Blu-ray Audio release. Fly By Night (Vinyl, Blu-ray Audio) and Caress of Steel are already available, and you can pre-order All the World's a Stage, 2112 and several of the other titles at the links below:
2112: Hologram Edition (03/17/15) - Vinyl
All the World's a Stage (03/17/15) - Vinyl
A Farewell to Kings (04/21/15) - Vinyl | Blu-ray Audio
Hemispheres (05/19/15) - Vinyl
Permanent Waves (06/16/15) - Vinyl
Moving Pictures (07/21/15) - Vinyl
Exit ... Stage Left (07/21/15) - Vinyl
Signals (08/18/15) - Vinyl | Blu-ray Audio
Grace Under Pressure (09/15/15) - Vinyl

A live radio broadcast recording of a December, 1974 Rush appearance at the Electric Ladyland Studios in New York City will be released on CD in Europe this coming April. It's titled The Lady Gone Electric and was originally recorded in front of a small audience of around 10 people for FM radio broadcast. It will likely be available in the US and Canada as an import only at some point - likely due to legal issues as it's not an official Rush release. It's similar to the Spirit of the Airwaves and Rush ABC 1974 live releases from a few years back, in that it is essentially a packaged release of a radio broadcast bootleg recording that's been around for many years. You can check out all the details and the tracklisting in this post.


There was a Rush poster spotted in a scene from this past Monday night's episode of AMC's Better Call Saul (Season 1, Episode 4 - Hero). About 5 minutes into the episode this Rush poster is prominently displayed in the background as Bob Odenkirk's character chats with a cohort while smoking a bong (screenshot here).

One of the recurring themes on FX's animated sitcom Archer, is how Krieger's van mural is periodically updated with with some kind of Rush album-themed design, with 5 different Rush van murals on the show to date. During the season 3 finale Space Race: Part 2 the van was given a Caress of Steel-themed mural with the lettering reading Caress of Krieger (screenshot here). On the finale of season 2 the van had an Exit ... Stage Left-inspired mural which read Exit ... Van Left (screenshot here), and earlier in season 3 the mural had been updated to a Rush Hemispheres theme (screenshot here). The 4th Rush-themed mural appearance occurred back in 2013 (Season 4, Episode 2 - The Wind Cries Mary) when the van's mural was updated with a Fly By Night theme, showing the familiar album cover with the title as Van By Night and the owl's face replaced with an image of Krieger's face (screenshot here). Season 5 went by without any updated van mural, but it returned for Season 6. In Episode 8 of Season 6 (The Kanes) which aired last night, Kreiger's van mural has a theme based on Rush's debut album, where it depicts the word Van using the Rush explosion font as seen here.
Time ran an article earlier this week on how several artists are blocking politicians from using their music at campaign events. They also include a list of high profile cases from recent years, one of which is the 2010 case where Rush prevented then Senatorial candidate Rand Paul from using Rush's music:
Rush sent Paul a cease and desist letter after he played two of their songs - "Tom Sawyer" and "The Spirit of Radio" - at his rallies. The band's attorney claimed the reaction was about intellectual property rights, not politics. "We would do this no matter who it is," he said.

The 2nd annual RushFest Scotland will take place on Saturday, April 18th from 1PM to 3AM at the Dreadnought Rock in Bathgate. Last year's inaugural event took place on May, 17 2014 and raised £3,284.58 for MacMillan Cancer Support, which will also be the charity supported for this year's event. Be sure to check out the flyer for all the details and keep up with RushFest Scotland on Facebook and at their website for all the latest news and to purchase tickets.
The Daily Mail ran a story yesterday profiling a video where a baby reacts wonderfully to listening to Rush's 2112 for the first time. You can check out the story and video here.
The Toronto Globe and Mail ran a piece earlier this week about the ambitious project to renovate Toronto's historic Massey Hall which kicked off this past Monday with a ceremony at the venue that Geddy Lee attended. Geddy sat down for a video interview and recalls the first concert he ever saw at Massey Hall - Cream. You can watch the 2-minute interview below or at this location. Rush played Massey Hall many times in their early years, and recorded their first live album - 1976's All the World's a Stage - there. There's also this other interview with Geddy from the ceremony from the Canadian Press.
That's all for this week. Have a great weekend!