UPDATE - 11/16@1:19PM: Note that the Radio.com 6-song stream is no longer available. They instead now have on-demand versions of Red Sector A and Middletown Dreams available here.



This coming Tuesday, November 19th Rush will be releasing their highly-anticipated Clockwork Angels Tour CD/DVD/Blu-ray. It has already released in parts of Europe and UK fans can get their hands on it on Monday. Indeed, reader rushfanben already has his copy and sent along some photos of the CD and DVD packaging (CD and DVD, CD set, DVD). The film will also be shown in theaters across North America the night before the release on Monday, November 18th. Fans can find theaters and buy tickets for the theatrical release at the Fathom Events website in the US, and at Cineplex.com in Canada. There's also a 30-second trailer for the theatrical release available on YouTube, another trailer on the Rush YouTube page, and the official movie poster. Rush is also offering a limited edition deluxe package exclusively available at the Rush Backstage Club for $99.99. On Wednesday Pandora Premieres began streaming the complete audio from the CD which you can check out here, and Radio.com began running a 24-hour preview of six of the tracks from the album yesterday. The six song preview was supposed to end at Noon today and be replaced by just 2 songs.(Middletown Dreams and Red Sector A) but as of this post the full, 6-song preview is still going on at this location.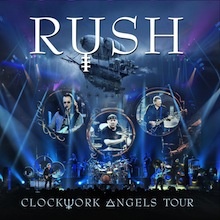 Geddy Lee and Alex Lifeson have been hitting the interview circuit this past week promoting the Clockwork Angels Tour release. Geddy spoke with VH1 earlier in the week to break down 8 tracks from it in this 14-minute video interview and he also chatted with Radio.com for a video interview which you can check out on YouTube here. Alex did a few radio interviews over in the UK including one with BBC WM and another with Planet Rock. He will also be Philip Wilding's guest on the Prog Magazine Show on TeamRock Radio this coming Sunday. There's also a 90-second preview clip of 2112 from the film available at this location, and the complete video of Rush's performance of The Garden can be seen on YouTube. This video of The Garden has also been getting some airplay on VH1 Classic's Rock Fest (thanks Sean). Rush will be partnering with independent retail outlets to sell an exclusive 10" picture disc single of this live version of The Garden for a Record Store Day sponsored Black Friday event on November 29th. The concert was filmed/recorded on November 28th of last year in Dallas, TX and the primary footage consists of this entire concert. As a bonus they also include 3 tracks (Middletown Dreams, The Pass and Manhattan Project) from the November 25th show in Phoenix along with a soundcheck recording of Limelight. The DVD/Blu-ray also includes a 25-minute tour documentary titled Can't Stop Thinking Big, the intro/intermission/outro tour videos and other exclusive bonus content. One of the special features to be included on the DVD/Blu-ray is a cartoon short parody of The Family Guy called The Family Goy, written by Seth MacFarlane and starring the voices of Geddy, Alex and Neil. You can check out a 1-minute preview of the cartoon on Funny or Die here. You can check out the official trailer for the film here and pre-order your copy at this location (DVD, Blu-ray, CD). Speaking of the Clockwork Angels Tour, the official Billboard Boxscore attendance and sales figures for the remaining 15 US shows not yet reported from the 2013 leg of the tour were FINALLY released this past week. There were no sellouts reported but attendance was still strong with around 85% capacity in most cases. The highest-grossing date on the tour so far remains the May 24th show at the O2 in London, and the most attended show so far is now the July 4th show in Milwaukee. The highest-grossing US date was the August 2nd show in Denver. Figures for most of the Canadian and European dates have yet to be reported. Note that the capacity figures reported do not always correspond to the actual physical capacity of the venue, but instead reflect the number of tickets that were made available for sale. You can check out all the numbers in the tour section.
Classic Rock Magazine's Classic Rock Roll Of Honour annual awards ceremony took place yesterday at the Roundhouse in London and Alex Lifeson was awarded the Spirit of Prog award. From Classic Rock's live coverage of the event, here's what Alex had to say when accepting the award from Rick Wakeman:
... many thanks to the wonderful folks at Classic Rock. I'm wondering if we got a sympathy vote because we're from Toronto. I got a call from the mayor saying he heard they were serving Krak-en here. He's going to be disappointed. ...
Alex also presented an award earlier in the evening with Brody Dalle. Rock photographer Ross Halfin was at the ceremony and got a great shot of Alex with Jimmy Page and Tony Iommi that he posted to his online diary:
... At the end of the night I got Alex Lifeson, Tony Iommi and Jimmy Page, then in walked Ozzy and Geezer so I got them all together - it made my night. Even Alex Lifeson said it was strange standing with two people whose songs he played as a teenager, and Pete Makowski made the final point to Alex and I that they all started as blues bands - Led Zeppelin, Black Sabbath and Rush. ....
Here's a photo gallery of the awards ceremony which includes a nice one of Alex up at the podium accepting his award. The gallery also includes short interviews with all of the winners, including Alex, which you can listen to on SoundCloud.
Neil Peart once again updated the news page on his website this past Friday. The November, 2013 entry is titled Angel's Landing and Neil describes what he's been doing with all his free time since Rush's Clockwork Angels tour ended this past summer, including driving his new Aston Martin Vanquish, going on some hiking trips and revisiting his Ghost Rider book. Neil sounds very happy to have some time off from working. You can check out the entire update online here. Speaking of Neil, Hudson Music Senior Drum Editor Joe Bergamini's full-color retrospective/transcription book companion to Neil Peart's third instructional DVD Taking Center Stage: A Lifetime of Live Performance has been nominated for Best Educational Book in this year's Modern Drummer Readers Poll. The book was released back in October of last year and contains musical transcriptions, historical writing, instructional text, and a beautiful collection of photographs. Just go to the Modern Drummer website to vote for the book between now and December 15th. You can preview the book and order a copy at this location.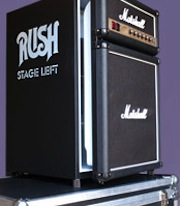 A couple of weeks ago we learned about a contest being run by New York City's Q104.3 in partnership with Rush where one lucky Rush fan could win a prize pack including a customized Rush Marshall Fridge, the Clockwork Angel Tour concert on CD & DVD, Vapor Trails Remixed, and more. Since then we've learned that Rush is running this same promotion with several other partners too - including Guitar World, Planet Rock and Nights With Alice Cooper.
Noisy.com posted an article earlier this week called Bass Baddasses: 6 Heroes Every Bassist Should Look Up To and the first bassist profiled is of course Geddy Lee:
Let's start off with an easy one, shall we? Geddy Lee is a name you should have heard of before you even picked up a bass guitar. As the front man for the 80s power prog-rock gods Rush, Geddy is well known for his astonishing song writing talent, distinctive vocals, and incredible rhythm. Backed by two equally amazing musicians, Rush has run the gambit from classic rock to 80s synth pop and back again. Switching time signatures three or four times in one song, Geddy never losses a beat while singing and stopping to play keyboards all at the same time. Backed with his signature Fender Jazz bass, you know it's him when he takes the stage.


Eric at Power Windows posted this 3rd grade language studies test recently administered by teacher (and obvious Rush fan) Robert Baker at Leonard Lawrence Elementary School in Omaha, NE. All the questions pertain to Rush. It even includes a dig aimed at Steve Lillywhite who reneged on his agreement to produce Grace Under Pressure. Great stuff. :)
RollingStone.com posted the results of their latest Readers Poll to determine the 10 Greatest Canadian Rock Stars and Rush came in at #2:
Anyone who doesn't know Rush is Canadian can probably figure it out about four seconds into their 1981 video for "Limelight." It begins with a wolf running in front of a hopelessly remote house, practically lost in a mountain of snow. There don't appear to be any neighbors around for at least one hundred miles and inside, the Canadian trio is playing in front of a large window that looks out into the vast Canadian wilderness. ...
Former Air Guitar World Champion and star of a recent Dr. Pepper commercial - Nordic Thunder - recently made an appearance on the YouTube talk show Lil Bub and rips into a blazing air-guitar performance of Tom Sawyer. You can check it out online at this location at about the 3-minute mark. Thanks to LanceTheShred for the heads up.


Earlier this year we learned that Chromey - the 1974 chrome Slingerland drum kit once owned and played by Neil Peart - would be taking up residence at the Percussive Art's Society's Rhythm! Discovery Center museum as part of a new drum set exhibit called DRUMSet: Driving the Beat in American Music. It's taken a while to get the exhibit up and running and it's only just opened this past week just in time for the 2013 Percussive Arts Society International Convention (PASIC) this weekend. Chromey is the centerpiece of the exhibit and sits alongside a Buddy Rich kit, a Gene Krupa kit, a John Bonham kit, a Ringo Star kit, and the kit used on Thriller. The museum is located at 110 West Washington Street in Indianapolis, IN. They are expecting big crowds and admission to the Rhythm! Discovery Center museum will be free for all PASIC badge holders this weekend only, although the exhibit will be open through 2015. Over the last several years Chromey has been making the rounds to music stores, Rush events, and trade shows to help raise money for charity. It was the first drum kits Neil used in the band, and it was played on his first four albums and five tours. Thanks to Tom B for the heads up and the photos.
Here's Radio.com's preview stream of the Clockwork Angels Tour concert video:
That's all for this week. Have a great weekend everyone!!