UPDATE - 11/16@9:10AM: Here's another short, post-ceremony video interview with Alex (thanks RushFanForever):
----- snip -----
UPDATE - 11/15@11:13AM: Here's a photo gallery of the awards ceremony which includes a nice one of Alex up at the podium accepting his award. The gallery also includes short interviews with all of the winners, including Alex, which you can listen to below or on SoundCloud:
----- snip -----
UPDATE - 11/15@8:49AM: Here's a short Prog magazine article on Alex's award from last night. They mention that Alex Lifeson will be Philip Wilding's guest on the Prog Magazine Show on TeamRock Radio on Sunday.
UPDATE - 11/15@7:27AM: Rock photographer Ross Halfin was at the ceremony and got a great shot of Alex with Jimmy Page and Tony Iommi that he posted to his online diary (thanks superscience):
... At the end of the night I got Alex Lifeson, Tony Iommi and Jimmy Page, then in walked Ozzy and Geezer so I got them all together - it made my night. Even Alex Lifeson said it was strange standing with two people whose songs he played as a teenager, and Pete Makowski made the final point to Alex and I that they all started as blues bands - Led Zeppelin, Black Sabbath and Rush. ....
----- snip -----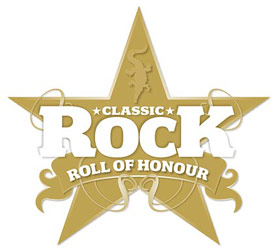 Classic Rock Magazine's Classic Rock Roll Of Honour annual awards ceremony took place today at the Roundhouse in London and Rush's Alex Lifeson was awarded the Spirit of Prog award. From Classic Rock's live coverage of the event:
... 2202: Fish says: "Prog used to have a bad name - you'd never let your daughter go out with a prog musician. Now you can hold your albums above your head with price. Wonderful! This is a self-proclaimed grumpy old man and I completely agree with that... he's an imperfect gentleman, which I find is the best kind. Mr Rick Wakeman!" The man himself comes up to announce...

2205: WINNER: Spirit Of Prog, sponsored by USM/UMC - Alex Lifeson of Rush

It seems that Rush documentary movie Beyond The Lighted Stage is the gift that keeps on giving for the Canadian band... after spending decades in the doldrums of uncool, they're suddenly talk of the town. Those who enjoyed the bonus scene of the three members having dinner may not have been surprised at how Lifeson behaved during his Rock And Roll Hall Of Fame acceptance speech -- although Geddy Lee and Neil Peart certainly were. Let's see how this goes...

Wakeman: "This is a man I truly admire. He formed the band in 1968. His wife came up with the band name shortly after they first made love. He was in hospital earlier this afternoon after misunderstanding he instructions on a Dyson ball cleaner..." He more or less admits he's trying to outdo Lifeson's Blah-blah routine. But he finishes: "This is very well deserved."

Lifeson: "many thanks to the wonderful folks at Classic Rock. I'm wondering if we got a sympathy vote because we're from Toronto. I got a call from the mayor saying he heard they were serving Krak-en here. He's going to be disappointed..." Well, you couldn't follow the Hall Of Fame, could you?

Fish recalls how Lifeson once walked all the way down a concert hall and mooned him. "You can't come back from that." ...
Alex also presented an award earlier in the evening with Brody Dalle:
... Alex Lifeson and Brody Dalle come up to present the next award. Fish describes their relationship as "an unlikely friendship" and they immediately argue like a married couple, before announcing ... WINNER: Musicians' Union Maestro - James Dean Bradfield, Manic Street Preachers...
While Alex was in London today for the ceremony he hit the radio interview circuit to help promote the band's upcoming Clockwork Angels Tour live release. He appeared on BBC WM's Paul Franks Show earlier today, and was also a guest on Planet Rock Radio (thanks GedFan).