UPDATE - 1/20@9:16AM: The Rush reference from The Soup that I'd mentioned below is now up on YouTube here (thanks John at Cygnus-X1.net).
UPDATE - 1/18@8:10PM: I'm now also hearing that Rush will be playing at the Riverbend Amphitheater in Cincinnati on July 2nd.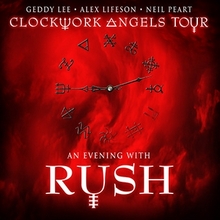 The Rush news was relatively quiet this past week as we anxiously await the impending official announcement of tour dates for the 2013 North American leg of the Clockwork Angels tour. Since there was no announcement this week, it now looks like we'll most likely get the official word early next week, probably late Monday/early Tuesday. From the bits and pieces of information I've been able to gather over the last several weeks, it looks like Rush will be playing a run of 10-12 dates along the East Coast from late April to mid-May before heading over to Europe. I'm hearing that they will not begin the tour until after their April 18th appearance at the 2013 Rock and Roll Hall of Fame induction ceremony in Los Angeles, so I would imagine that the tour kick-off would take place sometime the week following the induction. They'll then return to North America for another stretch of shows in the Summer. The shows for which I've heard specific dates and venues are April 26th at the BB&T Center in Ft. Lauderdale, FL; May 11th at the Trump Taj Mahal in Atlantic City, NJ; June 28th at the First Midwest Bank Amphitheatre in Tinley Park, IL; and the Milwaukee Summerfest for a show around the 4th or 5th of July. Remember that these are just rumored dates; nothing is official until Rush makes the announcement. Speaking of the tour, last week MusicTAP reported that Rush's planned Clockwork Angels Live tour DVD would be releasing this coming May 21st via Concord Records. It turns out that this information was false and MusicTap later posted a retraction earlier this week saying that the release date would instead likely occur this Fall as originally anticipated. This past week I received the sales and attendance figures for Rush's November 1st show in Atlanta, which completes the numbers for all the US dates on the 2012 Clockwork Angels tour; the figures for the 6 Canadian shows are still pending. The Atlanta show joins Manchester, Bridgeport, Newark, Buffalo, San Jose, Universal City, Dallas and Houston as another sell out with an attendance of 12,086 and gross ticket sales of $926,850. See the tour section for all the details.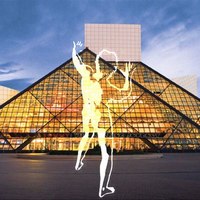 Tickets for the April 18th 2013 Rock and Roll Hall of Fame induction ceremony at the Nokia Theatre L.A. Live will go on sale to the public next Friday, January 25th. There will be some kind of pre-sale for Rock and Roll Hall of Fame members (members as of December 31st of last year) but no details regarding this have been released yet. According to Seattle radio DJ Mark Christopher ticket prices will range from $75 up to $3000 for a VIP experience. Rush made it clear in several interviews following the induction announcement that they would be attending the ceremony and do plan on performing. The Rock Hall has not yet released any details regarding the ceremony itself either, including who will perform and in what order and who will be inducting the various artists. As I'd mentioned above, from what I've been hearing the band won't be kicking off the Clockwork Angels tour until after the April 18th induction ceremony.

Back in April of last year we first heard that thrash metal pioneers Anthrax would be including a cover of Rush's Anthem on an upcoming tribute EP. Earlier this morning RollingStone.com made the track available for streaming online at this location. The EP will be titled Anthems and be released on March 19th:
Perennial thrashers Anthrax are prepping the release of a new EP, Anthems, that will hit shelves on March 19th on Megaforce. It finds the group covering songs by some of their favorite artists, including Thin Lizzy's "Jailbreak" and Boston's "Smokin.'"

Now you can take a listen to their thundering cover of Rush's "Anthem" done with a fresh, metal twist. "When I was first learning to play drums, I would strap on my headphones, play along with [Rush's live album All the World's a Stage] and be transformed," Anthrax drummer Charlie Benante tells Rolling Stone. "I remember talking with Cliff [Burton] and Kirk [Hammett of Metallica] back when we first met, and we all agreed how much of an influence Rush was on all of us. I don't [know] if you would hear anything that sounds like Rush in Anthrax's music, but the passion, the drive, the musicianship and the appreciation is all there."
You can listen to the track online at the RollingStone.com website here.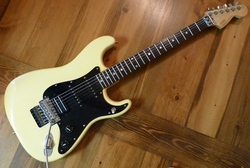 Earlier this week we learned that Niagara on the Lake luthier Freddy Gebrsek has received permission from Alex Lifeson to create and sell replicas of his Hentor Sportscaster which Alex used extensively during the early 1980s. A portion of the proceeds will go to the Grapes Under Pressure charity. For all the details visit FreddysFrets.com.
The Rush Backstage Club is running a new contest where you could win a Clockwork Angels tourbook signed by all 3 members of Rush. The contest closes on January 30th and only one entry per email address is allowed. For all the details and to enter go to this location. They are also running a sale on a number of items which you can check out here.
Rush's Clockwork Angels album made a few more end-of-year best of lists this past week. Testament guitarist Alex Skolnikc placed the album at #1 on his top 10 albums of 2012 list. 411 Mania's The 8 Ball column listed the album at #2 on their list of the Top 8 Albums of 2012, and 411 Mania contributor Chad Webb also listed the album on his top 10 list for the year saying the following:
9. Rush - Clockwork Angels - I have been a fan of Rush since I was little, but over the past few years they have become one of my favorite bands. I saw them in concert last year and they performed two songs from Clockwork Angels. I knew that if the rest of the album was as first-rate as those tracks, it would be another magnificent offering from a truly great rock band. The end result met my expectations wonderfully. Clockwork Angels continues the consistent trend of heavier, consistent Rush albums since their return with Vapor Trails. I won't say that this is their best album ever, but it is f'n awesome and like most of their material, I can and will listen to it regularly.
Rush came up empty in Ultimate Classic Rock's Ultimate Classic Rock Awards despite having been nominated in several categories. However, they did make it to Round 2 of the 2012 Ultimate Classic Rock Bowl where they are currently up against Aerosmith. So go vote for Rush!
This past October Hudson Music released a full-color retrospective/transcription book companion to Neil Peart's third instructional DVD Taking Center Stage: A Lifetime of Live Performance. The book is written by Hudson Music Senior Drum Editor Joe Bergamini with a foreword by Neil Peart and contains musical transcriptions, historical writing, instructional text, and a beautiful collection of photographs. A Kindle edition of the book is now available through Amazon at this location.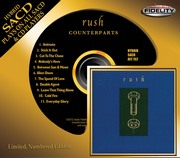 The release date for Audio Fidelity's Super Audio CD (SACD) version of Rush's Counterparts has been pushed back a few weeks (thanks robertrobyn). It is now listed at Amazon with a release date of Tuesday, February 19th rather than January 22nd and is available for pre-order. For more information visit the Audio Fidelity website.
Reader Profzed let me know of a small Rush reference on Wednesday's episode of The Soup on E!. Host Joel McHale ran a segment from the SyFy channel game show Total Blackout. In the show contestants are placed in total darkness and must touch unknown items and identify them, usually resulting in terrified screams. Viewers can see what is happening through the magic of night vision cameras. The segment in question was of a teenage girl alongside her long and bushy-haired boyfriend. She is tasked with identifying a cuddly little furry animal in a cage and ends up screaming. Joel then joked about how much worse it could have been had the girl been forced to touch and identify her boyfriend saying, Ew, a comic-book store manager! Ew, a Rush fan! There have been several past references to Rush on The Soup including this one from back in July, 2011.
Trucking magazine Overdrive recently featured an article on Rush's Red Barchetta (thanks Butch W). You can check it out on their website here.
KROQ recently published an article profiling the soundtrack for the 1998 film Small Soldiers titled The Greatest Movie Soundtrack You've Never Heard. The soundtrack included a remix of Rush's Tom Sawyer from Phoenix based DJ Z-Trip, who is interviewed for the article:
... "I remember telling (the label) that I needed them to get me the master tapes of 'Tom Saywer'' for me to do it right. I thought they'd be like, 'no way,' but at the time, Dreamworks had just kind of started up, and they had all the pull in the world. Next thing I knew, the masters of the song were in my hands." ... "The coolest part of the whole thing was that Rush had to hear the remix and sign off on it," he explained. "They were totally into it." ...
This past week Guitar World published their list of The Top 10 Covers of Songs by The Who (thanks Sarah S) and Rush's cover of The Seeker from their Feedback EP made the cut at #5:
In 2004, Rush honored some of the bands that inspired them by releasing Feedback, an eight-song EP packed with covers of songs by the Yardbirds, Buffalo Springfield and Cream. The EP also featured a cover of "The Seeker," which was originally released as a single by The Who in 1970. Although the track doesn't give these three master prog-rockers a chance to "spread out," they put the emphasis on the song's strong, steady beat and high-flying vocals, which are handled rather nicely by Geddy Lee.
Peter Brocklehurst has posted Chapters 8, 9 and 10 of his Neil Peart diary to his The Legends of Brocklehurst blog. In these chapters Peter covers his experiences driving Neil around on the Hold Your Fire tour. You can check out these installments and Peter's previous chapters at The Legends of Brocklehurst blog.

Chromey - the 1974 chrome Slingerland drum kit once owned and played by Neil Peart - will shortly be taking up residence at the Percussive Art's Society's Rhythm! Discovery Center museum according to a recent post at the Chromey Facebook group.
We are proud to announce that Chromey will be joining a new temporary collection at the Percussive Art's Society's, Rhythm! Discovery Center museum. Chromey will be part of a new drum set display at the museum which will be called "DRUMSet: Driving the Beat in American Music" Chromey will be exhibited alongside drum sets which were played by legends such as Buddy Rich, Louie Bellson, Gene Krupa, Max Roach, Hal Blaine and more. ...
The museum is located at 110 West Washington Street in Indianapolis, IN. Over the last few years Chromey has been making the rounds to music stores, Rush events, and trade shows to help raise money for charity. It was the first drum kit Neil used in the band, and it was played on his first four albums and five tours.
Welland, Ontario based humor columnist Arnie Dyker recently passed away at age 65. The Welland Tribune mentions in his obituary that he once worked in the music industry and was friends with Neil Peart:
... After attending university, he worked for more than a decade as a music manager and promoter. Some of his former clients include Neil Peart of Rush and local musicians Rob Lamothe and Vox Violoins - all of whom he remained friends with, his wife said. ...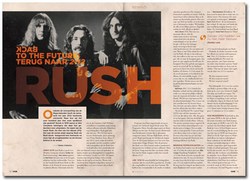 Reader rushfanben let me know that the latest issue of Dutch music magazine Oor contains a 6-page feature on Rush. The content mainly consists of snippets of past interviews and articles which have been published in the magazine since 1975. According to the article, Oor writer Kees Baars conducted Geddy Lee's first European interview on December 1st, 1976 standing in a phone booth in Amsterdam while Geddy was in Los Angeles. Since then Baars has been a friend of the band and interviewed them many times.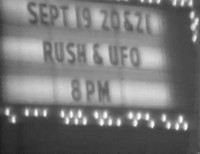 A 35-year-old video interview with Alex Lifeson recently surfaced on YouTube which shows Alex Lifeson backstage giving a tour of his guitars to music journalist Buck Munger at the Paramount Theater in Portland, OR. Although the video is labeled as occurring in 1975, the marquee in the video reads September 19, 20, 21 - Rush & UFO. Rush never played any shows with UFO on those dates in 1975, but they did in 1977. You can check out the video below or on YouTube at this location:
That's all for this week! Hopefully we'll have some official tour dates to discuss next week. Have a great weekend!