UPDATE - 5/24@1:44PM: Here's one item I'd forgot to mention. DrumsForCures Inc. is running a charity auction where they are selling a Neil Peart autographed drumhead to raise money for cancer research. For all the details and to place your bid go here (thanks Tom B).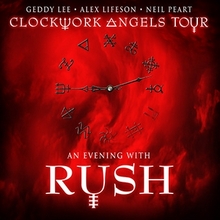 Rush opened up the European leg of the 2013 Clockwork Angels tour this past Wednesday in Manchester, England. They continue their trek across jolly ol' England today, where in just a couple of hours they'll hit the stage at London's O2 Arena. Then it's on to Birmingham, Sheffield and Glasgow before jumping the channel to bring the tour to mainland Europe. One of the stops they'll be hitting while in Europe is the Sweden Rock Festival - the band's first appearance at a European festival in 34 years. Geddy Lee was recently interviewed by VH1 Radio Network's Dave Basner and shed some light on why the band has avoided festivals over the years:
"The way festivals used to be, we were always prevented from bringing our full show to them, so things changed in the last couple of years. We've started playing a couple of outdoor venues that allow us to do our full show. We did a few in Canada that are multiple-day festivals, where you have a stage to yourself that can accommodate, so that started to turn us around a little bit about playing festivals."

When asked whether he thinks Rush will play more festivals in the future Geddy had the following to say:
"We'll see how this one goes. This one in Sweden is kind of a test case for the European festivals, and if we like the end result, then I think we might start doing more of those, because we can play to more people and shorten the show a little bit and just hit more countries that way. That's kind of what's at the back of our minds - if this goes well, maybe we can go to some countries we haven't visited yet."
Rush will be headlining the Sweden Rock Festival on June 8th. UK Rush fan Robert Taylor is biking between shows on the UK leg of the tour to help raise money for Cancer research. You can help support his cause by visiting his page at JustGiving and making your donation. Rush will be back in North America next month and a few new ticket contests for various shows have opened up. Swearnet.com is giving away 4 tickets to Rush's July 14th Halifax show. You can get all the details on how to enter in this YouTube video. And New York City's Q104.3 is running a contest where one lucky Rush fan could win front row tickets to Rush's upcoming show at Jones Beach on June 23rd along with meet and greet passes and a custom Geddy Lee Clockwork Angels bass guitar. The contest is open to fans in the NYC tri-state area only. You can get all the details and enter the contest at this location.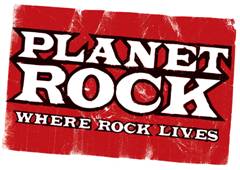 While in the UK this past week, Alex Lifeson and Geddy Lee hit the interview circuit to promote the European tour. UK digital radio station Planet Rock aired their 20+ minute interview with Alex this past Wednesday and made it available online here. They also put a number of fan-submitted questions to Alex and had him answer several of them in this YouTube video. In the main interview Alex talks about the current tour, the Rock Hall induction ceremony, explains the infamous blah speech, the band's plans after the tour, and more. You can listen to the entire thing here. Geddy Lee spoke with Steve Adams of the Birmingham Post for an interview in today's edition where he discusses the band's recent Rock Hall induction, the Clockwork Angels tour and more. Here's Geddy on the band's plans after the tour:
... "Right now we're looking to finish this tour and take a holiday," says Lee, almost wearily. "After a nice long break we'll figure out what we're gonna do, but right now we have not talked about it and we have zero intention of talking about it." That includes discussion of a 40th anniversary 'R40' tour next year, an idea the band's management is determined to push through. "They're trying but they're going to fail," says Lee. "And there's nothing wrong with an 'R42' tour - it doesn't have to be a round number. "After all, there's been nothing round about our career." ...
Alex also spoke with the Sheffield Star for a short interview, and Geddy appeared on the Paul Franks Show on the BBC WM earlier this week. You can listen to that interview at this location beginning at the 1:47 mark.
Rush's April 18th Rock and Roll Hall of Fame induction ceremony premiered on HBO this past Saturday night. The HBO broadcast was a 168-minute, edited version of the nearly 5-hour long ceremony. Other than a few minor edits, the entire Rush portion of the ceremony was kept intact for the broadcast, including Alex Lifeson's infamous blah speech. The broadcast did not include Jann Wenner's opening speech which featured a standing ovation for Rush, but HBO did make the speech available on YouTube. Some videos of the broadcast were posted online this week, but unfortunately (and unsurprisingly) HBO had them taken down. The camera-phone YouTube videos from the ceremony itself are still available though (for now at least), and you can check those out in this post. There's also some camera-phone vids of the broadcast itself still available here. For some reason the Rock Hall does not make the broadcast of the ceremony available for purchase on DVD/Blu-ray, so if you don't have HBO these online videos may be your only chance to watch. Outspoken radio DJ Howard Stern caused quite a stir on his Monday radio show when he voiced his objections to this year's crop of inductees, including Rush. You can read all about it in this Examiner.com article.
MusicRadar.com launched a new podcast series with Chad Smith of the Red Hot Chili Peppers a couple of weeks ago called In Conversation, and Alex Lifeson was the first featured guest. Part 1 of their three-part conversation aired 2 Mondays ago, and part 2 of the interview aired this past Monday. In the second installment Alex chats with Chad for over half an hour about the Rock Hall induction ceremony, his painting, his pilot's license, John Rutsey, and more. You can listen to it and read the transcript at this location, or get the podcast on iTunes here. The interview took place a few days before the band's Rock And Roll Hall Of Fame induction over a leisurely dinner at the Sunset Marquis in West Hollywood, California. The third and final part of the interview will be posted this coming Monday.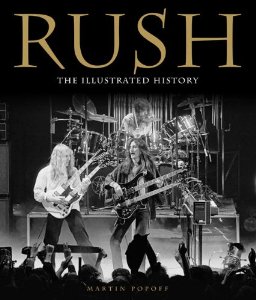 Author and music journalist Martin Popoff has followed up his 2004 Rush biography Contents Under Pressure with a new illustrative history of the band titled Rush: The Unauthorized Illustrated History. The book was scheduled for a May 30th release but already began shipping from several online retailers including Amazon.com earlier this week. From the book's description:
... for the first time, Rush is treated to the epic visual celebration they so richly deserve in a beautifully designed and profusely illustrated history following the band's entire career. A chronological overview history written by noted music scribe and Rush authority Martin Popoff spans the band's entire career from 1968 to today. A complete Rush discography chronicles all their albums, from the debut album to 2112, Moving Pictures, and Signals to Grace Under Pressure, Vapor Trails, and more. The authoritative text is complemented by album reviews written by well-known music journalists from around the globe, commentary from fellow musicians, a discography, tour dates, and hundreds of photographs and pieces of memorabilia, including picture sleeves, gig posters, rare vinyl, handbills, ticket stubs, and much more.
For details and to order your copy via Amazon, go to this location. Popoff will be appearing at this year's RushCon to talk about the book and sign copies for fans.
Golfer and friend of Alex Lifeson, Rocco Mediate, is featured in this CNN iReport article from earlier in the week. Mediate is competing in the Senior PGA Championship this week. The article talks about how Mediate's friendship with Lifeson came about and their appearance on the inaugural episode of the Golf Channel's Playing Lessons. It includes this quote from Alex Lifeson:
... "I remember how thoughtful and considerate Rocco was," said Lifeson. "He spent a great deal of time with me, a truly novice golfer, on the range hitting a million 7 irons. The thing is, he still spends time with me on the range, so either he's a dear friend or I'm a pretty lousy golfer...or maybe both! This photo is of that day."
MusicRadar.com recently interviewed Rush producer Nick Raskulinecz and asked him to pick his 10 essential rock records (thanks RushFanForever). He had some trouble choosing just one Rush album to include ... so he picked 8 of them:
Caress of Steel, 2112, A Farewell to Kings, Hemispheres, Permanent Waves, Moving Pictures, Signals, Grace Under Pressure

"There's no way I can pick just one Rush album, or even a few of them. Each of these records is so different, but they're all fantastic in their own individual ways. I always say that Alex Lifeson is the chameleon of rock guitar because he's changed his sound and his style so many times. I always want to hear what he's going to do next.

"I discovered Rush because my mom was listening to 2112. How awesome is that? I was six years old, and my mother is introducing me to Rush. I guess my daughter will be into them, too; she's seven years old, and she listens to everything that I do.

"Highlights, for me, are probably Hemispheres, 2112 and Permanent Waves, but again, each one of these records means something special. Nobody sounds like Rush."
Legendary Doors keyboard player Ray Manzarek passed away this past week at age 74. Alex Lifeson recently talked about The Doors in his appearance on Sirius XM's Classic Vinyl Influences program, saying the following:
I was really into The Doors when they were around in the beginning. They were such a unique band. I know John Rutsey - the original drummer for Rush - he was a huge Doors fan. I can't say they were influential to our music, but certainly they were so fresh
and different. And there was such a great personality in Jim Morrison. They just really added so much to the whole rock scene.
Here's the video of Alex Lifeson's Planet Rock appearance earlier this week where he answers several fan-submitted questions:
That's all for this week. For all of you in the USA, have a great Memorial Day weekend! And happy Victoria Day to all you Canadians. ... everyone would gather on the 24th of May ...