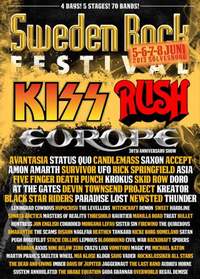 Rush will kick off their 10 date European leg of the 2013 Clockwork Angels tomorrow in Manchester, England. One of the stops they'll be hitting while in Europe is the Sweden Rock Festival - the band's first appearance at a European festival in 34 years. Geddy Lee was recently interviewed by VH1 Radio Network's Dave Basner and shed some light on why the band has avoided festivals over the years:
"The way festivals used to be, we were always prevented from bringing our full show to them, so things changed in the last couple of years. We've started playing a couple of outdoor venues that allow us to do our full show. We did a few in Canada that are multiple-day festivals, where you have a stage to yourself that can accommodate, so that started to turn us around a little bit about playing festivals."
When asked whether he thinks Rush will play more festivals in the future Geddy had the following to say:
"We'll see how this one goes. This one in Sweden is kind of a test case for the European festivals, and if we like the end result, then I think we might start doing more of those, because we can play to more people and shorten the show a little bit and just hit more countries that way. That's kind of what's at the back of our minds - if this goes well, maybe we can go to some countries we haven't visited yet."
Rush will be headlining the Sweden Rock Festival on June 8th. Thanks to Blabbermouth.net for the info and Scott for the heads up.