UPDATE - 5/23@10:50AM: Planet Rock mistakenly posted a shorter version of the interview with Alex than they had meant to. The full, 20+ minute interview is now posted in the audio player in this article.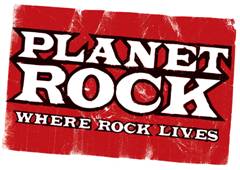 As I'd mentioned last week, UK digital radio station Planet Rock recently interviewed Alex Lifeson and asked fans to submit questions. The interview just aired this morning (afternoon in the UK) and is now available online. The five best questions were presented to Alex when he visited the Planet Rock studio, and you can see what questions were asked along with his answers in this video. They also have the audio of Alex's full 12-minute interview with Planet Rock's Darren Redick which you can listen to online here. Alex talks about the current tour, the Rock Hall induction ceremony, explains the infamous blah speech, the band's plans after the tour, and more.
Geddy is also on the UK interview circuit and appeared on the Paul Franks Show on the BBC WM today. You can listen to that interview during today's broadcast at this location beginning at the 1:47 mark (thanks Eric at Power Windows).