UPDATE - 5/27@10:48AM: Here's a review from The Bolton News (thanks Chris S).
UPDATE - 5/23@9:25AM: Here's a gallery of photos from the show that was posted over at Cygnus-X1.net.
UPDATE - 5/23@7:19AM: Reader Al-Dreamline and others have confirmed that it was the Night B - version 3 setlist. Official photos from the show have been posted over at Rush.com.
UPDATE - 5/22@8:38PM: They played a Night B set but I'm still trying to verify exactly which version, although it's likely Night B - version 3.
UPDATE - 5/22@3:02PM: The show is underway!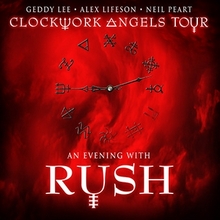 Rush opens up the European leg of the 2013 Clockwork Angels tour tonight in Manchester, England. It's not quite clear which of the many versions of their setlist they'll decide to pull out for the show. They played one of their Night A sets for their last show in Atlantic City earlier this month. So if they continue with the alternating of the A and B sets for this leg, then that would mean they'd play the Night B set. Although they may decide to start fresh with the A set for the European leg. I guess we'll just have to wait and see. As soon as I learn anything I'll be sure to post it here. UK Rush fan Robert Taylor is biking between shows on the UK leg of the tour to help raise money for Cancer research. You can help support his cause by visiting his page at JustGiving and making your donation. For everyone going to tonight's show, have fun, be safe, and make sure to share your photos, videos and reports with us. Rush in the UK!!
Date/Time: Wednesday, May 22nd @ 7:30PM (2:30PM EST)
Show Number: 10
Venue: Manchester MEN Arena
Place: Manchester, England
gallery: [view] [upload] [YouTube videos]
reviews: [reviews] [setlist]