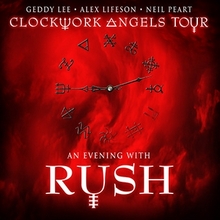 Much to the delight of their Atlantic Canadian fans, early last week Rush announced that they'd be adding a 2nd Halifax show to the Clockwork Angels tour itinerary on July 14th. Then this past Friday afternoon they announced that they'd be filling the July 10th slot on the tour with a return to the Festival d'été de Québec (Quebec City Summer Festival) where they had played a show back in the Summer of 2010. Tickets for both of these shows went on sale this past weekend. The addition of these 2 dates brought the number of shows on the Eastern leg of the Summer North American tour up to 12. They are still scheduled to play just 6 shows out West for the 2nd leg and at this point it's looking unlikely that Rush will be adding any further dates. The Spring leg of the tour kicks off one month from tomorrow on April 23rd in Austin, and the band is currently hunkered down in rehearsals. With the 2013 Clockwork Angels tour looming, the Rush Backstage Club is bringing back its contest to win a meet & greet with members of Rush! For all the details and to enter go here. Also on a tour-related note, Neil Peart drum tech Lorne Wheaton has made some updates to his website at LorneWheaton.com including new pictures and video.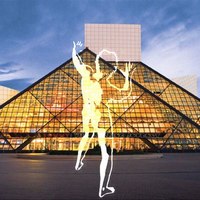 Just 5 days before the tour kick-off next month, Rush will finally be inducted into the Rock and Roll Hall of Fame at a ceremony to be held at the Nokia Theatre in Los Angeles. Earlier this week Ticketmaster released several reduced-price tickets for the induction ceremony in both the Orchestra and Loge levels. Tickets in these sections had originally been priced between $350-750 but were made available for just $100! I'm not sure how long this deal will last, so get them while you can. It looks like they may be out of the Orchestra level seats now, although Loge level seats remain. The induction ceremony will take place at the Nokia Theatre in Los Angeles on Thursday, April 18th and Dave Grohl and Taylor Hawkins of the Foo Fighters will be inducting the band. The other inductees are Heart, Albert King, Randy Newman, Public Enemy, and Donna Summer. Slated to appear at the induction are John Mayer and Gary Clark Jr., who will perform for King, with Mayer giving the induction speech; Don Henley, who will induct Newman; and Christina Aguilera and Jennifer Hudson, who will perform in honor of Summer. Although not officially announced yet, Heart revealed via their Facebook page that Chris Cornell of Soundgarden will be doing the honors for them. Alex and Geddy were interviewed for the latest issue of Rolling Stone magazine (Issue 1179 - March 28, 2013) for a 1-page feature titled Rush's School of Rock where the pair were played one song from each of their 5 fellow 2013 Rock Hall inductees and asked to comment on them. In typical Canadian fashion, they have mostly nice things to say about the inductees. They played them Heart's Barracuda, Donna Summer's Last Dance, Randy Newman's You've Got a Friend in Me, Crosscut Saw by Albert King and Public Enemy's Fight the Power. Here's what they said about Public Enemy:
LIFESON: I never listened to stuff like this, but I always found it fascinating.
LEE: You can groove to this. I know people who were really into this kind of music and had lots of respect for Public Enemy. Obviously it's a different way of delivering the message, and the rhythms were so infectious. I do a little rap on "Roll the Bones", and even "Tom Sawyer" to a certain degree has a spoken-word intro. It's not rap, essentially, but in a way it's our version of it.
LIFESON: Yeah, we invented rap [laughs].
You can check out a screenshot of the entire article here.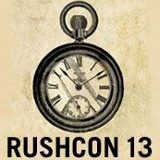 The folks at RushCon released several more details regarding this year's convention late last week including travel information and the event schedule. The 13th annual RushCon will be held in Toronto on July 5-7th, 2013 to coincide with the Rush concert in Hamilton, ON on July 6th. The convention will consist of 3 days of Rush-filled events, including a Friday night opening mixer with a private tour of Massey Hall, a Saturday day trip to Lakeside Park, the Rush show in Hamilton Saturday night, an Anthem Records tour on Sunday, a full day of convention events at the Hard Rock Cafe on Sunday, and a private party at the Orbit Room Sunday night! You can register now online at this location. For all the details just go to RushCon.org, and be sure to follow RushCon on Facebook and Twitter to stay up to date on all the latest RushCon news.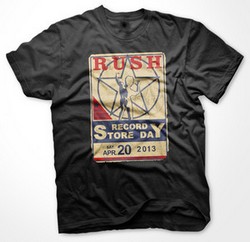 Rush has made available a Rush-themed t-shirt for Record Store Day this coming April 20th which can now be pre-ordered in both men's and women's sizes via BullMoose.com. The t-shirt comes in black with a red and blue design on a cream-colored background. The design depicts the iconic Rush starman logo with the words Record Store Day and the April 20th date. To learn more about Record Store Day check out their website at RecordStoreDay.com.
Last Friday CBC Radio's Q with Jian Ghomeshi announced that Rush's Closer to the Heart had won their contest to determine the official Canadian 70s rock anthem:
... Inspired by the passionate fight going on in Massachusetts right now over which song will become its official state rock song. We decided to launch our own Q contest to find Canada's official 70s rock anthem and you sent us a deluge of nominations. The Q team powered through the flood of entries and after some passionate deliberations a winner was chosen... RUSH. "Closer to the Heart". ...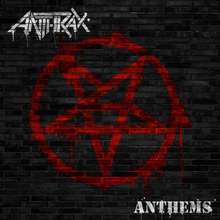 Thrash metal pioneers Anthrax have included a cover of Rush's Anthem on their tribute EP Anthems which released earlier this week. The EP also includes covers of Thin Lizzy's Jailbreak, AC/DC's TNT, Cheap Tricks' Big Eyes, Boston's Smokin' and Journey's Keep On Runnin', along with a new Anthrax original track Crawl. Anthrax guitarist Scott Ian spoke a little about Rush and the Anthems EP in a recent interview with Radio.com:
... the EP was named after [Rush's], "Anthem." Rush's version, which opens their second album (1975's Fly By Night) is not one of their big radio hits, but Ian says that his bandmates are Rush fanatics and wanted to go for a deep cut: "I'm certainly a Rush fan but [Drummer] Charlie [Benante] and [bassist] Frankie [Bello] and Joey are like, Rush nerds. They know every single thing about Rush." ... Ian says he's not surprised that they are finally [being inducted in the Rock Hall]. "People take Rush seriously, they're not everyone's cup of tea, but everyone has a respect for that band whether you like them or not." ...
You can purchase Anthems through Amazon here or via iTunes at this location. You can also listen to the track on YouTube here.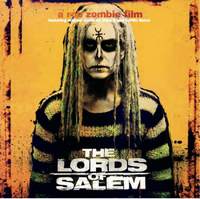 Rob Zombie, founder and frontman of metal band White Zombie as well as a writer and director, will be releasing his next film The Lords of Salem on April 19th. The film features Zombie's wife Sheri Moon as a Rush-loving DJ turned coven member. Blabbermouth also reports that the soundtrack will include Rush's The Spirit of Radio along with classic tracks from The Velvet Underground, Manfred Mann, Rick James and an original score by Zombie's guitarist John 5. The soundtrack releases on April 16th and is now available for pre-order at this location. Zombie is a well-known Rush fan and is often spotted in public wearing a Fly by Night shirt. You may also recall that Zombie's remake of the original Halloween movie included Rush's Tom Sawyer on the soundtrack, and his 2010 album Hellbilly Deluxe 2 contains a track titled Werewolf, Baby which contains an obvious nod to Rush's La Villa Strangiato towards the beginning of the song.
Reader Alex L pointed me to this recent interview with drummer Ian Mosley of English prog-rock band Marillion. He had some nice things to say about Rush and Neil Peart in the interview:
... Neil Peart is an amazing player. We opened up for Rush on our Misplaced Childhood tour. He is a great player and Rush is a phenomenal band. They have also been around a long time and are huge here in England. They are also a bunch of great guys, they deserve to be elected into the Hall of Fame. ...
You can read the entire interview online at this location.
John at Cygnus-X1.net posted an old gallery of rare Rush concert photos to his website earlier this week. The photos are from a show Rush played at Aviation Field, Forest Park in St. Louis back on April 13th, 1975 during the KSHE 95 Kite Fly Festival. The gallery even caught the attention of the St. Louis Dispatch who mentioned it in their Joe's St. Louis column (thanks morgannauk) earlier this week. The gallery even shows an image of all 3 Rush members signing autographs (Neil too!). You can check out the gallery online at Cygnus-X1.net. And speaking of KSHE 95, the station will be sponsoring a show at the Pageant in St. Louis on Saturday, April 13th to celebrate Rush's Rock Hall induction with Rush tribute band Thunderhead: The Rush Experience.
Porcupine Tree's Steven Wilson released his solo album The Raven That Refused to Sing last month and recently sat down to discuss the album with German magazine Spiegel. In the interview he's asked about what one band he'd like to produce and answers Rush.
A few weeks ago Geddy Lee and Alex Lifeson hit the interview circuit in New York City and caught up with radio DJ and That Metal Show host Eddie Trunk for an interview that aired last Friday night on Trunk's Q104.3 radio show. In case you missed it, someone posted audio of most of the interview (18 minutes of it - the first couple of minutes were cut off) to YouTube earlier this week at this location. Geddy and Alex talk about touring, the band's future, the Rock Hall, baseball and more. We didn't learn much in the way of new information, but it was an enjoyable interview nonetheless. Geddy did mention that the band plans on taking a year or so off after this tour before starting another project, but still left things wide open as far as the band's future goes. You can listen to the interview below or on YouTube at this location. Eddie will also be posting video of the full interview to his website at a later date.
That's all for this week. Have a great weekend everybody!