UPDATE - 3/1@9:24AM: Both Alex and Geddy also visited the Sirius XM Studios in NYC on Tuesday as shown in these photos from Getty Images (thanks RushFanForever).
UPDATE - 2/27@7:28AM: Eddie Trunk's interview with Alex and Geddy will air on his Q104.3 radio show on March 15th according to this tweet.
UPDATE - 2/26@9:17PM: Apparently Rush was also in the Nights with Alice Cooper studio today as shown in this Facebook photo. There's also a short, 1-minute video from Geddy's MLB Network interview today at this location. And Eddie Trunk has posted a few photos of him with Geddy and Alex to his Twitter feed.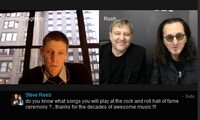 Geddy Lee and Alex Lifeson were in New York City today doing the PR interview circuit to promote Rush's upcoming 2013 leg of the Clockwork Angels tour. Earlier this afternoon they were part of a live, 30-minute Spreecast chat hosted by the Wall Street Journal. And tomorrow afternoon they will stop in to the VH1 Studios to tape some interview segments for VH1's Big Morning Buzz program (thanks Thomas P). According to the VH1 TV schedule page, the interview will air this coming Thursday at 10AM. Geddy Lee was also at MLB Studios in New York today for an interview where he talked baseball for an article that was published for USA Today online titled Rush singer Geddy Lee expecting big year for Blue Jays. Reader Dario D happens to work at MLB Networks and posted some great photos of Geddy's visit (Alex showed up too) to her Facebook page. Geddy and Alex also sat down with NYC-based DJ and That Metal Show host Eddie Trunk earlier today for an interview. Trunk posted this message to his Twitter feed earlier this afternoon:
Guess what I am doing today? Hanging with Geddy & Alex from @rushtheband in NYC! Photos and audio to come. Doing interview for my radio show
No word yet on when that interview will air. Geddy was also spotted at the offices of US Weekly/Rolling Stone today as well, most likely for yet another interview (thanks Brian D).