UPDATE - 3/15@1:25PM: Note: Rush just confirmed a July 10th date at the Quebec City Summer Festival as we had anticipated.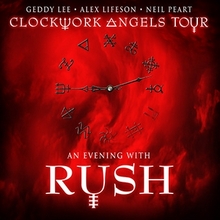 Rush's July 12th show in Halifax will be their first visit there in over 25 years, so it's not surprising that the show quickly sold out, leaving several Atlantic Canadian Rush fans ticketless. Much to the delight of these fans who were unable to get tickets to the July 12th date, earlier this week Rush decided to add a second show in Halifax on July 14th. So Rush will be celebrating Bastille Day with all of their Halifax-area fans. This is probably bad news for those Boston area fans who had hoped that Rush would be rescheduling the previously-announced Boston show - since July 14th had made the most sense for a rescheduled show there. Rush still has an open slot on July 10th between Ottawa and Halifax that could potentially be filled by a show at the Comcast Center. But from what I've been hearing, the band's July 10th slot will likely be filled by another Canadian date - the Quebec City Summer Festival being one likely option. Tickets for the July 14th Halifax show go on sale tomorrow at 10AM ADT (9AM EST), and there are also VIP ticket packages still available.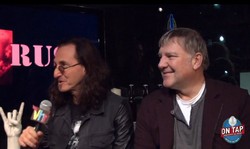 This past Wednesday Geddy Lee and Alex Lifeson were guests on the new syndicated nightly radio show On Tap Presented by VH1 Classic. The show aired from 7PM-midnight on Wednesday and included several pre-taped interview segments with Alex and Geddy at various times throughout the broadcast. A three-minute video clip of one of the interview segments was posted to the On Tap Facebook page earlier this week. In the clip host Nik Carter chats with Geddy and Alex about the band's upcoming Rock and Roll Hall of Fame induction and what it means to them. The On Tap studio is located in New York City so the interview was probably taped during Alex and Geddy's recent trip to the Big Apple. The pair are now likely getting ready to enter the rehearsal studio if they haven't already. According to a couple of recent tweets, Neil Peart's drum tech Lorne Wheaton is heading to Los Angeles this weekend for drum rehearsals:
Truck loaded and SoCal bound. Next stop......drum rehearsal!!! I look forward to seeing my boss

Tuesday Mar. 12.....off to the RUSH bat cave, to load one of our tour trucks. SoCal bound Sunday.......;0)
The 2013 leg of the Clockwork Angels tour kicks off less than six weeks from now on April 23rd in Austin. And just 5 days before that they'll finally be inducted into the Rock and Roll Hall of Fame at the Nokia Theatre in Los Angeles. Speaking of which, Dave Grohl and Taylor Hawkins will be doing the honors of inducting Rush at next month's ceremony. Grohl also had the honor of making the keynote address yesterday at this year's SXSW festival and mentions Rush at about the 9:40 mark of this YouTube video of the speech:
... I would set up pillows in the formation of a drumset on my bed and play along to records until there was literally sweat dripping down the Rush posters on my walls ...
One of the many interviews Alex and Geddy conducted while visiting New York City a couple of weeks ago was with radio DJ and That Metal Show host Eddie Trunk. Trunk announced via his website yesterday that this interview will air tonight on his Q104.3 radio show:
... This Friday on Q104.3 show will be an all new interview with Geddy & Alex of Rush! I recorded it a week and a half ago and we talk about the new album, tour, old albums, baseball, and the bands future. Don't miss this all new exclusive interview this Friday. Show starts at 11PM ET. You can listen in the NYC area over 104.3 FM or anywhere in the US via the free stream at www.q1043.com or with the free iheartradio app. If using the app hit Q104.3/NY/Classic Rock. Please note I have no control on streams being available outside the USA. The show this Monday on SiriusXM is recorded. Back live there 3/25. Also I have video of the entire Rush interview. That will be posted first for AA Members of the site, then a week later for all here after the audio runs on all radio outlets. Look for that around 3/25 for members, the next week free to all. ...
You can stream Eddie Trunk's Q104.3 show live at www.q1043.com.
Thrash metal pioneers Anthrax have included a cover of Rush's Anthem on their upcoming tribute EP Anthems. The EP will be released this coming Tuesday, March 19th and is available for pre-order at this location. Rush has already heard the track and given it their seal of approval as pointed out in this RollingStone.com article:
... "A friend of ours sent [Rush guitarist] Alex Lifeson the track ["Anthem"], and he sent an email back saying he thought we did an incredible job with it and the arrangement," guitarist Scott Ian tells Rolling Stone. "And his actual quote was, 'I don't know that we could've done better; we certainly could've done worse.' We couldn't believe it. We were flipping out that Alex Lifeson even knows who our band is." ...
You can listen to the track on YouTube at this location and pre-order Anthems here.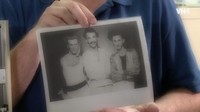 Rush was featured on episode 3 of VH1's new pop culture memorabilia series For What It's Worth last week. The show follows hosts Gary Dell'Abate and Jon Hein as they explore the fascinating world of music and pop culture memorabilia. In the episode they visit photographic archivist Michael Ochs who has one of the world's largest collections of rock and pop culture photographs. At one point Jon Hein reveals that he's a huge Rush fan and asks Michael if he has any Rush photographs. Michael admits to not being a fan himself but proceeds to show Jon his collection which consists of an entire file cabinet. Jon then rifles through the cabinet and pulls out a few of the photos to sample. He singles out Rush's glam photo from the mid-'70s and proceeds to make fun of it. He then pulls out a photo of Neil Peart, remarking at how he's one of the best rock drummers of all time. And then finally shows a '70s-era photo of the crowd at a Rush concert. After this Gary breaks in with a public service announcement stating that since they taped this particular show Rush had been inducted into the Rock and Roll Hall of Fame and therefore now deserve a second file cabinet. You can watch the episode online at this location. The Rush segment runs from about the 5:20 mark to the 7-minute mark.
The 2013 Sennheiser Music Express Awards were announced earlier this week and Rush won in several categories including Top Group, Top Live Arena Act and Top New Album (for Clockwork Angels). The online awards were determined by polling the readers of the Music Express Digital magazine. You can check out the complete results online at this location.
Reader undernorthernlights let me know about an AV Club story from earlier this week where they feature a tumblr feed consisting of photos of the rear ends of progressive rock artists. One of the photos featured in their story is this '70s-era image of Alex Lifeson checking himself out in a mirror with Geddy looking on.
Reader The Clansman 2112 wanted me to let you all know that several spots are open for his annual rushisaband Fantasy Baseball League. It's a 20 Team Roto League and they'll have a live online draft on the evening of Sunday, March 24th. They don't play for money - just for fun and bragging rights, so it's free to join. To sign up go to this link and use the League ID 10882 with Password atmsite.
Here's a 3-minute video excerpt from Alex and Geddy's Wednesday On Tap appearance:
That's it for this week. Happy St. Patrick's Day everybody! Many thanks to Eric at Power Windows for supplying the shamrock starman above.