All of the Rush news items we touched on this past week weren't really new news items; they were generally just updates and/or more details regarding some news bullets we were already aware of. The biggest of these was the official confirmation via Rush.com of the birth of Neil Peart's new baby daughter Olivia Louise Peart. We'd first heard unconfirmed reports of the birth a couple of weeks back. We also went over some more details regarding Alex Lifeson's involvement with Apple's GarageBand software during Rush's break from recording/touring where Lerxst had recorded a few instructional videos. Alex mentioned this in his recent Classic Rock presents ... Prog interview but it was overshadowed by the other contents of the article. Alex also celebrated his 56th birthday yesterday. Last night the first of a 2-movie, 4-part series celebrating the Canadian music scene of the '70s and '80s' aired on the CBC. I'd first mentioned this in last week's Friday Updates post. And yesterday I let you know that Chris McDonald's new Rush book - first mentioned back in May of last year - is now available for pre-order. The book is titled Rush, Rock Music, and the Middle Class: Dreaming in Middletown and you can pre-order it at this link.
The organizers of last month's RushCon have put up a wonderful wrap-up post over at the RushCon website, complete with a bunch of great photographs. It looks like they had a blast.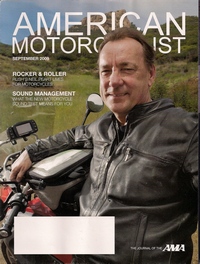 A couple of weeks ago I'd posted scans of the Neil Peart cover feature in the September, 2009 issue of the American Motorcyclist - the magazine of the American Motorcyclist Association. The article celebrates the fact that he was recently awarded an Honorary Life Membership in the Association and Neil shares his thoughts on motorcycles and motorcycling. The article also includes quotes from some of Neil's riding partners including Brian Catterson (editor-in-chief of Motorcyclist Magazone), Brutus, Greg Russell and Michael Mosbach. Neil's riding partners also all wrote a series of short articles on riding with Neil that was included as bonus content for AMA members. Reader Chris W got his hands on some scans of this bonus content which you can check out by clicking on the links below.
AMA Magazine September 2009 Bonus Content:
[cover] [page 1] [page 2] [page 3] [page 4] [page 5] [page 6] [page 7]
[page 8] [page 9] [page 10] [page 11] [page 12] [page 13] [page 14]


Neil Peart's original Slingerland drum kit (which he used from Fly By Night through 2112) was put up for auction on eBay by owners Main Drag Music in Brooklyn, New York a few weeks ago and the kit ended up being sold for $25,100! Michael of NeilPeartDrumsticks.com knows the new owner of the kit and posted a photo and an update on the status of the kit to the Counterparts messageboard. He is working with the owner to help restore the kit to a playable condition.
... Trying to get this all ready for a special photo shoot in the next couple weeks and then on to a special display in November where folks will actually be able to play the kit themselves. ...
Keep checking Michael's site over the next few weeks for updates.
While on the subject of rare Rush collector's items - if you are a collector you might be interested in the fact that there is currently a rare handwritten Alex Lifeson letter from 1977 available on eBay. Myself and Andrew Olson (runs a Neil Peart fan page) both know the seller and can vouch for the authenticity of the item. If you are interested you can check it out at .
You may remember how I reported a few months ago that Alex Lifeson was in attendance at the sold out Chickenfoot show at The Mod Club Theatre in Toronto back in late May. Chickenfoot is the recently-formed supergroup consisting of vocalist Sammy Hagar (Van Halen), bassist Michael Anthony (Van Halen), guitarist Joe Satriani and drummer Chad Smith (Red Hot Chili Peppers). Alex took the guys out on the town the night prior and from all accounts had a pretty wild time. Sammy Hagar discussed that evening and the next day's show in a recent interview with Nightlife:
... Ross CAT - The Sound Academy show this week will be your second visit to Toronto. I was one of the fortunate 500 folks to see the "Road Test Tour" at the Mod Club in May.
Rumor has it that you and CHAD got tangled up with RUSH guitarist ALEX LIFESON the night before and tore up the town.

SAMMY - Hey man lets clear that up right hear & now, I blame ALEX for that night; it was my tequila but that boy gave us hometown tour I won't soon forget, he can throw down with the best of them.

Ross CAT - Was there any discussion about ALEX taking the stage with CHICKENFOOT that night for a song or two?

SAMMY - No, we're really trying to focus on the CHICKENFOOT material on this first tour. Every place that we played there were world class musicians & friends. Man we had some of the best shredders on the planet in the house like ALEX, BRIAN MAY & STEVE LUKATHER comin' out to the shows. I told every one of those guys they have an open invitation to come to CABO and jam ...
Thanks to Andrew W for the heads up.
The Rush Backstage Club is running a new contest where you could win a signed Snakes & Arrows CD. The contest ends on September 10th and you can sign up to enter at this link. Thanks to thomas for the heads up.
NPR ran a story yesterday on electric drag-racing and used Rush's Red Barchetta for the outro music. You can listen to the story at this link. Thanks to Tim for the link.
LanceTheShred noticed a Rush reference in the Urban Dictionary's definition of face melting.
Reader Scott_PA let me know that the Classic Rock Revisited web site is rolling out a list of the most influential rock songs over the next few weeks. So far they've listed numbers 51-100 and Rush made the list twice; Working Man came it at #77 and Tom Sawyer at #84. To see the complete list go to this link.


Rocker/filmmaker Rob Zombie has been making the rounds on cable TV this week promoting his new Halloween 2 movie which was released today. Several folks spotted his promo shots on the SyFy Channel during Ghost Hunters the other night. And he was also seen doing the promos during the AMC Movie Channel's running of John Carpenter's original Halloween film. The coolest thing about the promos was the fact that Zombie was wearing a Fly By Night t-shirt! You can check out a couple screenshots by clicking on the thumbnails above. You may recall that Zombie's remake of the original Halloween included Rush's Tom Sawyer on the soundtrack. Thanks to ferret and Power Windows for the screenshots.
Exodus lead singer Rob Dukes is a motorcycle enthusiast and will soon embark on his third cross-country motorcycle trip. He talks about being inspired by Neil Peart's Ghost Rider in a recent interview with The Gauntlet:
... Neil Peart's book was inspiring to me. It was a very sad read, but a great book. He was going through a lot when he started on his quest; I was just looking to change my life. I was living in New York and wanted to surf and live at the beach in California. I was going to finish my master scuba diving license and teach scuba diving, but I ended up singing for EXODUS. Life is weird. Two years ago, my friend Lenny and I rode to the four corners of the United States. We went 14,652 miles in six weeks and two days. This trip will be about 4,500 miles. ...
Thanks to RushFanForever for the heads up.
RushFanForever also contributed the following links for today's post. First up is a Huffington Post article by Robbie Gennet titled Who Isn't John Galt. The article discusses the influence of Ayn Rand on art and culture and includes a couple of references to Rush. Next up is this Associate Content article titled Rush's The Trees: A Parable of Social Justice and Its Unintended Consequences. Lastly is this article discussing the 25th anniversary of the launch of Canada's MuchMusic that references Rush. From the article:
... Yes, it's been nearly 25 years since MuchMusic launched with Rush's "The Enemy Within," followed by an interview with singer Geddy Lee and a Day One playlist that also included the Fixx, Frankie Goes to Hollywood, Yes and Slade. ...
So in celebration of that momentous event that occurred 25 years ago this coming Monday, here's the video for Rush's The Enemy Within:
Have a great weekend!