UPDATE - 3/8@1:43PM:

Here's a minor late-breaking news item for your Friday enjoyment courtesy Eric at Power Windows. Norwegian prog rockers El Doom And The Born Electric will be offering an exclusive tour shirt on their upcoming UK tour which features a tribute to Rush's iconic Starman image.
Rush's winter vacation is about to come to an end as the 2013 leg of Rush's Clockwork Angels tour kicks off in just a month-and-a-half from now on April 23rd. The week before that on April 18th they'll finally be inducted into the Rock and Roll Hall of Fame, so things are about to get very busy for the band. Last week Geddy Lee and Alex Lifeson hit the PR interview circuit in New York City to promote the tour and the induction, and are now likely beginning to prep for rehearsals. Neil Peart posted another news update to his website this past week where he describes what he's been up to on his extended winter break. Neil describes his February vacation in the Laurentian Mountains of Quebec where he spent a lot of time skiing, snowshoeing and enjoying the natural surroundings. He then goes on to talk about his January hiking trip with his friend Greg Russell in the Santa Monica Mountains and spending time with his 3-year-old daughter Olivia. You can read the entire thing on Neil's website at this location. There still hasn't been any word on additional tour dates, but we continue to expect the band to at least add one more Canadian show on July 10th - the Quebec City Summer Festival being one likely option.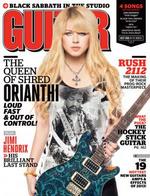 The April, 2013 issue of Guitar World magazine contains a feature on Rush with the cover tagline Rush 2112: The Making of a Masterpiece. The article itself is titled Big Time Rush and includes an interview with Alex Lifeson where he discusses the making of 2112, the band's upcoming Rock Hall induction and more. John over at Cygnus-X1.net transcribed the article earlier this week and made it available online at this location. Here's what Alex had to say about the band's upcoming induction:
... our position has always been that if we're not part of that scene, that's okay. But I think for our fans, they were pretty pissed! And that's the thing about Rush fans. They're very vocal with their piss-iness. [laughs] So it's nice to have it happen. And we will go to the ceremony and graciously accept the honor, for us and also for our fans. We'll get up and play a few songs and make it a really special event. I know my mom's going, I think all our moms are going. They're pretty excited about it. ... there are certainly still lots of fans that are not happy with the decision to put us in the Hall of Fame. They feel that we should have stayed out. But it's not such a big deal. At the end of the day, let's all just be happy.
The interviewer also asked whether Alex thinks that the second side of 2112 gets overlooked, and Alex had some interesting things to say regarding one song in particular:
... Absolutely. And I think we in the band are guilty of that as well. We always think of that one song. But we loved the ones on the other side as well. "A Passage to Bangkok," "Something for Nothing," "Lessons" ... And I've often wanted to bring back "The Twilight Zone," because it's such a quirky little song. It would be really cool to attack it again with sort of our new way of approaching our older material. ...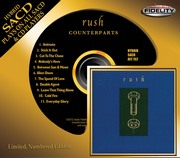 After several delays Audio Fidelity's Super Audio CD (SACD) version of Rush's Counterparts was officially released this past Tuesday. The SACD is now available for purchase through Amazon and other outlets. For more information visit the Audio Fidelity website. According to readers Michael O and chutch15, there are some notable track length differences on the Counterparts SACD versus the original release. Stick It Out is 18 seconds longer and Nobody's Hero is 10 seconds longer on the SACD. There are about an extra four measures or so included at the tail end of each song.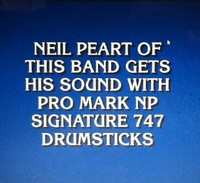 There were a couple of significant Rush references on US television this past week. One of the $1600 answers on last Friday's episode of Jeopardy! made reference to Rush and Neil Peart:
Neil Peart of this band gets his sound with Pro Mark NP Signature 747 drumsticks
The question of course was - What is Rush? The contestant answered correctly although host Alex Trebek mispronounced Neil's last name. Rush was also referenced on the show back in February of 2011. And there was another Rush reference on Tuesday night's episode of Conan O'Brien during Conan's monologue. Conan was talking about how the Cardinals in Rome have begun the process of choosing a new Pope and went on to say the following:
... The top choice for the new Pope could be a Canadian. Isn't that amazing? If elected Pope his first act would be to grant sainthood to Wayne Gretzky, Celine Dion and Geddy Lee from Rush ...
He then points out a few folks in the audience who cheered his joke, remarking that they were a little Rush section over there, and saying that he just outed them as Rush fans. You can watch Conan's monologue online at this location.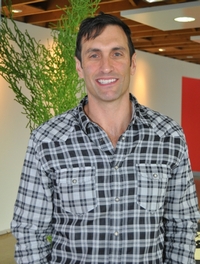 Paul at The Canadian Music Scene posted an article profiling Patrick McLoughlin of Showtech Merchandising earlier this week, where he picks his brain about the business of Rush merchandising:
... RUSH is on the top end of the scale when it comes to merchandising. Just like the quality of RUSH's music and shows the quality of the merchandising products needs to be at the same high level. RUSH does not get involved deeply in the design of the products but have the ultimate say whether it gets sold or not. Hugh Syme works closely with the band on album designs and tour programs. Patrick does a lot of the design for the products. ...
He also touches on the logistics of touring with a band like Rush:
... Showtech has a semi-tractor trailer that is on the road with the rest of the band's convoy. ... Patrick shares the tour bus with Skully, Scott Appleton, George, Lorne Wheaton, John Arrowsmith, Jack Secret and Howard Ungerleider. ... On days off they usually explore the city and in the case of John and Patrick they bring their inline skates to help keep them in shape. Days off provide the luxury of going to bed as early as you want, the problem is actually trying to get to sleep! Was Patrick's tour bus the place to party on the Clockwork Angels Tour... apparently not, that honour fell to the String Section's tour bus!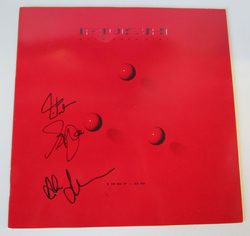 Be sure to check out the entire article online at this location. And speaking of the Rush Backstage Club, they are currently running a new contest where you could win a Hold Your Fire tourbook signed by all 3 members of Rush. From the contest description:
This is a rare opportunity to win a very special RUSH collectible: A Rush Hold your Fire tourbook from the Hold Your Fire Tour, autographed by Geddy, Alex and Neil. Note, because this item is not brand new, it has aged with time and has a slight bit of noticeable wear. It is not damaged in any way whatsoever, but the winner should know that this item does show its "vintage" nature.
The contest closes on March 19th and only one entry per person is allowed. For all the details and to enter go to this location.
Earlier this week Yahoo! News published a story and photo gallery promoting the Tuesday night series premiere of CNBC's Treasure Detectives (thanks FirstFanInMichigan). One of the photos in the accompanying slideshow describes the discovery of a rare original Ferrari 166 Mille Miglia, the car featured in Rush's Red Barchetta:
This 1950 Ferrari 166 Mille Miglia was not really lost, but it was out of the public eye for nearly half a century (much like the car stashed in a barn in the 1981 song "Red Barchetta" by Rush). This rare intact example of the original Ferrari racing car (only 166 were made, per the name) went from disuse to the cover of the September/October 2006 issue of Cavallino Magazine and then was shown at the 2007 Cavallino Classic in Palm Beach, Fla.
The National Midnight Star was an email-based Rush fan newsletter that ran from June 1990 until the late 90's. The first 700 or so entries of the newsletter are available online at this link. Members of the NMS would often post one-line Deep Rush Thoughts to the newsletter and John over at Cygnus-X1.net decided to compile all of these Deep Thoughts in one place. You can check out the complete list of posted Deep Rush Thoughts that originally appeared on the NMS over at John's website here.
Rush's Moving Pictures album gets some love in this AllMusic article celebrating the music of 1981 (thanks Jon G).
Reader Gilbert M let me know that the Friday, February 22nd edition broadcast of the CBC Radio program As it Happens had a story about a Heavy Metal Literature course offered by English professor Martin Jacobsen at West Texas A&M University. The name of the course is Introduction to Literature, Heavy Metal As A Literary Genre and there are a few Rush references in the podcast which you can listen to online at this location. The story in question runs from the 44:45 mark until the 50:41 mark. There's a Rush reference starting at 47:14, and at the 49:50 mark the professor describes the following week's curriculum as Rush week where the class will read Ayn Rand's Anthem and study the lyrics of 2112, Anthem and Freewill.
Three separate writers at 411mania.com compiled a list of their top five prog rock bands earlier this week, and all three of them placed Rush at #1 on their respective lists (they also all had Pink Floyd at #2). Here's what Jeremy Thomas had to say:
I don't believe we've ever had three people with the exact same top two in this column before. I guarantee it hasn't happened in the last few years. The reason for that is because we all have such different tastes as music critics and fans. Thus, the fact that we all put Floyd and Rush in the top two tells you how dominating they are of this field. Rush is not the first prog rock band in history but they are certainly the group that by and large perfected it, at least in terms of progressive rock that was musically accessible. Alex Lifeson, Geddy Lee and Neil Peart (and John Rutsey before Peart) have created some of the most well-known and brilliant rock albums of all time, and they are finally getting their due this year in the Rock and Roll Hall of Fame. It is an honor that is long overdue.
Reader Gabe let me know about a new documentary about the historic Bayou club in Washington, D.C which closed in the late '90s. At about the 40 minute mark in the documentary they talk about how in the mid 1970's former Rush lighting man Tim Pace went from working Rush tours to working at club, and brought a whole bunch of Rush lighting equipment and their old lighting board with him. You can find more information about the documentary at this location.
Gibson.com posted their list of the Top 10 Rock Drummers of All Time last week and Neil Peart came in at #2 behind Led Zeppelin's John Bonham (thanks bervisx1). Here's what they had to say:
Drummer and lyricist for Rush, Neal Peart is hailed in many circles as the quintessential rock drummer. He's known for his ingenious drum parts and intense solos with lead passages that rock hard and prove the drums, indeed, can be a lead instrument. No Rush concert is complete without Peart's sparking, obligatory drum solo, and his syncopated drumming style certainly has its own distinct sound and aura. You can always tell when it's Peart playing.
Geddy Lee was a guest of Q104.3's Jim Kerr Rock and Roll Morning Show last Thursday for an in-studio interview. Geddy discussed Rush's upcoming induction into the Rock and Roll Hall of Fame, the Clockwork Angels tour, baseball, his kids and more. The entire 18-minute interview is posted online and you can watch it at this location. There's also this gallery of photos from the interview. Earlier this week Q104.3 posted a 1-minute video of bonus footage from Geddy's interview called Four Questions with Geddy Lee. Geddy reveals the most surprising thing on his iPod, his thoughts on the Blue Jays chances of making the playoffs this year, and more. You can watch the footage below or at this location:
That's all for this week. Have a great weekend and don't forget to set your clocks ahead!