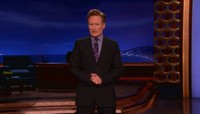 There was a Rush reference on last night's episode of Conan O'Brien during Conan's monologue. Conan is talking about how the Cardinals in Rome have begun the process of choosing a new Pope and goes on to say the following:
... The top choice for the new Pope could be a Canadian. Isn't that amazing? If elected Pope his first act would be to grant sainthood to Wayne Gretzky, Celine Dion and Geddy Lee from Rush ...
He then goes on to point out a few folks in the audience who cheered his joke, remarking that they were a little Rush section over there, and saying that he just outed them as Rush fans. You can watch Conan's monologue below or online at this location. Thanks to bucklemyshoe for the heads up.