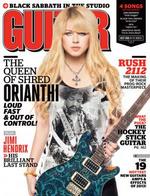 Last week I'd mentioned that the April, 2013 issue of Guitar World magazine contains a feature on Rush with the cover tagline Rush 2112: The Making of a Masterpiece. The article itself is titled Big Time Rush and includes an interview with Alex Lifeson where he discusses the making of 2112, the band's upcoming Rock Hall induction and more. John over at Cygnus-X1.net has transcribed the article and made it available online at this location. Here's what Alex had to say about the band's upcoming induction:
... our position has always been that if we're not part of that scene, that's okay. But I think for our fans, they were pretty pissed! And that's the thing about Rush fans. They're very vocal with their piss-iness. [laughs] So it's nice to have it happen. And we will go to the ceremony and graciously accept the honor, for us and also for our fans. We'll get up and play a few songs and make it a really special event. I know my mom's going, I think all our moms are going. They're pretty excited about it. ... there are certainly still lots of fans that are not happy with the decision to put us in the Hall of Fame. They feel that we should have stayed out. But it's not such a big deal. At the end of the day, let's all just be happy.
The interviewer also made the following observation about the ending of 2112:
GW: "Grand Finale," the final section of "2112," concludes with the phrase, "Attention all planets of the solar federation. We have assumed control." The first sentence is made up of seven words. The second is made up of four. Each is uttered three times. Mathematically, that comes to 21 words for the first sentence, and 12 for the second. 2112.

Alex: Oh, I didn't know about that!

GW: So it wasn't intentional?

Alex: No. But that's pretty cool! That's the first time I heard that ... but yes, that's exactly what we were thinking!

GW: You learn something new every day.

Alex: Absolutely. I had no idea. ...
Be sure to check out the entire interview here.