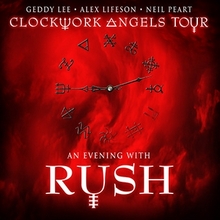 It was a relatively quiet week for Rush news as we continue to wait for the official announcement of tour dates for the Summer leg of the 2013 Clockwork Angels tour. I haven't received any definitive information on when these dates will be announced but I'm expecting it will occur within the next few weeks - possibly as soon as early next week. As per Rush's announcement of the Spring leg a couple of weeks ago, the cities on the Summer leg will include but not be limited to Hershey, Wantagh, Saratoga, Chicago, Cincinnati, Milwaukee, Boston, Calgary, Vancouver, Portland, Salt Lake City, Denver, Kansas City, Halifax and Grand Rapids. They'll likely add a few more cities to this list and split up the Summer leg into a couple of stretches consisting of 10 or so dates each. So far I've heard that Rush will play on June 28th at the First Midwest Bank Amphitheatre in Tinley Park, IL; on July 2nd at the Riverbend Amphitheater in Cincinnati; the Milwaukee Summerfest for a show around the 4th of July (June 30th is also a possible date for this); early July at the Copps Coliseum in Hamilton, ON; on July 13th in Boston at the Comcast Center; and on July 31st for a show at the Usana Amphitheater in Salt Lake City. Based on these dates and the fact that the European leg ends on June 10th, I'd speculate that Rush will begin the Summer leg towards the last half of June, run a stretch of dates in the East and Midwest through mid-July, take a break, pick things up again in late July out West and finish off in late Summer. That would still leave room for a South American leg too if they so choose, although I haven't heard any indication that this will happen. For all the details on the 2013 tour be sure to check out the tour section, and for questions regarding all the various pre-sales be sure to read my guide to ticket sales and pre-sales.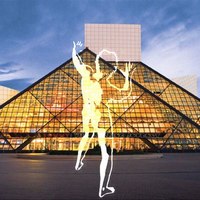 Tickets for the upcoming April 18th Rock and Roll Hall of Fame induction ceremony where Rush will be inducted are now on sale to the general public. Multiple price levels are available as shown in this seating diagram but the $75 and $100 level tickets are currently sold out leaving only the higher-priced $350, $500 and $750 levels available. It's not clear whether any of the cheaper tickets will be released at a later date, but there are several available on various ticket broker sites. The ceremony will take place at the Nokia Theatre in Los Angeles on Thursday, April 18th and Dave Grohl and Taylor Hawkins of the Foo Fighters will be inducting the band. The other inductees are Heart, Albert King, Randy Newman, Public Enemy, and Donna Summer. Slated to appear at the induction are John Mayer and Gary Clark Jr., who will perform for King, with Mayer giving the induction speech; Don Henley, who will induct Newman; and Christina Aguilera and Jennifer Hudson, who will perform in honor of Summer. Although not officially announced yet, Heart revealed via their Facebook page last week that Chris Cornell of Soundgarden will be doing the honors for them. So what do you think about the Foo Fighters being chosen to induct Rush into the Rock Hall? Take the poll and let us know. Reader (and author) Phil Simon has also created a Facebook group and associated event for the induction for those who plan to attend.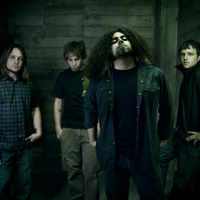 Speaking of Rush's Rock Hall induction, a couple of Rush's prog-rock peers commented on Rush finally getting the nod in recent interviews this past week. Coheed and Cambria frontman Claudio Sanchez addressed the numerous comparisons of his band to Rush in this interview with radio.com explaining that he's never been a big Rush fan but has recently come to respect the band and their place in rock history:
... Sanchez, admits that it was after all of the comparisons that he's gone back and given several of Rush's albums a critical listen, confessing he actually likes a few. "Some of those records are very important," he adds. Referring to Rush's upcoming Hall Of Fame induction, Sanchez says, "They have a thing that they do, and I think it's important for rock and roll so I think they totally deserve it." ...
Coheed and Cambria released their latest album The Aftermath: Descension this past week. Legendary bassist Chris Squire of Yes was also recently interviewed and asked about Rush's Rock Hall induction, and here's what he had to say to RollingStone.com when asked whether he was upset that Rush was getting inducted before Yes:
... I can't object to that. Logistically, it's probably difficult for whoever the committee is to bring in Yes. Rush is fairly simple. It's the same three guys and always has been. They deserve to be there, no doubt about that. But there still seems to be a certain bias towards early-Seventies prog rock bands like Yes and King Crimson. ...
Yes' upcoming tour will feature complete performances of three of their classic albums from the 1970s: 1971's The Yes Album, 1972's Close to the Edge and 1977's Going for the One. Geddy Lee has often cited Squire as one of his biggest influences as a bass player.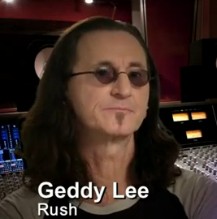 This past Monday Geddy Lee along with several other Canadian celebrities made a guest appearance on the CBS sitcom How I Met Your Mother. The episode focused on Robin's Canadian teen sensation alter-ego Robin Sparkles. The gang are watching a fake Canadian documentary TV show called Underneath the Tunes that is a take-off on VH1's Behind the Music. The episode focuses on Robin's fall from grace and one of the musicians interviewed in the documentary is Geddy Lee. Geddy had 3 lines in reference to the day when Robin Sparkles lost it and went grunge. The lines were "a little piece of Canada died that day", "That day is now known in music history as the day that grunge was born", and "Halifax, Nova Scotia - Walnut Crunch" in reference to being asked about the place and type of donut he was eating at Tim Horton's at the time. The entire episode is available for streaming online at this location.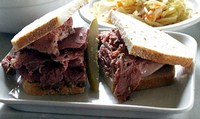 Speaking of Geddy, over the last year ThrashHits.com has been occasionally featuring an article for their Heavy Metal Sandwich series where they ask various hard rock and heavy metal artists to describe their favorite type of sandwich. Earlier this morning they featured Geddy Lee who described his favorite sandwich as a pastrami on rye with dijon mustard and pickles on the side:
... "I'm a big meat fan so this is great. It's a pastrami sandwich but you call it salt beef and in Montreal it's called Montreal smoked meat... Well, just smoked meat. I had a great sandwich in Langer's in Los Angeles while we were recording Clockwork Angels. I love going around the world and eating pastrami sandwiches - there are a couple of places in London that I have to try. Mishkin's is one. You know what? Talking about pastrami like this has given me an idea about the stage props for this tour..."
Thrash metal pioneers Anthrax will be including a cover of Rush's Anthem on their upcoming tribute EP Anthems. The EP is slated for release on March 19th and is now available for pre-order at this location. A few weeks ago RollingStone.com made the track available for streaming online at this location and apparently Rush themselves have given it their stamp of approval. Anthrax's Charlie Benante recently told Classic Rock magazine the following:
... Benante is delighted to report that Rush congratulated Anthrax on their cover of the Canadian's track Anthem. ... "We actually got some feedback from Rush. It was awesome because it was 100 percent positive. Someone sent it to them and it was Alex Lifeson that wrote back and said how much they enjoyed it. It was pretty awesome." ...
Speaking of Rush covers, Chicago-based rock duo Local H released a 5-song EP this past Tuesday called The Another February EP. It contains the radio edit of the Another February track from last year's studio album Hallelujah! I'm a Bum along with 4 cover songs, one of which is a cover of Rush's 2112 Overture / Temples of Syrinx. The band has been playing the song live over the last year and finally released this studio version of the track on SoundCloud back in December in celebration of International Rush Day. You can purchase a digital version of the EP on iTunes or at Amazon as well as the individual track (on iTunes, on Amazon).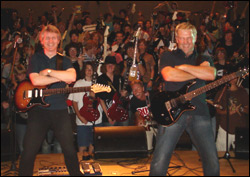 Canadian guitarist Rik Emmett of Triumph was recently interviewed for Glide Magazine and had plenty of great things to say about Alex Lifeson in reference to this photo that appears on his website. The photo is from the 2006 GuitarWorkshop Plus where Emmett and Lifeson did a workshop together. You can read the entire interview online at this location.
The Grammy Awards take place this weekend and - not surprisingly - rock music is extremely underrepresented among the Grammy nominees. Jeff Miers of the Buffalo News decided to take matters into his own hands to correct this egregious error and came up with his own personal Alternative Grammys where Rush and other rock acts are very well represented:
Best Rock Album: Rush, "Clockwork Angels" - A revered band at the peak of its prowess.
Best Guitar Solo: Alex Lifeson, "Headlong Flight," (Rush) - A jaw-dropping, dynamic, epic improvisation.
Best Drum Sound: Neil Peart (Rush), "Clockwork Angels."
Kevin J. Anderson and Neil Peart's Clockwork Angels: The Novel was officially released in the first week of September and debuted at #18 on the New York Times Hardcover Fiction Best Sellers list. You can order the standard audiobook version of Clockwork Angels (narrated by Neil Peart) at this location, and the hardcover edition here. Anderson was recently interviewed about the novel in for the Authors On Tour podcast which you can check out online at this location.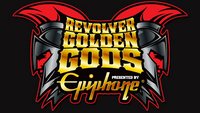 Voting for the fifth annual hard rock and heavy metal award show the Revolver Golden Gods opened last week and Rush's Alex Lifeson, Neil Peart and Geddy Lee are up for the Best Guitarist, Best Drummer and Best Bassist awards respectively. You can vote for Rush in these categories online at this location. At last year's Golden Gods Awards ceremony Rush was presented with the Lifetime Achievement Award and Neil Peart attended to accept the award on behalf of the band.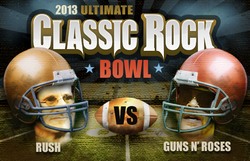 Last week Rush made it to the finals in the 2013 Ultimate Classic Rock Bowl where they were up against Guns 'N Roses. It was a tight race but Rush ended up the victor as voting closed last night at midnight. Over the last few weeks Rush has defeated such lofty opponents as Lynyrd Skynyrd, Aerosmith and Van Halen. You can view the complete bracket at this location.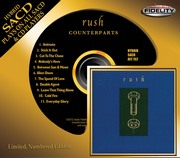 The release date for Audio Fidelity's Super Audio CD (SACD) version of Rush's Counterparts has once again been pushed back a few weeks (thanks Scott G). It is now listed at Amazon with a release date of Tuesday, March 5th rather than February 19th and is available for pre-order. For more information visit the Audio Fidelity website.
Paul at The Canadian Music Scene will be interviewing Neil Peart drum tech Lorne Wheaton (aka Gump) in the near future and is taking questions from fans. So if there's something you always wanted to ask Lorne, shoot Paul an email at paulbeaulieu@thecanadianmusicscene.com.
Here's the scene from last week's How I Met Your Mother episode which includes Geddy Lee's cameo:
That's all for this week. Have a great weekend!