UPDATE - 2/8@10:24AM: Here's the scene which includes Geddy Lee's cameo:
----- snip -----
UPDATE - 2/5@7:07AM: The full episode is now available for streaming on CBS.com at this location. Other than the line in the promo clip below, Geddy also says, "That day is now known in music history as the day that grunge was born" in relation to the day that Robin Sparkles lost it on stage. And he also says "Halifax, Nova Scotia - Walnut Crunch" in reference to being asked about the place and type of donut he was eating at Tim Horton's at the time she lost it.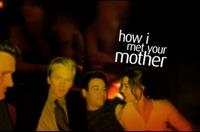 As we learned a few weeks ago, several Canadian celebrities including Geddy Lee will be making a guest appearance on tonight's episode (Season 8, Episode 15: P.S. I Love You) of the CBS sitcom How I Met Your Mother. Last week Hypable.com broke down a recently released promo video for the show that reveals some details about the episode's premise:
... The promo promises that we'll see how the Canadian teen sensation Robin Sparkles went from pop princess to queen of darkness! The episode will show us a mockumentary showing Robin's fall from grace, which will include appearances by a lot of big name Canadian stars. The episode will feature James Van Der Beek, Jason Priestley, Alan Thicke, Paul Shaffer, Alex Trebek, K.D. Lang, former Barenaked Ladies frontman Steven Page, Rush frontman Geddy Lee, and former Canadian hockey player Luc Robitaille. ...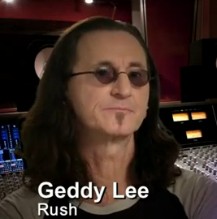 Then over the weekend CBS released another promo video for the episode which shows the gang watching a mockumentary TV show called Underneath the Tunes that is a take-off on VH1's Behind the Music. The mockumentary talks about the day when the dark side of Robin Sparkles was revealed, and depicts Geddy Lee at about the 15-second mark saying, "a little piece of Canada died that day". You can watch the promo on YouTube at this location.
One of the stars of How I Met Your Mother is Jason Segel who also starred in the 2009 film I Love You Man where Rush made a guest appearance. Geddy filmed his spot back on January 10th based on this photo that Rush posted to their Facebook page a few weeks back.