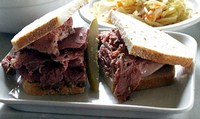 Over the last year ThrashHits.com has been occasionally featuring an article for their Heavy Metal Sandwich series where they ask various hard rock and heavy metal artists to describe their favorite type of sandwich. Today they featured Geddy Lee who described his favorite sandwich as a pastrami on rye with dijon mustard and pickles on the side:
... "I'm a big meat fan so this is great. It's a pastrami sandwich but you call it salt beef and in Montreal it's called Montreal smoked meat... Well, just smoked meat. I had a great sandwich in Langer's in Los Angeles while we were recording Clockwork Angels. I love going around the world and eating pastrami sandwiches - there are a couple of places in London that I have to try. Mishkin's is one. You know what? Talking about pastrami like this has given me an idea about the stage props for this tour..."

Metal rating? 6/6 because Geddy's such a big sandwich fan that his local deli has named a breakfast after him. More importantly, if you see any meat-oriented sandwiches on stage during Rush's world tour this year, you can directly attribute the idea to us. We want credit.
The local deli they mention above is Caplansky's Deli on College street in Toronto. Their sandwich they named after him is The Geddy and is described on the menu as follows:
Lox, salami and eggs all scrambled together with onions and served with rye toast, latkes & apple sauce just the way he likes it. Closer to the heart? You betcha
Back in the Fall of 2011, Unigirl Canada's Campus Cuisine featured Caplansky's Deli and received a personal video lesson on how to make The Geddy from owner Zane Caplansky which you can check out at this link.