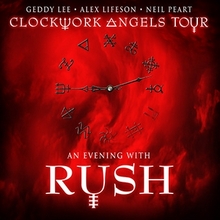 Last weekend Rush closed out the 2012 Clockwork Angels tour at the Toyota Center in Houston. They'll be back out on the road in 2013, but up until just recently the only confirmed dates for next year were the 10 European shows that were announced earlier this year. But earlier this week Robe Lighting published an article to their website where they discuss with Rush lighting director Howard Ungerleider how their lighting equipment was used on Rush's Clockwork Angels tour, and the article seemed to confirm both a Spring and Summer North American tour leg in 2013:
... The tour continues in the U.S. into Spring 2013 and is then scheduled to visit Europe before returning to North America for the rest of the Summer, when it will have been on the road for a year.
Then yesterday we received official confirmation of this via a Thank You message that was posted to Rush.com:
Thanks to all the fans who came out to see the Clockwork Angels Tour 2012! It was an amazing run - from the Clockwork Angels String Ensemble, the filming in Dallas & Phoenix, and YOU. It proved, once again, how dedicated and loyal the Rush fans are and are such a part of the overall show. Europe, are you ready? Clockwork Angels 2013 in Europe is on sale now. And just because we had such a good time, we are now making plans for more dates in the spring and summer of 2013 in North America - so stay tuned for more announcements. Looking forward to seeing you out on the road again soon!
Given that the European leg begins on May 22nd in England, the Spring leg would probably begin in mid-April with the Summer leg then running from late June or early July into August. Each leg would likely consist of around 10-12 dates in cities/venues that they had missed on the 2012 leg. I would anticipate that more details including ticket sale information should be coming soon. With another tour leg comes the question of whether the band will alter the setlist at all. For the Snakes & Arrows tour Rush did just that - swapping out 4 songs for the 2nd leg of the tour. However, for last year's Time Machine tour 2nd leg they kept the setlist unchanged. If Rush were to change the setlist for the 2013 leg, which song(s) do you think they should drop? Take the poll and let us know.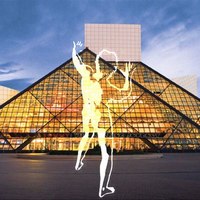 Back in early October the Rock and Roll Hall of Fame announced their annual list of nominees for induction and after 13 years of being snubbed, Rush finally made the cut. Over the past 2 months a group of 600 or so rock historians, music industry insiders and past inductees voted to see which of the 15 nominees should be included in the 2013 induction class. The Rock Hall also created for the first time ever a fan ballot where fans could vote in an online poll that would count as one vote towards the official tally. Voting closed this past Monday and Rush was the clear winner of the poll with Deep Purple, Heart, Joan Jett and the Blackhearts and Albert King also making the ballot. A few voting committee members have publicly announced their ballot choices and while some have not included Rush, many others have. One of those who included Rush is music critic Michael Norman, as detailed in this Cleveland Plain Dealer article. Last week the Rock and Roll Hall of Fame Museum named Greg Harris as its new President and CEO, replacing the retiring Terry Stewart. Harris was on the Lanigan and Malone show on Cleveland's Magic 105.7 on Wednesday and revealed that the 5 or 6 members of the 2013 class of inductees will be announced in a press conference to be held next Tuesday, December 11th. You can listen in to the interview online at this location; he makes the announcement at around the 12:15 mark. You can read Geddy Lee's reaction to the band's Rock Hall nomination in this post and Alex Lifeson's here.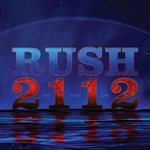 Earlier this week Rush.com posted a short, 20-second preview video of the Rush 2112 Deluxe Edition that shows a few images from the included 2112 comic book with 2112: Temples of Syrinx playing in the background. You can check it out online at this location. They also posted this photo from the comic book titled 2112: Overture which shows an outer space image of what are presumably the planets of the Solar Federation. On December 18th the band will be releasing a 5.1 Surround Sound Deluxe Edition version of 2112; a CD plus Audio DVD Deluxe Edition, a CD plus Audio Blu-ray Deluxe Edition and a CD plus Audio Blu-ray Super Deluxe Edition. All 3 versions will contain a digitally remastered CD with 3 unreleased live tracks along with a DVD or Blu-ray 5.1 Surround Sound mix of the album. Also included in each version will be expanded artwork, liner notes, lyrics, unreleased photos and brand new liner notes by David Fricke. The Super Deluxe version will be housed in a hardbound book with a 40 page comic book by story artist Tom Hodges. The DVD/Blu-ray also contains a digital version of this comic book. For all the details and technical specs, check out the Rush.com press release. You can pre-order your copy today at Amazon (CD+DVD Deluxe Edition, CD+BD Deluxe Edition, CD+BD Super Deluxe Edition).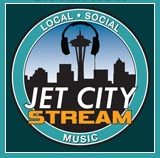 This past Sunday Seattle-based digital radio station Jet City Stream aired a new interview with Neil Peart conducted by drummer Michael Shrieve for his Notes from the Field program. The interview took place backstage at Seattle's Key Arena when Rush played there last month. Michael chats with Neil for 40 minutes about music, drums, life, books and more. The complete interview is available for listening on SoundCloud at this location.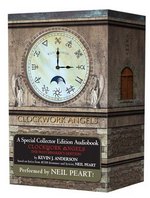 We learned earlier this week that a special Clockwork Angels: Watchmaker's Edition of the audiobook for Clockwork Angels: The Novel will be released next March 1st. The package contains the unabridged audiobook along with a WORKING clocktower. From the description:
Clockwork Angels: The Watchmaker's Edition features the unabridged audiobook edition of Clockwork Angels, a novel by bestselling science fiction author Kevin J. Anderson, based on the new concept album by the legendary rock band Rush. This compelling steampunk adventure is read by Rush drummer and lyricist Neil Peart, who first conceived the story for the band's latest release. This special edition features the complete, unabridged audiobook packaged in a unique, working upright clock tower designed by the band's album cover artist, Hugh Syme. Intricately themed and largely handmade, this is a beautiful and functional design piece that will be a must-have for Rush fans and steampunkers alike.
Kevin J. Anderson and Neil Peart's Clockwork Angels: The Novel was officially released in the first week of September and debuted at #18 on the New York Times Hardcover Fiction Best Sellers list. You can order the standard audiobook version of Clockwork Angels (narrated by Neil Peart) at this location, and the hardcover edition here.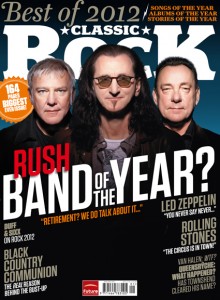 The latest issue of the UK's Classic Rock Magazine is a special edition featuring The Best Of 2012. The issue features five different cover photos with the headline Band Of The Year? with each cover depicting a photo of 5 bands deserving this distinction; Led Zeppelin, the Rolling Stones, Black Country Communion, Rivals Sons and ... RUSH! For more details visit the Classic Rock website.
We are closing in on the end of 2012, and with that come the inevitable end-of-year best of lists and awards. So Ultimate Classic Rock has opened up voting for their 2012 Ultimate Classic Rock Awards and Rush is up for consideration in several categories:
Rush, Clockwork Angels: Album of the Year
Rush, The Wreckers: Song of the Year
Rush, Clockwork Angels tour: Tour of the Year
Rush, Fly by Night Volkswagen commercial: Best Commercial
So make sure you go and vote for Rush! NPR has also opened up voting for the Best Music Of 2012 but have neglected to include Rush's Clockwork Angels in their list of album choices. However, they allow write-ins so go write-in Rush (thanks Zutroy)! And speaking of Rush's Clockwork Angels, it may have not received any Grammy nominations earlier this week, but it did make Amazon's Customer Favorite Albums of 2012 list where it came in at #12 (thanks drmike). The second single from the album - The Wreckers - dropped a few spots on the Mainstream Rock Charts but is still sitting in the top 10 at #9. Folks who were watching NFL Sunday Night Football on NBC last weekend were a bit surprised when they used the track as bumper music going into a commercial. I probably received about 50 separate emails from folks alerting me to this!
For some reason Music Radar felt the need to run a poll to determine whether Neil Peart or Dave Grohl is a better drummer. I wonder who will win? You can vote for Neil at this location. I bet even Dave himself would vote for Neil! :)

MLB.com used Geddy Lee and Milwaukee Brewers outfielder Ryan Braun to help advertise their eGraphs promotion. eGraphs are authentic, personal written and voice-recorded messages that can be purchased through their website. The sample eGraph that they posted to their Facebook page shows a photo of Braun with the autograph:
To Gedddy - from a guy that plays left field to a guy that plays stage left! All my best!
Thanks to Zanner W for the heads up.
Rush made InMusic's list of the best Canadian bands for a feature they ran earlier this week (thanks ou812112). Here's what they had to say about the band:
Despite being largely dismissed by critics as grandiose, bombastic and cheesy, the trio of Geddy Lee, Alex Lifeson and Neil Peart managed to gain a huge fan base, sell scads of records and become one of the most influential bands in rock history - while recording 20 minute long songs! Man, these guys can play. But the best part is that around 1976, male children between the ages of 10 and eighteen, all over Canada and the United States started growing their hair long, making space noises, playing air instruments and shrieking "We are the priests of the Temple of Syrinx!..." while parents scratched their heads and wondered whatever happened to that nice Elton John Fellow.
Peter Brocklehurst has posted Chapter 7 of his Neil Peart diary to his The Legends of Brocklehurst blog. This installment covers his experience at the first NEC show on the Hold Your Fire tour as told through Peter's friend Chris Lea - who was also a guest of Neil's at that show. You can check out this installment and Peter's previous chapters at The Legends of Brocklehurst blog.
This past Sunday night's episode of Fox's American Dad! (Season 9, Episode 5) contained a few Rush 2112 references. During the opening sequence Stan comes home to find his son and his friend rocking out to Rush's 2112: Overture in the garage (watch clip below or at this link). A clip from 2112 was also played later in the show and a house had an address of 2112.
That's it for this week! Have a wonderful weekend everyone!!