UPDATE - 12/3@2:08PM: Author Kevin J. Anderson tweeted that the release date of 11/6 given by CD Universe, BookDepository.com and others is not accurate and the actual release date is March 1st, 2013. Anderson also states in a tweet that he and Hugh Syme wrote a special companion booklet for it.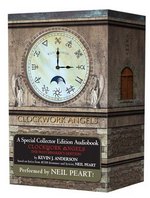 On March 1st of next year Back on November 6th a special Clockwork Angels: Watchmaker's Edition of the audiobook for Clockwork Angels: The Novel will be was released. The package contains the unabridged audiobook along with a WORKING clocktower. From the description:
Clockwork Angels: The Watchmaker's Edition features the unabridged audiobook edition of Clockwork Angels, a novel by bestselling science fiction author Kevin J. Anderson, based on the new concept album by the legendary rock band Rush. This compelling steampunk adventure is read by Rush drummer and lyricist Neil Peart, who first conceived the story for the band's latest release. This special edition features the complete, unabridged audiobook packaged in a unique, working upright clock tower designed by the band's album cover artist, Hugh Syme. Intricately themed and largely handmade, this is a beautiful and functional design piece that will be a must-have for Rush fans and steampunkers alike.
Thanks to Eric at Power Windows for the heads up. The package appears to be on backorder and not currently available to order anywhere online. Kevin J. Anderson and Neil Peart's Clockwork Angels: The Novel was officially released in the first week of September and debuted at #18 on the New York Times Hardcover Fiction Best Sellers list. You can order the standard audiobook version of Clockwork Angels (narrated by Neil Peart) at this location, and the hardcover edition here.
Related Posts:
[Win a signed copy of Clockwork Angels: The Novel from ECW Press]
[Clockwork Angels: The Novel debuts at #18 on the New York Times Best Sellers list]
[Clockwork Angels: The Novel released, new interview with author Kevin J. Anderson]
[Clockwork Angels: The Novel Toronto world premiere book launch report and photos]
[Clockwork Angels: The Novel world premiere book launch tonight]
[Kevin J. Anderson talks Clockwork Angels: The Novel in new SciFi Pulse interview]
[Clockwork Angels: The Novel world premiere book launch]
[Clockwork Angels: The Novel special signed and numbered editions on sale now]
[Clockwork Angels audiobook narrated by Neil Peart]
[Clockwork Angels: The Novel official press release]
[Author Kevin J. Anderson to write novelization of Rush's upcoming Clockwork Angels album]