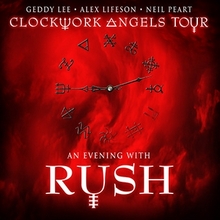 The Clockwork Angels album has fallen 10 spots from #51 last week to #61 on the Billboard 200 album chart in its 6th week of release. Rush released The Wreckers as the second single from the album to radio this past Wednesday, and it should also be available for purchase digitally as a single next week. You can check out the single's artwork here. UltimateClassicRock.com reviewed the track earlier this week, giving it a 9/10. The barrage of band interviews finally settled down a bit as Rush and their road crew hunkered down for tour rehearsals beginning this past week. A new official Neil Peart Twitter feed was set up yesterday called Clockwork Motorrad where Neil and Rush tour security Michael will be tweeting updates from the road on the Clockwork Angels tour. The feed's description reads:
Neil Peart Official - Join Neil and tour security Michael as they ride the Clockwork Angels Tour 2012-13 from a two-wheel moto-tour perspective!
You can follow them on Twitter at @praetorianx1. There have already been a bunch of great tweets made since yesterday including this photo of Neil all dressed up with his bike, and this photo of Michael and Neil at dinner.
There was one new interview this past week where Geddy Lee and Alex Lifeson both spoke with Music & Musicians magazine about the Clockwork Angels album and upcoming tour. Alex Lifeson's interview from his appearance on the Nights with Alice Cooper radio show last month was posted online earlier this week. In the 9-minute interview Alex chats with Alice about the Clockwork Angels album, the Rush documentary, making a tour setlist, chickens and more. You can check it out online at this link.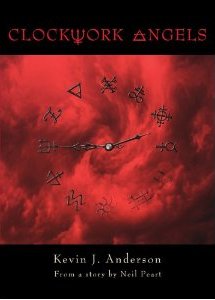 Clockwork Angels: The Novel author Kevin J. Anderson announced earlier this week via his blog that ECW Press would be offering for sale special signed and numbered editions of the novel. The special editions went on sale this morning at 10AM. Here's the official press release that Anderson included in his post:
... The Silver Edition, slipcased and autographed by both Kevin J. Anderson and Neil Peart, will be a beautiful addition to any collection. This limited edition of 300 copies is available from both ecwpress.com/clockworksilver and rushbackstage.com, for $74.95.

The Gold Edition is a must have for die-hard fans. Slipcased and signed by both authors, The Gold Edition is accompanied by a lithograph image from the book, signed by artist Hugh Syme, and a unique autographed page of the original CLOCKWORK ANGELS manuscript. Both pieces are presented in an attractive frame with an engraved and numbered plate. With only 302 copies available, the Gold Edition will retail for $299.95, and is available exclusively from rushbackstage.com. ...
Unfortunately the Silver Edition is now completely sold out at both ecwpress.com and the Rush Backstage Club, but the Gold edition is still available via rushbackstage.com for $299.95.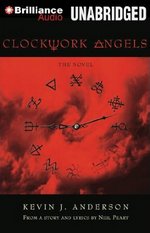 Also, late last week the folks at RushCon announced that Anderson will be Sunday's guest speaker at this year's convention. Kevin will read from Clockwork Angels and share his experience creating the novel with Neil Peart. Books will also be on sale and Kevin will be doing a book signing. Anderson also announced the appearance on his blog and added the following information regarding the audiobook version of the novel:
... this afternoon I was in the studio recording a special afterword for the Brilliance unabridged audio edition of the novel (which is read by Neil Peart). Over the past two days, I worked with artist Hugh Syme to develop a lavish illustrated booklet, 32 pages, which is exclusive to the physical edition of the audiobook. It's been approved by Neil and already off to press. The audio will be released simultaneously with the hardcover novel on September 1, and both are available for preorder now.
You can pre-order the audiobook version of Clockwork Angels (narrated by Neil Peart) at this location, and the hardcover edition here.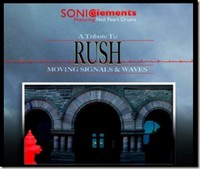 Back in April the Sonic Elements progressive rock project from Sonic Reality released a 5-song Rush tribute EP titled XYZ: A Tribute to Rush. The tracks on the EP were recorded using Sonic Reality's Neil Peart Drums, along with contributions from several well-known progressive rock musicians. Sonic Elements is expanding the project and will be be releasing a full album's worth of Rush covers by the end of the summer titled Moving Signals and Waves. Here's what Sonic Reality's Dave Kerzner had to say about the album in a recent interview with Andrew Olson:
I'm producing, engineering and playing keys on a full album of Rush covers featuring Neil Peart of Rush on drums via his Sonic Reality sample library "Neil Peart Drums" plus special guests from bands like Yes, Porcupine Tree, Asia FJP, It Bites, Triumph and more. Due to be out on iTunes and on CD by the end of the Summer. :)!
You can listen to some early mixes of The Spirit of Radio and Subdivisions on SoundCloud here.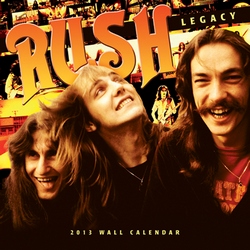 The official 12-month Rush 2013 wall calendar is now available for purchase through Amazon and other retailers. The 2013 cover uses the same artwork that was used on the Rush: Beyond the Lighted Stage Rush documentary DVD/Blu-ray cover and has the words Rush Legacy written on it. You can order your copy at this location. The 2012 wall calendar had a Signals theme, celebrating the album's 30th anniversary, and can still be purchased at this location if you don't already have a copy.
It's wedding season and one Rush-fan couple recently decided to have a string quartet perform Rush's The Spirit of Radio as they exited the church. You can check out a video of it at this link (thanks Freddi B).
In celebration of Rush and the Clockwork Angels album release, Toronto-based chef Matt Kantor interpreted and deconstructed the music of Rush into a nine-course dinner that was held last week at The Cookbook Store in Yorkville (Toronto). Fans who paid $150 a plate were treated to a gourmet meal that included a variety of Rush-themed dishes including a red bruschetta inspired by Rush's Red Barchetta, a lime-flavoured meringue inspired by Limelight, and the centerpiece of the meal - the La Villa Strangiato. From The National Post:
... As the centrepiece of an epic, ninecourse prog-dinner extravaganza at The Cookbook Store in Rush's hometown Toronto, Kantor served up a wild-looking dish in which [La Villa Strangiato]'s various movements were represented side-by-side. There was a lamb ball with dill on top of a spinach-and-yogurt purée (the Hellenic Danforth and Pape), calamari tentacles dyed with beet juice (Monsters!), tapioca "caviar" soaked in paprika and oil (The Ghost of Aragon), octopus with a deep-fried chickpea (Monsters! (Reprise)) - And somehow, as in Rush's song, the parts came together into a whole - in this case, a salty-and-sweet Mediterranean dish - that made sense of its sprawling list of ingredients. ...
All proceeds from the meal went towards the late Andrew McNaughtan's Art Gives Hope charity. Blogger Brilynn Ferguson was there and posted this gallery of photos from the event.


For its weekly poll last Friday RollingStone.com asked its readers what were the greatest prog albums of all time. Yesterday they published the top 10 winners and Rush albums made 3 out of the top 10 spots. At #10 was Moving Picturs, at #8 was Hemispheres, and 2112 came in at #2:
It may not seem like it now, but Rush's 1976 LP 2112 was an extremely brave move for the band. Two years earlier the group got the attention of Mercury Records with their Led Zeppelin-esque song "Working Man," but once they got signed they shifted gears with new drummer Neil Peart into proggier territory. The resulting albums, Fly By Night and Caress of Steel, didn't exactly set the world on fire, and the label wanted more commercial material for their next disc. The band took things in a different direction, risking it all on a grandiose concept record about a dystopian future in the year 2112. Radio didn't touch it, but the album found a rabid fan base that's never let go of the music. Some of the big rock groups of the day now play county fairs, while Rush are still packing arenas worldwide.
On a related note, ModernDrummer.com also published their list of the top 20 Classic Prog Albums this past week and Rush's 2112 made the list at #14:
2112 is the first essential Rush album, the one that garnered widespread acclaim for the band. Neil Peart's godlike rep was built upon his technical and muscular approach to cuts like the opening twenty-minute title track.
Jeff Wagner posted his list of the 10 best heavy metal instrumentals for NoiseCreep.com this past week and Rush's YYZ made the list:
Impossible to choose between this track and 1978's "La Villa Strangiato," but I'll go with "YYZ" for its concision and influence. Nearly every young rocker picking up a guitar, bass or pair of drumsticks has attempted to tackle this colorful, energy-packed composition. In just four and a half flowing minutes, the terrific trio cram in as much musical information as in the 9+ minute "Strangiato." "YYZ" is daunting complication made friendly.
Speaking of YYZ, Nathaniel Miller of the Odessa American wrote an article for today's edition titled dash dash / dot dash/ dot dot dash dot where he pays tribute to the track:
... you never forget your first. That one song that made you stop and ask, "Holy crap, instruments can be played like that?" For me, it was Rush's "YYZ" off their Moving Pictures album. The band gives the song its title from the IATA airport code for Toronto Pearson International Airport and starts the song off by playing YYZ in Morse code. "Back up, Nathaniel," you're thinking. "Did you just say that intro for one of rock's greatest songs is in Morse code?" Starting off with drummer Neil Peart playing on Crotales, bassist Geddy Lee and guitarist Alex Lifeson join in playing YYZ in Morse code in 5/4 time. Really, go on and listen. The band plays Y (dash dot dash dash) Y (dash dot dash dash) and Z (dash dash dot dot). Take 30 seconds to follow along. Music nerds, Lee and Lifeson play the root note of C for the dashes and the tritone F# for the dots. Don't ask me about how the rest of the song goes. Despite the many covers of YYZ, I'm still convinced it's a song that can't be properly duplicated. ...
GazzetteXtra.com published a 3-part series this past week where 3 of the magazine's writers talk about their favorite drummers and what makes them great. Here's what they said about Neil Peart in part 1:
... There's a reason his nickname is "The Professor." Add in the fact that he is Rush's lyricist and he becomes even more appealing. Growing up, his studio work was amazing, but when I heard Peart live on "All the World's a Stage," I knew I wanted to be a performing musician. ...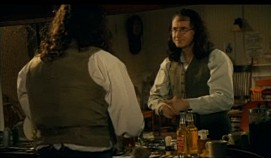 Sunshine Sketches of a Little Town is a sequence of stories by Canadian author Stephen Leacock that was first published 100 years ago in 1912. In celebration of the 100th anniversary, the CBC aired a film adaptation of the book back in February in which Geddy Lee made a small cameo appearance. Geddy Lee's character appears throughout the film sitting in a barber chair but with a towel over his head and a disguised voice. He only reveals himself at the end of the movie during the credits as shown in this video:
The film is now available for purchase as a DVD via the CBC website (thanks RushFanForever). Speaking of Geddy, this Sunday, July 29th is Ged's 59th birthday! Happy birthday Dirk. May you have many more. Have a great weekend everyone!