UPDATE - 4/25@12:09PM: For those of you who ordered the CD, the shipping is a little delayed although they are offering up the download version while you wait. Here's a message that reader Kelly M received:
Thank you for purchasing the pre-order of the limited edition XYZ - A Tribute To Rush CD! While we are still waiting for the CDs to arrive we wanted to treat you to the download version in mp3 and full CD quality wave format while you wait. So visit your download area on esoundz to access it on 4-21-12. Expected shipping on the CD version which you will still get is early May. We will inform you when it has been shipped. If you have any questions feel free to contact us! Enjoy!
----- snip -----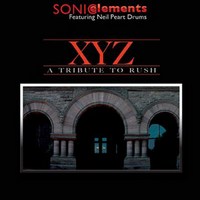 The full version of Tom Sawyer from the upcoming Sonic Elements Rush tribute XYZ: A Tribute To Rush has been posted online at SoundCloud.com (thanks RushJunkie2112). The cover features John Wesley (Porcupine Tree) on vocals and guitars, Billy Sherwood (Yes) on bass, Dave Kerzner on keys and Neil Peart Drums by Sonic Reality. You can listen to it below or at this link. Tom Sawyer is just one of 5 tracks from the EP which releases on April 21st and can be pre-ordered via esoundz.com as a digital download or a physical CD. The other 4 featured tracks are Red Barchetta, YYZ, Limelight and a bonus track titled Trifecta. Other performers include Rik Emmett (Triumph), Randy McStine, and Matt Dorsey. Trifecta is an original track written by Billy Sherwood and Dave Kerzner that uses the drum track from YYZ. You can listen to samples from the project on SoundCloud, and check out all the track details at the esoundz website listing.
Related posts:
[Sonic Elements 5-song EP XYZ: A Tribute To Rush now available for pre-order]
[Sonic Elements 5-song EP XYZ: A Tribute To Rush]
[Triumph's Rik Emmett plays Rush's Red Barchetta for Sonic Reality's Sonic Elements prog rock project]