UPDATE - 5/4@10:28PM: Here's a short video from news coverage of tonight's ceremony where Rush received the Governor General's Award (thanks Don C).
----- snip -----
UPDATE - 5/4@6:15PM: Eric at Power Windows reported the following late this afternoon regarding Rush's Governor General's Award honors:
Starting Saturday, May 5, at 10:30 p.m. ET, Canadians everywhere can watch the National Film Board of Canada's online film tributes to rock legends Rush, filmmaker Deepa Mehta, comedienne Mary Walsh and more, as the NFB honours the 2012 laureates of the Governor General's Performing Arts Awards at the NFB.ca Screening Room and via the NFB's apps for smartphones, tablets and connected TV. ...
Also, Paul from the Canadian Music Scene will be on hand at tonight's award presentation at the Governor General's place, Rideau Hall, as well as tomorrow's Gala - and he'll be posting photos and reports over the weekend.
----- snip -----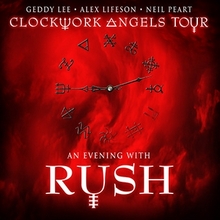 The second round of pre-sales for Rush's 2012 Clockwork Angels tour are now complete with general ticket sales kicking off today. This second round included 12 dates: Bristow, Pittsburgh, St. Louis, Minneapolis, Bridgeport, Atlanta, San Jose, Las Vegas, Phoenix, Dallas, San Antonio and Houston. As of this post VIP pre-sales for Bristow, St. Louis, Las Vegas, San Jose, Dallas, San Antonio and Houston have sold out, but are still open for the other 5 dates (VIP packages for Detroit, Boston and Brooklyn from the first round are also still available). General ticket sales for Bristow, Pittsburgh, St. Louis, Minneapolis, Bridgeport, San Jose, Las Vegas, and Dallas kicked off this morning at 10AM (local venue time) with San Antonio and Houston going on sale tomorrow at 10AM, and Atlanta and Phoenix on Monday. Looking ahead to next week, we should have pre-sales for at least
Indianapolis, Charlotte, Columbus, Cleveland, Tampa and Seattle. Not all of these are currently listed at Ticketmaster as going on sale next week, but the Citi Private Pass site is listing them all (except Cleveland) as going on CITI pre-sale next Tuesday, May 8th - which means all the other pre-sales will also occur the same week. And although they haven't been officially announced yet, we can be fairly confident that both the Music Today and VIP pre-sales for these dates will kick-off next Monday at 12PM. Quicken Loans Arena in Cleveland does not use Ticketmaster or Citi Private Pass, but according to those who have contacted the venue, these tickets will also go on sale next week. And there are still no details regarding any of the 5 Canadian dates, although I suspect that they will also be going on sale next week. I'll be updating the tour page with all of this information as the official word rolls in. Please note that delivery of the Rush.com newsletter seems to be having some issues as I've received several reports of folks receiving the newsletter late or not at all. So don't be completely reliant on the newsletter; be sure to check the various ticketing sites regularly, and I'll have info posted here as well as soon as it comes in. For updated information including passwords (where available), just check out the tour page, and for more details on how all the pre-sales work check out my ticket sales and pre-sales guide.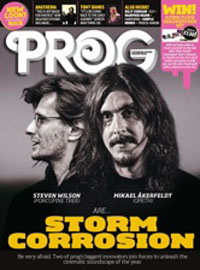 Rush's upcoming Clockwork Angels album is the subject of a 2-page article in the most recent issue of Classic Rock Presents Prog titled Angels Are Go!. It's a short article but includes some tasty new details regarding a few of the tracks on the album:
... Geddy Lee and Alex Lifeson originally worked on the music together in a basement studio, sometimes with Lifeson giving Peart two demos of a tune - one with a drum machine illustrating rhythmic ideas, the other a click-track. "Alex had put together one collection of ideas that turned out to be most of the song Clockwork Angels,' says Peart. "As soon as I heard its rhythmic feel, which was so different for us, my response was 'I want to play that!'"

Carnies and Headlong Flight were of 'furious jams', and there was an 'immediate spark of connection' with Seven Cities Of Gold, Alex Lifeson says, "We talked about having a raucous beginning that related to the middle 'solo' section, and as the song evolved it took on the appropriate character; entering the city with all the wild, dangerous sensory experience it offers." Peart asserts that Lifeson's solo on The Garden was, "A few takes recorded casually and assembled into an improvised performance that remains his personal favourite." Audiences throughout the Time Machine tour will have already heard the opening tracks, first single Caravan and its B-side BU2B, which were written early in the process. The Wreckers was the result of Lee and Lifeson swapping instruments during writing sessions but, "Once we switched into recording mode," says Peart, "it was back to the same old us." ...
For reference, here's the entire Clockwork Angels track list along with run times:
1. Caravan(5:40)
2. BU2B(5:10)
3. Clockwork Angels(7:31)
4. The Anarchist(6:52)
5. Carnies(4:52)
6. Halo Effect(3:14)
7. Seven Cities Of Gold(6:32)
8. The Wreckers(5:01)
9. Headlong Flight(7:20)
10. BU2B2(1:28)
11. Wish Them Well(5:25)
12. The Garden(6:59)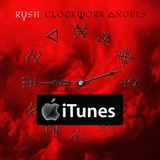 You can read the entire transcription over at Power Windows at this location. The album will release in the US and Canada on June 12th (a little earlier in parts of Europe) and will be available on CD, vinyl and as a special edition fanpack. It will also be available as a download and can now be pre-ordered via iTunes. The album will be exclusively released in the UK on June 11th as a special Classic Rock fanpack edition, with the regular UK release on July 2nd. For more details on what's included in the fanpack along with order information, go to this link. Rob F over at the Rush Vault took some time out recently to dissect the 12 alchemical symbols on the album's cover, and you can check out his analysis at this link. And reader JayBird takes a look at the album's steampunk theme in this recent blog post. Author Kevin J. Anderson is writing a companion novel to the album and was interviewed for a feature in Prog magazine where he shows off his record collection, which includes a lot of Rush (thanks RushFanForever).
Back in early March Rush was announced as the recipient of a Governor General's Performing Arts Award for Lifetime Achievement. Rush will be receiving the award at a private ceremony in Ottawa this evening, then there will be a Gala held tomorrow evening at the National Arts Centre in Ottawa. It looks like all 3 members of the band will attend the ceremony since they were all in Ottawa yesterday where all of the Governor General's Award winners attended Question Period in the House of Commons along with some other ceremonies on The Hill. Several MPs took photos with the band and posted them to Twitter; here's Tony Clement with Alex and Neil, Peter Braid with Alex and Neil here and here, and Geddy with New Democratic Party MP Mylene Freeman. Here's an article from the Winnipeg Free Press on Rush's visit:
Lots of visitors stop by in the public galleries to watch question period, but few are "closer to the heart" of politicians than a visiting rock star. The prog-rock puns were flying faster than Neil Peart's drumsticks as MPs and ministers paid tribute to the members of Rush in the House of Commons. The iconic Canadian band are in Ottawa along with seven other recipients of the Governor General's Performing Arts Awards, the country's highest artistic honour.Industry Minister Tony Clement, a diehard music fan, couldn't resist dropping reference to the band as he batted away opposition questions. Lead vocalist Geddy Lee said at a reception later that he enjoyed watching the political theatre in action. ...
Also, the Inside Politics blog posted a video of an exchange between MPs Clement and Angus, who insert a bunch of Rush references into their banter for the benefit of the onlooking band members. Rush and the other award recipients are recognized towards the end of the video. The Huffington Post also had an article highlighting the Rush-imbued banter at this link. It's still not known whether the band will perform at tomorrow night's Gala, but there was this hint from the Ottawa Citizen earlier in the week:
.... There's always a musical act among the annual recipients of the GG awards, and typically the musicians do perform. ... Rush, however, usually travels with a stage system that is massive. ... No way that's going to be possible at the NAC, especially during a gala where other performances and tributes will be held on the same stage. So how about - and I'm speculating here - a stripped down, acoustic performance of, say, Tom Sawyer, or Closer to the Heart? ... The National Arts Centre isn't talking, and director of communications Rosemary Thompson is cagey.

"We've been sworn to secrecy, but there's going to be one great surprise, one great musical surprise," Thompson tells me. "I can't say anything about whether it's Rush or not Rush, but there's one great musical surprise that'll definitely be worth being there for." ...
Tickets for the gala are available at the NAC box office, or through ticketmaster.ca.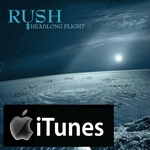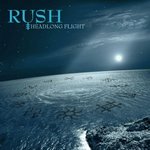 The full 7:20-minute album version of Headlong Flight was released for purchase as a download worldwide last week via multiple channels including Amazon, iTunes and Spotify. It briefly made its way onto the iTunes top 100 songs chart at #91, but has since dropped off - and is currently sitting at #1 on Amazon's Hot New Releases in Rock chart. The track has been getting steady rotation on rock radio stations since it's release to radio 2 weeks ago. It's currently sitting at #12 and moving up on the Medibase Rock Chart. You can check out the Official Lyric Video for Headlong Flight on YouTube at this link, and the song is also now up on SoundCloud. The story of the online premiere of the track last month was Something Else!'s top story in April.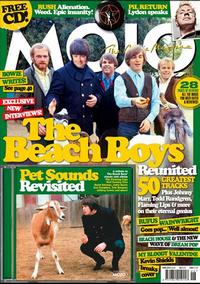 Earlier this week we learned that Rush is the subject of an 8-page feature story in the June, 2012 issue of Mojo magazine. The cover tagline reads, RUSH. Alienation. Weed. Epic Insanity! From the Mojo website in this issue description:
RUSH: How the highbrow Canuck proggers fed on Tolkien, Ayn Rand, weed and whiskey, survived critics and personal tragedies to become "the biggest cult band in the world."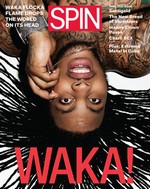 And The May/June, 2012 issue of Spin Magazine contains a feature called Interstellar Overdrive in which guitarists from several different bands rate several dozen other guitarists on a scale of 1 to 10 in 5 different categories: Volume, Shreditude, Technique, Emotion and Originality with each rating depicted as a point on a star. Alex Lifeson is one of the guitarists featured and gets a 5 for Volume, a 4 for Shreditude, an 8 for Technique, a 4 for Emotion and an 8 for Originality.
The Toronto Star ran an article earlier this week highlighting the walk-on music for members of the Toronto Blue Jays. Omar Vizquel's music is Limelight by Rush.
Rush is one of my favourite bands and since they are Canadian, I felt it would be appropriate with the Blue Jays. I liked Rush from the time I was 12. Just a completely different sound. I have all their albums. ... I saw the lead singer, Geddy Lee, behind the plate once (Lee is a season-ticket holder) ... now when he comes to games and I'm playing, he'll hear his song.
Io9.com recently posted their list of the Top 10 Albums Every Self-Respecting Science Fiction Fan Should Own (thanks Victor) and Rush's 2112 made the list at #3:
Rush is one of those 1970s bands whose proggy sound and fantasy/scifi lyrics appealed to Tolkien fans and Star Wars lovers alike. One side of this album is devoted to the tale of a dystopian future ruled by "the Priests of the Temples of Syrinx," whose "great computers fill the hallowed halls." The priests' symbol is the glowing red star on the album cover (which became a famous piece of Rush iconography). Basically this is one of the original scifi prog rock concept album moments, and to enjoy it you'll need to take out your irony earbuds and put on your earnest puffy headphones. - Annalee Newitz
Canadian singer/songwriter Selina Martin included a cover of Rush's The Spirit of Radio on her 2010 album Disaster Fantasies. She talks about the song in this recent interview with TheRecord.com:
... Disaster Fantasies also features a remarkable cover of Rush's The Spirit of Radio, a non-ironic take on the iconic FM rock staple described as "a beautiful rendition" by Geddy Lee himself, and recorded partly at the request of musician and author Dave Bidini, a friend of both Martin and Lee. "Chris Stringer, who produced my album, is also a huge Rush fan and a friend of Alex Lifeson's, so I figured if Stringer didn't think it was lame for me to do that acoustic version of the song as a Rush fan, and if Bidini, a pal of Geddy, really wanted me to do that song, then I was just going to figure out a way to do it, and do it. And so I did and I sort of fell in love with it again, I guess."...
Speaking of Rush covers, late last year San Francisco metal band Machine Head included a cover of Rush's Witch Hunt on the special edition of their album Unto the Locust. If you haven't heard it yet, the track is available for listening on YouTube at this link (thanks Hannu P).
Recent Rock and Roll Hall of Fame inductees the Red Hot Chili Peppers played Toronto's Air Canada Centre last Friday night and drummer Chad Smith showed his Rush love at the end of the show. From the Toronto Sun:
... Smith ... took the final bows alone on stage dressed in sleeveless bright blue overalls while he threw drum sticks into the crowd. "Thank you Toronto, you've been so f---ing cool," he said before adding: "And I love Rush!"
The following day the band appeared on Toronto's 102.1 The Edge to be inducted into the station's Edge Rock of Fame. When asked about the band's choice of Chris Rock to induct them into the Rock Hall, bass player Flea ignored the question and instead said the following:
I just wanted to say - when are they going to put Rush in the Hall of Fame?
You can watch the video below or at this link at about the 1-minute mark.
And before we cut things off for this week, I should mention that this past Tuesday, May 1st marked the 5th anniversary since the release of Rush's last album - 2007's Snakes & Arrows. Happy anniversary! The pre-sale circus continues next week. Have a good weekend everybody!