UPDATE - 9/30@5:43PM: Theaters and showtimes are now being posted to the D&E Entertainment site for the Time Machine movie here (thanks bcrico).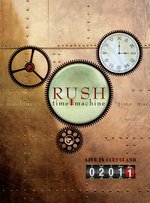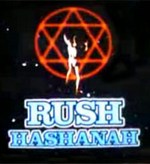 Wednesday night we received our first glimpse of Rush's upcoming Time Machine 2011: Live in Cleveland concert video when VH1 Classic aired an edited version of the concert as the showcase of their Rush Hashanah celebration. They left out about 8 tracks in order to fit the concert into a 2-and-a-half hour time slot, which yielded a running time of about 1 hour and 50 minutes after commercials. They also included the Real History of Rush intro and intermission videos along with a new outro video featuring the 3 guys as their Gershon's characters playing a polka-ized version of Closer to the Heart. If you missed it on TV, the entire show was posted to YouTube in 10 parts with part 1 at this link (just follow the links in the YouTube descriptions to get the other parts). The film will also be getting a theatrical release beginning October 26th, although we're still awaiting the listings of specific theaters/showtimes at the official website. However, some local theaters have begun announcing showtimes already, so check your local theater listings too. The Time Machine 2011: Live in Cleveland DVD will release on November 8th with the Blu-ray version releasing on December 20th.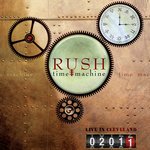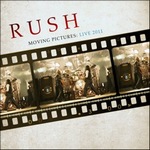 A couple of weeks back Rush revealed via a press release that a 2-CD audio companion to Rush's upcoming Time Machine 2011: Live in Cleveland concert video will be released on November 8th - the same day as the DVD, along with a package containing only the live tracks from the Moving Pictures album titled Moving Pictures: Live 2011, available only in vinyl or digital formats. Both the Time Machine 2-CD set and the Moving Pictures: Live 2011 vinyl release were made available for pre-order at Amazon.com earlier this week. You can pre-order the Time Machine 2011: Live in Cleveland CD at this link and the Moving Pictures: Live 2011 vinyl album at this link.
The official sales and attendance figures for the Stockholm, Newcastle, Birmingham and Greenville dates from the 2011 Time Machine Tour were released earlier this week, so we now have the figures for a total of 28 out of the 38 shows. We are still missing several international dates along with Las Vegas and Concord. There were no sellouts in this latest batch although the Birmingham show came close. So we still have a total of 11 sellouts out of the 28 shows reporting attendance figures thus far. The most-attended date remains the April 15th show at Quicken Loans Arena in Cleveland which sold out all 14,970 seats. And the New York MSG show remains the highest grossing with $1,276,798 in ticket sales. You can check out all the details in this post or in the tour section.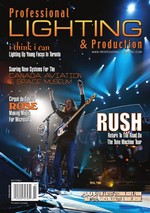 Speaking of Rush's Time Machine Tour, the tour is the subject of a 4-page cover feature in the Summer, 2011 edition of industry magazine Professional Lighting and Production. They talk with Production Designer Howard Ungerleider about all the different aspects of Rush's stage show and what it takes to keep it all together. The entire article is available online as a PDF at this link (pages 18-21).
Neil Peart updated the website for his upcoming Taking Center Stage instructional DVD earlier this week with yet another preview video. In this 4-and-a-half minute video Neil discusses the intricacies of playing Rush's Limelight live. You can check it out at this link. There's also this preview video where Neil talks about how he and his bandmates went about choosing the setlist for the Time Machine Tour, along with this video trailer for the DVD. In addition to the preview videos the site features a large photo gallery of behind-the-scenes pictures from the DVD filming, an informational page, and a four-part series of articles on the making of the DVD from lead editor and co-producer Joe Bergamini. Taking Center Stage: A Lifetime of Live Performance is slated for release on November 8th, 2011. In celebration of the upcoming release, Hudson Music is running a Facebook contest where the winner will get a signed Neil Peart Anatomy of a Drum Solo poster.

The list of nominees for Rock and Roll Hall of Fame induction in 2012 was announced via the Rock Hall website Tuesday morning and for the thirteenth year in a row Rush was excluded from the list. A total of 15 nominees were chosen by the nominating committee this year including The Beastie Boys, The Cure, Guns 'N Roses, Heart, Joan Jett and The Blackhearts, Red Hot Chili Peppers and Donna Summer. Rush's annual snubbing precipitated the usual response from talking heads across the web, with (nearly) everyone scratching their heads as to how Rush could have been excluded once again. The headline accompanying this homepage-featured article at Yahoo.com Tuesday read Rockers snubbed again by Hall of Fame along with a picture of Geddy and Alex. Rush's snubbing was a hot topic of conversation on Wednesday's edition of ESPN Radio's Maxed Out in the Morning. Host Jared Max is a huge Rush fan and callers who were weighing in on sports were starting off conversations by remarking on how they couldn't believe Rush wasn't nominated. You can listen to the show at this link. The crew on CNBC's Squawk Box had a Rush Hour during their show where they played Rush coming in and out of breaks and complained about Rush's snubbing (thanks pk2112). An NPR article covering the announcement of the nominees also made mention of Rush saying except for Rush fans, again, so sorry, I feel your pain (thanks alparrot). And this MusicTAP article has a note next to Heart's nomination on thier list that reads Not yet, not before Rush, or other, more deserving bands and artists. I can definitely agree with that. There's also this tongue-in-cheeck article at The Morton Report about Rush's snubbing, warning the US to stop dissing Canada:
The United States, once again, has shown its insensitivity to our friendly neighbors to the North. The latest in a series of shuns was this week's annual snub of Rush, the quintessential prog-rock trio from Canada, by the Rock and Roll Hall of Fame. "Be very, very careful, America," warned Tim "The Doctor" Wood, an investment compliance executive based in Toronto. "We've got all the water, all the energy resources, and the strongest and most secure banking system in the world. You need us more than we need you and our patience is running a bit thin."...
For a great running history of Rush's now 13-year-old annual snubbing by the Rock Hall, check out this page at the Power Windows site.
According to 3 mysterious listings at Amazon.com that were discovered earlier this week, Rush will be releasing a set of 3, 5-CD box sets on November 21st named Sector 1, Sector 2 and Sector 3 respectively. MusicTAP also made mention of these in a Monday post but didn't have any further details to add. All we can tell from the listings at this point is that the format is CD, the label is given as Mercury, and the cost is currently $60.97. Although according to an insider who has access to the Universal business website, the listings there give the format as a 5 CD/DVD combo. It's hard to imagine that Rush sound engineer Rich Chycki (as skilled as he is) would be able to re-mix 14 (Moving Pictures is already taken care of) Rush albums in 5.1 by November 21st, so even if there is a DVD(s) included in the sets it's more than likely some kind of video footage - perhaps some vintage live stuff, interviews or music videos. So it's likely that these will not be remastered in any way - especially not 5.1 - and is probably just another attempt by Universal to capitalize on Rush's back catalog. Indeed, when Rush was with Mercury Records they put out a cycle of 4 studio albums followed by a live album 3 consecutive times - making a total of 15 albums released under their label. So we can probably assume that the 1st box set would contain Rush, Fly by Night, Caress of Steel, 2112 and All the World's a Stage; the 2nd box set would consist of A Farewell to Kings, Hemispheres, Permanent Waves, Moving Pictures and Exit ... Stage Left; and the third box set would have Signals, Grace Under Pressure, Power Windows, Hold Your Fire and A Show of Hands. Again, this is all just speculation based on the information we currently have. But all signs point to these just being a re-packaging of Rush's Universal back catalog.
According to a couple of videos that were recently posted to producer Michael Phillip Wojewoda's YouTube channel, Alex Lifeson played guitar on some recordings this past May with Canadian singer-songwriter Jason Plumb for his solo project Jason Plumb and The Willing. The band recorded some tracks with Wojewoda this past May according to this Facebook post. Wojewoda then posted a couple of videos last week featuring Alex in the studio. The first video is only 19 seconds long and is simply titled Recording Alex. It has the caption Alex Lifeson... guest guitar overdub on Jason Plumb's record and Jason Plumb can be seen briefly in the background. The second video is over a minute-and-a-half long and features Alex wailing away on a solo. It's titled First solo Alex and you can check it out at this link.
While on the subject of Alex Lifeson side projects, last year Alex produced 3 tracks for Toronto band the David Barrett Trio that were released digitally over the past several months; Hollowbody (iTunes, Amazon), Sonar (iTunes, Amazon) and Disappearance (iTunes, Amazon). All three of these Lifeson-produced tracks can also be heard on SoundCloud at this link. The band is using RocketHub to fund their next project and are now over half way to their goal of $10,000. Barrett was recently interviewed for the RocketHub blog and spoke a bit about how he hooked up with Lifeson. You can check out the interview at this link.
One Louder Magazine caught up with Anthem/SRO (Rush's management) A&R man Andy Curran just before the 2011 leg of the Time Machine Tour kicked off for an interview in their latest edition. Andy talks about his history with Rush and his day-to-day duties as an A&R man. You can read the entire interview at this link.
Guitar World magazine recently posted their list of the Top 30 12-String Guitar Songs of All Time and Rush's Closer to the Heart made the cut at #10:
Taken from Rush's 1977 album A Farewell to Kings, "Closer to the Heart" begins with a majestic-sounding arpeggio picking pattern played by guitarist Alex Lifeson on a 12-string guitar. This song was also Rush's first hit in the U.K. and has been a staple of their live show ever since.
You can check out the entire list at this link.
Reader John W let me know that the Yahoo! Music blog posted their list of the Twenty-Five Worst Album Covers of All Time and - oddly enough - Rush's Power Windows made the cut at #20:
A shirtless young boy who looks like Howard Jones is caught trying to use his television remote control to close a window. A window, it should be noted, that has no discernible "power." It's just an old house window. Somebody get this kid a more comfortable chair!
Kelly D pointed me to this article at The Awl discussing how scientists at the University of California, Berkeley recently used functional magnetic imaging to reconstruct the internal movie that plays in a person's head. From the article:
... Pretty close to a motion-picture scanning of thought. This presents trouble for people who, no matter what they might be seeing outside their head, are always only seeing the pentagram from the cover of Rush's 2112 album or a giant pile of pistachio nuts inside their head. ...
I can certainly relate.
Reader Habs2112 let me know that inmusic.ca recently posted a photo gallery of underrated guitarists and Alex Lifeson made the cut. Here's what they had to say:
Not that anyone is complaining, but you gotta feel a little bit bad for Alex Lifeson - the guy is a bona fide guitar god, but it just so happens that he plays in a band with Geddy Lee and Neil Peart (respectively, among the greatest bassist and drummers in the world)! Because of that, poor Alex often seems to miss out on the universal accolades... but that's just because he plays an instrument that seems to have more celebrated 'greats' than any other in rock and roll. There's no question - Lifeson is one of the most talented, expressive, technically proficient, and all around awesome axmen on the planet, and he deserves some love too.
And a recent special issue of Guitar Player magazine called Guitar Player Presents Guitar Rigs Of The Superstars features guitar rigs of several well-known guitarists including Alex Lifeson (thanks RushFanForever).
The Critical Wit Podcast posted an interview with Rush, Rock Music, and the Middle Class author Chris McDonald yesterday:
Chris McDonald is a professor of music studies, with a phD in ethnomusicology. He is also the author of Rush, Rock Music, and the Middle Class: Dreaming in Middletown, a book that explores the music and lyric themes in the music of Rush, the progressive rock band from Canada. We talk about these things, as well as the influence that Rush has had on both fans and critics.
You can listen to the podcast at this link (thanks RushFanForever).
Now that the 2011 MLB baseball regular season has come to a close, reader The Clansman 2112 asked me to thank everyone on his behalf who participated in his Rushisaband fantasy baseball league. The season ended with three teams fighting for first but Bytor & The Clansmen ended up taking the top spot. Second went to the Winfield Sluggers and third to farewell to kings. You can check out all the details and the final standings at this link.
While Wednesday night we received our first glimpse of Rush's latest live concert video - Time Machine 2011: Live in Cleveland, Thursday happened to be the 35th anniversary of the release of Rush's first live recording - 1976's All the World's a Stage. All the World's a Stage was recorded on June 11-13th at Massey Hall in Toronto on the 2112 tour. The album peaked at #40 on the Billboard album charts, and was certified Gold by the RIAA on November 16, 1977 and Platinum on March 4, 1981.
Here's the YouTube video of the Working Man encore and polka-ized Closer to the Heart outro video from VH1 Classic's airing of the Time Machine Tour concert:
That's all for this week. Have a fantastic weekend everyone!!