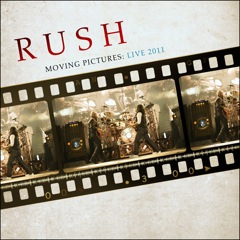 UPDATE - 9/20@3:15PM: After finally having a chance to digest all of this, I realize that the Moving Pictures: Live 2011 title refers only to the vinyl and digital releases, and will contain only the live tracks from the Moving Pictures album. The complete 2-CD companion to the Time Machine DVD will have the same title as the DVD and include the entire concert, and still looks to be a separate release not included with the DVD. On top of that, it looks like Neil Peart's instructional DVD Taking Center Stage will now also release on November 8th. That's a lot of Rush swag for one day!
UPDATE - 9/20@12:19PM: Here's the official marketwire press release link.
UPDATE - 9/20@10:46AM: The article also lists some more details regarding the bonus features (thanks Professordrums):
Bonus Material

Outtakes from "History of Rush, Episodes 2 & 17"
"Tom Sawyer" featuring the cast of "History of Rush, Episode 17"
"Need Some Love" Live from Laura Secord Secondary School
"Anthem" Live from Passaic New Jersey
----- snip -----
Details regarding the CD companion to Rush's upcoming Time Machine 2011: Live in Cleveland DVD/Blu-ray were released earlier today. The Huffington Post reported this morning that the CD companion will be titled Moving Pictures: Live 2011 and release on the same day as the DVD and there will also be a Moving Pictures: Live 2011 released on vinyl and digitally that will contain only the live tracks from the Moving Pictures album. Time Machine 2011 will also be getting a theatrical release through D&E Entertainment. From the article:
... Anthem, Rush and Rounder Records have again selected D&E Entertainment (www.DandEentertainment.com), who theatrically distributed the documentary Rush: Beyond The Lighted Stage, to bring TIME MACHINE... to the big screen and movie theaters across the U.S. starting October 26. D&E will be working with Eagle Vision to bring TIME MACHINE to theatres across the UK and other territories as well. Info on all screenings will be available at www.RushTimeMachinePremiere.com. The big screen HD digital cinema presentation will give fans the best seat in the house and transport them from the theater to the front row of the concert. VH1 will be airing a 2-hour concert culled from the footage as part of their annual Rushashana program on September 29. ...
This also confirms the VH1 airing of an edited 2-hour version of the concert as part of Rush Hashanah later next week.
Related Posts:
[DirecTV listings indicate that VH1 Classic will premiere Rush's Time Machine 2011 live concert video during Rush Hashanah]
[Geddy Lee, Rush management preview the Time Machine 2011: Live in Cleveland DVD/Blu-ray]
[Rush Time Machine 2011: Live in Cleveland DVD/Blu-ray release date pushed back to November 8th]
[Rush Time Machine 2011: Live in Cleveland DVD/Blu-ray details, bonus features]
[Rush Time Machine 2011: Live in Cleveland Blu-ray now available for pre-order]
[Rush Time Machine 2011: Live in Cleveland DVD/Blu-ray release date pushed back to October 25th]
[Rush Time Machine live DVD now available for pre-order]
[Rush Cleveland live DVD/Blu-ray to be titled Time Machine, releases on September 27th]
[Rush live DVD to release September 27th on Concord Records]
[Rush sound engineer Rich Chycki checks in on the Moving Pictures 5.1 remix, Cleveland live DVD]
[Rush 2011 Time Machine Tour: Cleveland open thread]