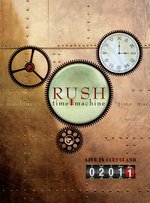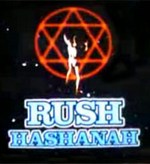 UPDATE - 9/29@9:16AM: The entire concert is now up on YouTube at the following links thanks to Strangiato at The Rush Forum. Get 'em while you still can!
[part 1]
[part 2]
[part 3]
[part 4]
[part 5]
[part 6]
[part 7]
[part 8]
[part 9]
[part 10]
----- snip -----
UPDATE - 9/28@11:07PM: So the edited Time Machine concert is now over. What did everyone think? I saw many familiar faces in the crowd shots. Here are the tracks they left out of the first set:
Time Stand Still
Stick It Out
Workin' Them Angels
Leave That Thing Alone
And the tracks left out of the second set:
Drum solo: Moto Perpetuo (featuring Love For Sale)
O'Malley's Break (Alex acoustic)
Closer To The Heart
2112 Overture/Temples of Syrinx
La Villa Strangiato
They included the Real History of Rush intro and intermission videos along with a new outro video in place of I Still Love You Man. The outro vid is a continuation of the intro vid and features the 3 guys playing the polka version of Closer to the Heart.
----- snip -----
Tonight we'll get our first glimpse of Rush's upcoming Time Machine 2011: Live in Cleveland concert video when VH1 Classic kicks off their Rush Hashanah celebration. The station will be airing 24 hours of Rush programming beginning tonight at 7PM EST/PST in celebration of the Jewish New Year. The showcase of the celebration will be the premiere of an edited version of the Time Machine concert which will run from 8PM until 10:30PM, which means they'll be showing about 1:45-2 hours of the actual concert after commercial breaks are factored in. It'll be interesting to see what gets edited out. Also on the docket are the Rush Classic Albums special, the Rush documentary Rush: Beyond the Lighted Stage, R30 and Rush in Rio. VH1 Classic first celebrated Rush Hashanah back in 2008 and also in 2010, where they premiered the Rush Classic Albums special. The Time Machine 2011: Live in Cleveland DVD will release on November 8th with the Blu-ray version releasing on December 20th. The film will also be getting a theatrical release beginning October 26th.
Related Posts:
[Time Machine 2011: Live in Cleveland CD and Moving Pictures: Live 2011 vinyl album now available for pre-order]
[Rush Time Machine 2011: Live in Cleveland Blu-ray release date pushed back]
[Moving Pictures: Live 2011 to release November 8th, Time Machine 2011 theatrical release October 26th]
[DirecTV listings indicate that VH1 Classic will premiere Rush's Time Machine 2011 live concert video during Rush Hashanah]
[Geddy Lee, Rush management preview the Time Machine 2011: Live in Cleveland DVD/Blu-ray]
[Rush Time Machine 2011: Live in Cleveland DVD/Blu-ray details, bonus features]
[Rush Time Machine 2011: Live in Cleveland Blu-ray now available for pre-order]
[Rush Time Machine live DVD now available for pre-order]
[Rush Cleveland live DVD/Blu-ray to be titled Time Machine, releases on September 27th]
[Rush live DVD to release September 27th on Concord Records]
[Rush sound engineer Rich Chycki checks in on the Moving Pictures 5.1 remix, Cleveland live DVD]
[Rush 2011 Time Machine Tour: Cleveland open thread]