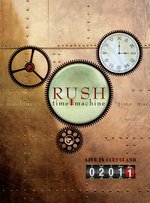 Rush sound engineer Rich Chycki posted the following message to Twitter late yesterday:
Previewed the Rush Cleveland show w Ged and management in a listening theater. RAWK!
So it sounds like the DVD itself is done or close to it. It's good to see that progress is being made and that Chycki is excited with the outcome. Hopefully Geddy and the band's management liked it too. Last week the band announced that they had signed a deal with Roadrunner Records and the press release mentions that the first Roadrunner release will actually be a live album culled from the blockbuster tour. This seems to confirm that a live CD will be accompanying the release of the DVD/Blu-ray. Although it's still not clear whether the CD release will be included with the DVD or released separately. The Time Machine 2011: Live in Cleveland DVD/Blu-ray is currently slated for a November 8th release and will have a running time of 164 minutes. Bonus features will include outtakes from the intro, intermission and outro videos from the Time Machine Tour along with the full clip of the Canadian Bandstand gig that Rush played at Laura Secord High School in St. Catharines, ON in 1974 with original drummer John Rutsey on drums, portions of which were included in the Rush documentary Rush: Beyond the Lighted Stage. It's not clear whether this would just be the same 2 clips of Working Man and Best I Can that were also included as extras in the documentary, or if it will include the entire show (or more unreleased footage at least). The bonus features will also include some of Rush's 1976 black and white bootleg video of their performance in Passaic, NJ. Again, it's not clear what full clip means in this context. The video was directed by Rush documentary filmmakers Sam Dunn and Scot McFadyen, and engineered by Rich Chycki. You can pre-order your copy at Amazon (DVD, Blu-ray).
Related Posts:
[Rush Time Machine 2011: Live in Cleveland DVD/Blu-ray release date pushed back to November 8th]
[Rush Time Machine 2011: Live in Cleveland DVD/Blu-ray details, bonus features]
[Rush Time Machine 2011: Live in Cleveland Blu-ray now available for pre-order]
[Rush Time Machine 2011: Live in Cleveland DVD/Blu-ray release date pushed back to October 25th]
[Rush Time Machine live DVD now available for pre-order]
[Rush Cleveland live DVD/Blu-ray to be titled Time Machine, releases on September 27th]
[Rush live DVD to release September 27th on Concord Records]
[Rush sound engineer Rich Chycki checks in on the Moving Pictures 5.1 remix, Cleveland live DVD]
[Rush 2011 Time Machine Tour: Cleveland open thread]