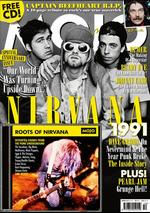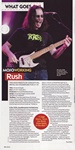 Mojo Magazine has a short, one-page Rush article in the March, 2011 issue of the magazine for their Mojo Working feature. It's titled The High Priests of Conceptual Metal Go Steampunk for LP 19! and focuses on the band's upcoming Clockwork Angels album. It features a couple of interesting interview snippets with Geddy Lee including this one:
"Rush fans want those 20-minute songs, and a couple of tracks are pretty promising in terms of their scope - they're quite long and complex. We haven't hit 20 minutes yet, but it'll be interesting to see where it ends up."
Geddy also describes the Steampunk theme of the album:
"It's a utopian vision of the future yet trapped in a Victorian past. We were inspired by the visual aesthetic, and this concept lent itself to creating a story. So," he laughs, "I guess you could say it's a concept album!"
And talks a little about producer Nick Raskulinecz, including some quotes from Nick that were taken from a November, 2010 interview he gave to MusicRadar.com:
I told them, 'Give me Rush from back in the day.' Killer riffs, solos, pounding drums and Geddy singing up high the way he should - that, to me, is the sound of Rush.
The article also mentions some information that we already knew. Namely the fact that they plan to finish up writing for the album before the 2011 tour but won't get into the studio until the Fall, giving the album a likely release date of early 2012. You can check out a scan of the article here or by clicking on the thumbnail above. Thanks to RushFanForever for the heads up and the scan.
Related Posts:
[New Alex Lifeson interview in Guitarist magazine]
[Rush's Caravan makes Amazon's 100 Bestselling Songs of 2010]
[Alex Lifeson interview with Chile's Radio Futuro]
[New interviews with Geddy and Alex from the Brazilian press]
[New Geddy Lee interview with Brazil's TV UOL]
[Geddy Lee interview with the UK's Rock Radio]
[New Alex Lifeson interview at Billboard.com]
[Caravan/BU2B CD single now available for pre-order]
[Rush Caravan release open thread]
[Rush reveal new album title as Clockwork Angels]
[Two new Rush tracks available for digital download June 1st]