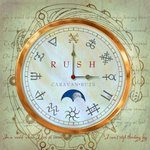 Last Wednesday Amazon.com started listing two new Rush studio tracks as being available for digital download on Tuesday, June 1st; Caravan and BU2B. Rush finally put out an official press release acknowledging the release earlier today. In addition to information about the 2 new tracks, they also surprisingly revealed the name of their next album which is due out in 2011:
Anthem/Atlantic recording group Rush has announced the upcoming release of their eagerly anticipated new single. "Caravan" -- which will be featured on the legendary band's forthcoming album, "CLOCKWORK ANGELS" -- will be available at all DSPs on June 1st and serviced to radio simultaneously.

"Caravan" will be bundled with an additional new album track, entitled "BU2B." Both tracks were recorded earlier this year in Nashville with Grammy Award-winning producer Nick Raskulinecz (Foo Fighters, The Deftones), who previously collaborated with Rush on 2007's critically acclaimed "SNAKES & ARROWS." Rush will return to the studio to resume recording after the completion of the upcoming "Time Machine Tour," with plans to release their 20th studio album, "CLOCKWORK ANGELS," in 2011. ...
So as was expected, Caravan will be released to radio on June 1st as well. You can purchase Caravan and BU2B together or separately, and if purchased together a digital PDF booklet is included. A CD single version will be distributed with the Rush VIP pre-sale ticket packages being sold for the band's upcoming Time Machine Tour and will presumably also be made available for purchase on the tour and through the Rush Backstage Club. Thanks to John at Cygnus-X1.net for the heads up.
Related Posts:
[Two new Rush tracks available for digital download June 1st]
[Rush to release new song to radio next month]
[Geddy Lee reveals new song title in Rolling Stone interview]
[Rush to release 2 songs from upcoming album as CD single]
[Possible Rush in-studio pics posted online]
[Geddy Lee confirms summer Rush tour followed by new album]
[New Neil Peart interview confirms Nick Raskulinecz as producer]
[Alex Lifeson reveals Rush tour, album details in new interview]