[Interview: Alex Lifeson - The Canadian prog legend speaks to Guitarist]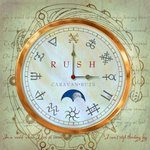 Alex Lifeson was interviewed by Guitarist magazine late last year and the interview was made available online earlier today. Alex discusses all of the usual subjects including the Time Machine Tour, his gear, the Rush documentary and the Moving Pictures album. There's not much in the way of new information but he did say the following when asked about the band's plans for the upcoming year.
... "Originally the plan was to get back into writing and then recording this year but this tour was so successful with the demand for us to carry on and play a little bit longer. So we played with the ideas and as we got closer to the end of the tour we realised we were going to get a lot of push to continue it. And we wanted to, we didn't think we were going to have quite as much fun as we've had with it.

"The whole idea of doing Moving Pictures and not sharing it, particularly in the UK, was a real concern of ours. So Ged and I will get back to writing in the new year. We'll get through the Christmas holidays and start writing through January and February. We only have two or three more songs that we feel we need for the album. So we can start reworking the material and get it in great shape. Then we'll prepare for the tour in March, finish in July, take the summer off then start work in earnest in September." ...
So if Alex and Geddy are carrying through with their plan, the pair may be in the process of writing new material as we speak! It's still hard to say whether they can get the new album released by end-of-year if they don't start recording until September; an early 2012 release looks more likely at this point.
Related Posts:
[Rush's Caravan makes Amazon's 100 Bestselling Songs of 2010]
[Alex Lifeson interview with Chile's Radio Futuro]
[New interviews with Geddy and Alex from the Brazilian press]
[New Geddy Lee interview with Brazil's TV UOL]
[Alex Lifeson reveals Clockwork Angels details in new interview]
[New Alex Lifeson interview at Billboard.com]
[Caravan/BU2B CD single now available for pre-order]
[Rush Caravan release open thread]
[Rush reveal new album title as Clockwork Angels]
[Two new Rush tracks available for digital download June 1st]