UPDATE - 5/20@5:43PM: Burger Kind Diamond at Counterparts reports that the CD single will also be made available for purchase on the tour and through the Rush Backstage Club, and that they are exploring other formats for distribution such as FLAC.

UPDATE - 5/19@8:21PM: A few readers have pointed out that a good portion of the lyrics to Caravan are visible in the background of the higher-res version of the single cover.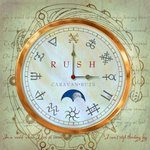 Rush has been working on new material for their next album over the past several months and has about 6 new songs written. They recently finished recording 2 of these songs in Nashville with producer Nick Raskulinecz, and Geddy revealed in a recent Rolling Stone interview that one is titled Caravan. This title now seems to be official as Amazon has the Caravan single listed on their website as being available for digital download on June 1st. Along with Caravan they list a b-side song titled BU2B. Both tracks are listed as single versions. Caravan's running time is 5:40 and BU2B's is 4:21. You can buy them together or separately, and if purchased together a digital PDF booklet is included. It's not clear if/when a CD single version will be released for purchase, although a CD version will be included with the Rush VIP pre-sale ticket packages being sold for the band's upcoming Time Machine Tour. I'm assuming that the Caravan single will also be released to radio around the same time as the digital release as Alex Lifeson indicated in a recent Q104.3 interview. Thanks to jeffb2112 for the heads up.
Related Posts:
[Rush to release new song to radio next month]
[Geddy Lee reveals new song title in Rolling Stone interview]
[Rush to release 2 songs from upcoming album as CD single]
[Possible Rush in-studio pics posted online]
[Geddy Lee confirms summer Rush tour followed by new album]
[New Neil Peart interview confirms Nick Raskulinecz as producer]
[Alex Lifeson reveals Rush tour, album details in new interview]