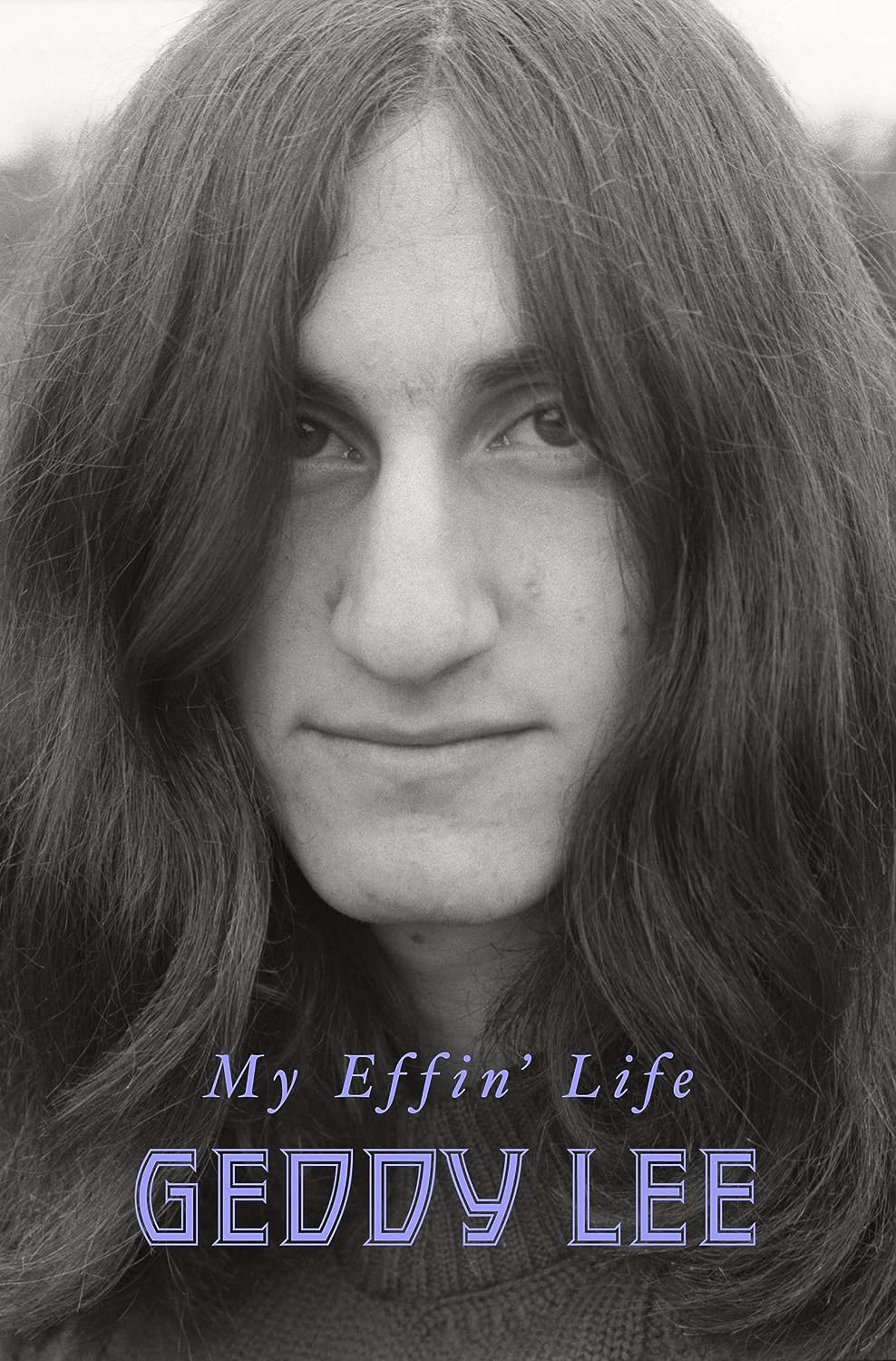 Geddy Lee's long-anticipated memoir My Effin' Life officially released earlier this week, and is now available for purchase in hardback, as an audiobook (or MP3 Audio CD), and for Kindle. Coinciding with the book release was the kickoff of Geddy's In Conversation spoken word book tour earlier this week in New York City. Fans in attendance all received a hardback edition of My Effin' Life along with a 16-page program, and there was a merch table setup where fans could purchase souvenirs t-shirts, posters and more. John over at Cygnus-X1.net has transcribed and scanned the tour program and made it available online here. Actor Paul Rudd was the surprise guest interviewer for the opening night festivities, and after introducing himself and Geddy, he proceeded to interview the guest of honor for about 40 minutes or so. Geddy then read a few excerpts from the book, and Rudd came back out for the fan Q&A before closing out the evening. For all the spoilers, photos, videos, reviews and more, check out this post. Geddy continued his tour in Philadelphia Wednesday night, where the surprise guest interview duties were shared by showrunner/producer Brian Koppelman in the first half, and WMMR DJ Pierre Robert in the second half. Also of note, the 2 new, unreleased tracks from the My Favorite Headache sessions that Geddy released with the audiobook (Gone and I Am ... You Are) were played during the intermission. Geddy spoke a bit about the 2 songs and how they came about beforehand as seen in this video. You can get full coverage from Philly in this post. Geddy will be hitting 3 more cities over the weekend beginning tonight in National Harbor, MD, then on to Boston on Saturday and Cleveland on Sunday. Geddy will then hit another nine dates across the US and Canada throughout late November and early December. The North American leg ends on December 7th at Massey Hall in Toronto before crossing the pond for the UK tour in Wolverhampton on Sunday, December 10th. You can get all the details and learn how to get tickets at Rush.com (North America, UK). If you want to submit a question for Geddy for the night you are attending, you can do so using this form.
Geddy has been hitting the interview circuit hard in recent weeks to promote the book, his spoken word tour, and all his other many projects. There's this one from Cleveland.com, another from the LA Times, this one from Toronto Life (thanks RushFanForever), this fan Q&A session with The Guardian (thanks RushFanForever), and this particularly interesting one from Vulture.com where they ask Geddy questions about what Rush song best applies to whatever question they were asking. For instance, here's what he said when asked which Rush song should be adapted as a screenplay:
There are a couple that could make very different types of films if someone wanted to take them on. 2112 is obvious as a sci-fi story of "the individual against the collective." I think the setting of it would lend itself to visual interpretation. Whether that's been done too much, I don't know. You've got generations of Star Wars films. It's not new territory, but there's something in that story that would translate into the genre. But more importantly and more originally, I'd love an interpretation of the entirety of Clockwork Angels. It's based on a classic story of a naïve and innocent person going out into the world, and running away to try to find the place to make his dreams come true. He goes through all those various phases of his life where he's duped, where he recovers from that, where he falls in love, where he loses his love, and then it all adds up to the fullness of his life. That really would lend itself to a fantasy story, but not necessarily a sci-fi fantasy story. When you look at what's been done with shows like The Last of Us or Game of Thrones, you can take cinema anywhere now. Yet the story at the heart of Clockwork Angels is a full circle of life. I've received ideas for 2112 on and off for many years, but nothing has ever really made us want to go down that road. I know Neil always wanted to bring the Clockwork Angels story to the screen in some way or another. It was a big deal for him, and he had done some work in the hopes he could make something like that happen. Maybe one day.
In addition to all of the print interviews, Geddy did some radio and TV interviews as well, including an appearance on the CBC's The National Sunday evening, where he chatted with host Ian Hanomansing about the book, the tour, and more for over 30 minutes. You can check out that interview on YouTube here. He was also a guest on Q with Tom Power, and that interview is available to watch below or on YouTube here. On the radio interview front, here's one with Vancouver's Rock 101 (thanks RushFanForever).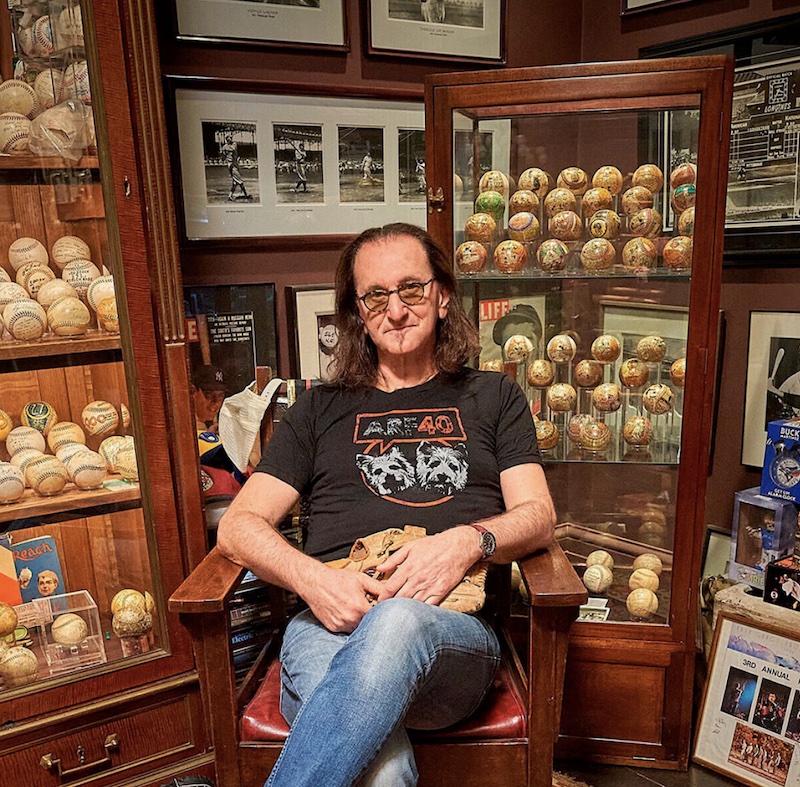 Earlier this month, Christie's and Hunt Auctions announced that Geddy Lee will be auctioning off some of his extensive baseball memorabilia collection as part of an online auction beginning next week, and a live auction next month. Geddy hit the baseball talk show circuit this week to talk about the auction, along with his many other projects. He was a guest on The Gibby Show with former Toronto Blue Jays manager John Gibbons and longtime baseball journalist John Arezzi, and you can watch the entire episode here (at about the 28:50 mark). He was also on the Dan Patrick show (bonus vid here) as well as MLB.com's High Heat. Selections from the Geddy Lee Collection and Important Baseball Memorabilia auction will take place online starting this coming Tuesday, November 21st through December 7th, along with a live auction on December 6th. From the announcement:
... From baseballs signed by some of the most famous (and infamous) players, including the White Sox's "Shoeless" Joe Jackson and the Negro Leagues' Josh Gibson, to baseballs that boast signatures from epoch-defining leaders like JFK and FDR-this collection sits right at the intersection of the history of America and its national pastime. The Gladstone Collection, which holds iconic works like the 'The Base Ball Player' bronze sculpture, will complement the Geddy Lee Collection, in addition to never-before-seen items from the personal collection of "Shoeless" Joe Jackson. Other items brought to market for the first time include uniforms and caps worn by the likes of Babe Ruth and Lou Gehrig. ...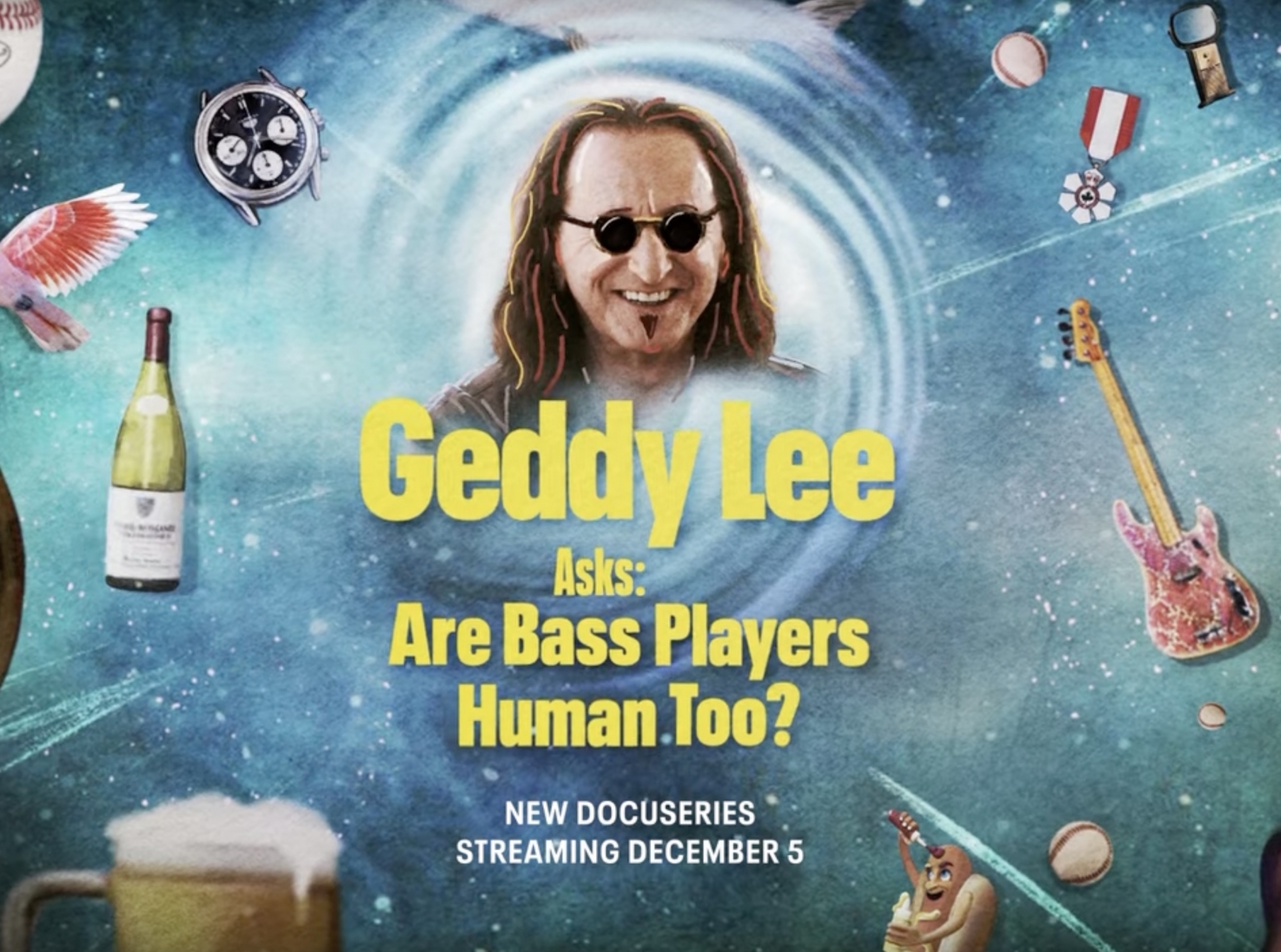 As if Geddy didn't have enough on his plate already, he'll also be launching a new docu-series on Paramount Plus titled Geddy Lee Asks: Are Bass Players Human Too? which will premiere on December 5th. The four-part series will feature in-depth conversations between Geddy Lee and Nirvana's Krist Novoselic, Metallica's Rob Trujillo, Primus' Les Claypool, and Hole/Smashing Pumpkins bassist Melissa Auf der Maur, as seen in the show's trailer. Rob Trujillo was recently interviewed for Detroit's 101 WRIF and was asked about his involvement with the TV show:
... It was a lot of fun. I got to hang with Geddy for two days solid... I'd met him before, but we were hanging out for 10 to 12 hours through the weekend. And we just kind of threw it all into two days. We had two beautiful days down in SoCal. And it's basically a lifestyle hang. He wants to know, or wanted to know, what's it like in the world, in the life of Robert Trujillo outside of bass? And he came by the house. We went down to Venice Beach. We kind of got a bit of education on the history of my neighborhood and some of the people I grew up with. It was really, really cool. And the stars kind of aligned those two days. The waves weren't huge. They filmed me surfing, and I did the best I could with what we had. And yeah, it was just a lot of fun. It was just one of those weird weekends where everything kind of came together. And my son was actually playing a gig too - I think it was on the Saturday night that he was there - and he came out and checked that out. I think he was only gonna stay for, like, two songs and he ended up staying for, like, 10 songs. So it was pretty cool. And the funniest thing was people that were there to see the show were, like, 'Wait a minute. Is that Geddy Lee?' There was the triple take and the quadruple take, 'cause he had a lot of fans there. But it was just so surreal that he was hanging at a local - this is local-style, neighborhood we're talking. We were talking neighborhood kids, neighborhood parents. I mean, it was all very, very localized. And he's coming out there from Toronto. ...
Former Rush producer Terry Brown was recently interviewed for the Rock History Music YouTube channel, and was asked about John Rutsey and the recording of the debut album, along with how Rutsey compared to Neil Peart. You can watch the interview on YouTube here (thanks RushFanForever).
AL.com posted an article on 5 music legends who performed in Huntsville in their prime and Rush's January 27, 1979 show at the Von Braun Center was included:
They came from the land of ice and snow - alright, Canada. Tickets for prog-metal trio Rush's first (and only) Huntsville show started at a princely $6.50. The Canadian prog-metal trio was touring their '78 LP "Hemispheres," with classic disc "Fly By Night" and concept opus "2112″ also in their catalog to that point, among others. Glam metal pioneers Starz opened the show. Rush setlist that tour featured gems like "Working Man," "Closer to the Heart" and all of side one from "2112." And of course, a drum solo from The Professor himself, Neil Peart. If ever there was a rock concert perfectly suited for brainy/nerdy Huntsville it was Rush.
The Scotiabank Giller Prize awards $100,000 to the author of the year's best work of fiction in Canada. The 2023 award ceremony was hosted by Rick Mercer and livestreamed this past week. At one point, Mercer talks about the popularity of community lending libraries, and introduces a satirical video news story that he and Canadian TV journalist Lisa LaFlamme put together where the pair camp out near one of the libraries to see what kind of people use them. At one point in the skit, Geddy Lee walks up and .... well, you can watch for yourself (at the 22:41 mark - Ged shows up a few minutes in). Thanks to RushFanForever for the heads up.
This past week's episode of the Something for Nothing podcast featured an interview with singer/songwriter Leoni Jane Kennedy to talk about her collection of acoustic Rush covers, New World Woman. You can listen to the show below or wherever you get your podcasts:
On the latest episode of Rush Roundtable (#206) on the Rushfans YouTube channel, the panel discusses their thoughts on the best sounding Rush album:
That's all for this week. Have a great weekend!